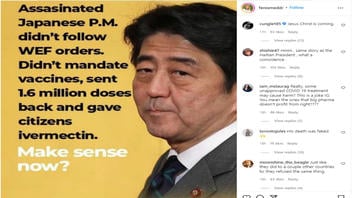 Was former Japanese Prime Minister Shinzo Abe assassinated because he didn't follow World Economic Forum (WEF) orders, didn't mandate COVID-19 vaccines, sent 1.6 million doses back and gave citizens ivermectin? No, that's not true: There's no evidence any of those things -- some of which didn't happen -- played a role in his shooting death on July 8, 2022. The claims play into a greater QAnon conspiracy theory of a global cabal of satanic elites, their plans for the world and what happens to those who run afoul of their power.
The claims appeared in an Instagram post on July 10, 2022. It opens:
Assassinated Japanese P.M. didn't follow WEF orders. Didn't mandate vaccines, sent 1.6 million doses back and gave citizens ivermectin. Make sense now?
This is what the post looked like at the time of writing: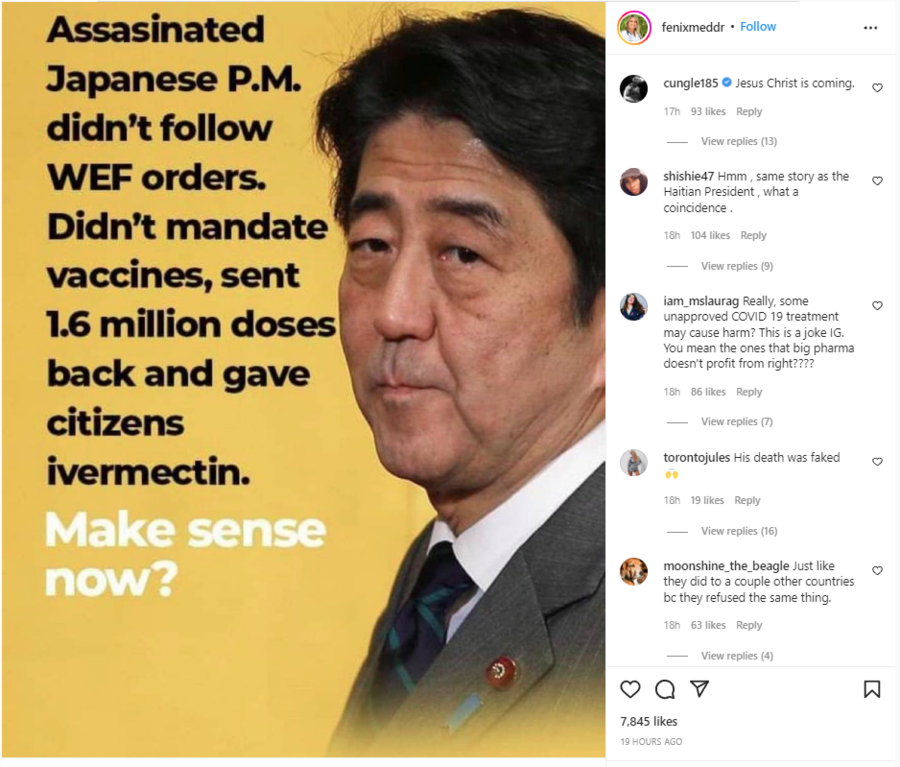 (Source: Instagram screenshot taken on Mon Jul 11 15:16:13 2022 UTC)
The Instagram meme suggests Abe was assassinated because he did or did not do certain things and only adds to the QAnon conspiracy of a cabal of blood-drinking global elites working for global dominion. Lead Stories has extensively debunked dozens of QAnon-related claims, including one that says humanity is not being held hostage by a new world order using COVID vaccines.
Claim: Didn't follow WEF orders
The World Economic Forum is a popular target of such claims because of something called "The Great Reset." It's the name of a public policy initiative launched by the organization in response to the COVID crisis. The phrase has been hijacked by conspiracy theorists who believe an evil cabal is using the pandemic as a pretext. In some versions of the theory, shadowy elites orchestrated COVID to seize power; in others, the virus just presents the opportunity for them to do so.
Like most spreading conspiracy theories, this one has its roots in something real. They can be traced to an initiative launched by the WEF in June 2020. Far from being a secret, though, the plan was announced with a fair amount of fanfare and even has a website, which can be seen here.
According to the WEF, the Great Reset agenda has three main components. The first is steering markets toward fairer outcomes. The second is ensuring investments are helping to advance shared goals, such as sustainability, and the third component is harnessing technology in support of the public good.
Lead Stories previously debunked the claim that the Great Reset is a secret plan masterminded by global elites to limit freedoms and push radical policies.
Claim: Didn't mandate vaccines
While it's true that Japan didn't mandate COVID vaccines, Abe likely had little to do with it. The former prime minister announced his resignation in August 2020 and officially left office on September 16, 2020, when Suga Yoshihide was sworn in. Japan didn't begin its aggressive vaccination campaign until June 2021. Japan's then-COVID vaccine minister Taro Kono released a video on June 17, 2021, calling the vaccines "our trump card in bringing an end to COVID-19 pandemic."
As of July 8, 2022, more than 287 million vaccine doses had been administered in Japan, according to the Japanese prime minister's website. More than 81 percent of Japan's population was fully vaccinated, compared to 67 percent of Americans, according to the U.S. Centers for Disease Control and Prevention.
Claim: Sent 1.6 million doses back
It is true that Japan suspended the use of 1.6 million doses of Moderna's COVID vaccine after the domestic distributor of the shot received reports of contaminants in some vials. But, again, Abe played no role in the incident from late August 2021. He had left office 11 months earlier.
Claim: Gave citizens Ivermectin
Ivermectin was never approved as a COVID treatment by the Japanese government or the Ministry of Health, Labour and Welfare. In addition, there is no evidence on the agency's website that its COVID vaccine program has ever been dropped. In fact, full pages in Japanese and English are dedicated to vaccine particulars, including how to get vaccinated, vaccination sites and details about the vaccines. The shots are free of charge to anyone eligible:
You will receive a 'Vaccination voucher' and a 'COVID-19 vaccine notification' from the municipalities.
* The costs of vaccination is free for all Japanese citizens and all eligible foreign residents in Japan.
Japan's vaccine push extends to the prime minister's website, which spells out everything from the benefits of vaccination to government efforts to ensure its safety.
Lead Stories debunked earlier claims that the use of ivermectin resulted in a sharp decline in the number of COVID cases in Japan (here and here).