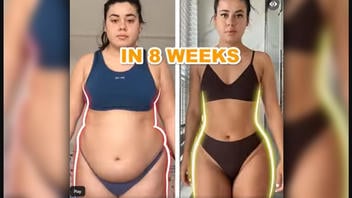 Is there a weight loss product that can boost your metabolism by 60 to 90 percent, that can help a person lose 52 pounds in only 28 days simply by taking a pill or eating a gummy every day? No, that's not true: These ads are deceptive in several ways and there is no evidence that such a weight loss product, as advertised, exists. The name of the product is not evident up front in the promotion. There is no medical evidence of a safe and approved pill or supplement that will boost a person's metabolism to this extent and cause this amount of weight loss.
These ads for a weight loss product following this specific formula have circulated on social media for some time. This is evidenced by articles posted in the spring of 2021 (here and here) that were skeptical of the unlikely story of a young medical student named Emily Senstrom who discovered the "new fat blocking code" deep in a "restricted section" of the library at a prestigious university. These ads have recently resurfaced on Facebook in the form of clickbait-style videos featuring animated fat-shrinking figures, before and after photos, and amazed reaction images of the hosts from the TV show "Shark Tank." The posts of the videos are paired with a link to a website. One example of an advertisement post was published by a Facebook page named Eileen on July 7, 2022. The post was captioned:
Take 1 💊 before going to bed every day, 215 --- > 143!!!
1⃣ 🔥Burn fat as primary source of energy
2⃣ 🍀Enhance energy and strength
3⃣ Increase the speed of metabolism by 70%
4⃣ Deliver nutrients to muscles at a faster rate
5⃣ Boost Adipocytes production of Leptins by 130% which cuts yourappetite down🍔
6⃣ Eliminate bad toxins that have built up over the years.
https://annesofe.com/mla429/sp/index429.4.html
This is how the post appeared at the time of writing: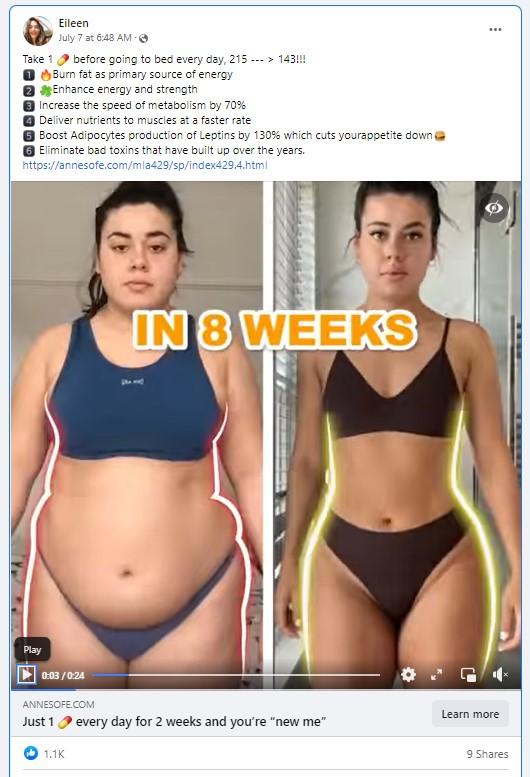 (Image source: Facebook screenshot taken on Mon Jul 11 21:53:23 2022 UTC)
Cites a fake USA Today article
The link from the Facebook post opens a page that is designed to look like an article in the health section of USA TODAY at annesofe.com/mla429/sp/index429.4.html, a hidden page on the website annesofe.com. The website's homepage has no information about who runs it or what the website is, just a mysterious article about coffee. Search engines and internet archive crawlers will be redirected from the cloaked USA TODAY spoof article to the coffee article (archived here). The spoof article is titled, "LIFE-CHANGING: The University of Harvard Medical Student Discovers One Secret Mineral That Helps You Lose 52 lbs In 28 Days." The dateline on this fake article always updates to the current day. Similar ads posted by other pages on Facebook link to the same spoof article on a number of different websites. The product is not named until hyperlinked at the bottom of the very long article, directing to yet another website to make the purchase. In this case the featured product is called "Simpli ACV+Keto Gummies."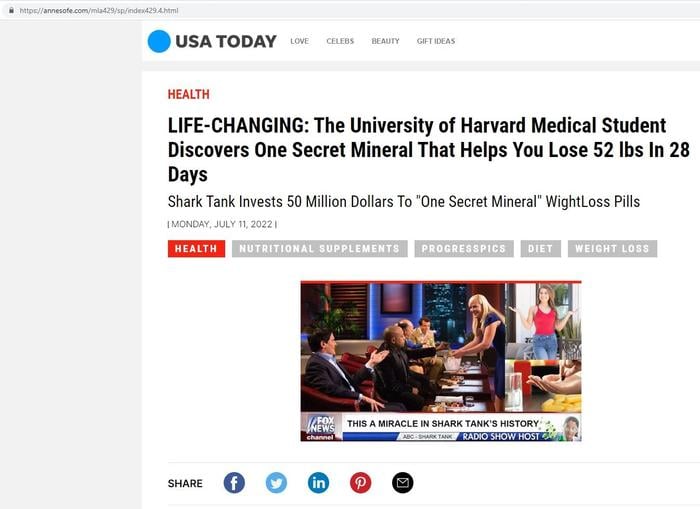 (Image source: Screenshot of annesofe.com spoof of USA TODAY article taken on Mon Jul 11 22:11:04 2022 UTC)
False claim the product was featured on "Shark Tank"
The article features an image from the TV show "Shark Tank," edited to look like a still from a Fox News broadcast. The chyron reads, "THIS A MIRACLE IN SHARK TANK'S HISTORY." In the past, Lead Stories has reported on false claims about products that never were featured on Shark Tank (here, here, here, and here). Abc.com has a page warning of Shark Tank scam ads because of the number of false promotions that use the show's name. Abc.com maintains a running list of the products that have truly been featured on the show. There is no CBD Gummie, no ACV Gummy, no "Keto" anything and no "K3 Spark Mineral" listed on ABC's website.
Kiah Twisselman is not "Emily Senstrom"
On May 27, 2020, "Good Morning America" had a story about an upcoming feature article about Kiah Twisselman in People Magazine. Twisselman lost 100 pounds in under one year making small changes in her life, working out 30 minutes a day, drinking more liquids and keeping a diary.
Before and after photos of Twisselman appear in the spoof USA TODAY article -- only they are falsely captioned as if they represent the weight loss that Emily Senstrom experienced as she experimented with her "Fat Blocking Code" as a student at Harvard Medical School. The article claims Emily lost 18 pounds in the first week, 15 pounds in the second week and 11 more pounds in the third week.
Emily Senstrom's university training keeps changing
Lead Stories reached out to the registrar's office at Harvard University Medical School to find out if there was ever a student by that name at Harvard and will update the article as appropriate when Harvard responds. Lead Stories did not find any evidence that Emily Senstrom is a real person. We did find duplicate copies of this article on another website targeting audiences around the world -- Emily Senstrom was described as a student either at the University of Toronto, Sydney University or Oxford University.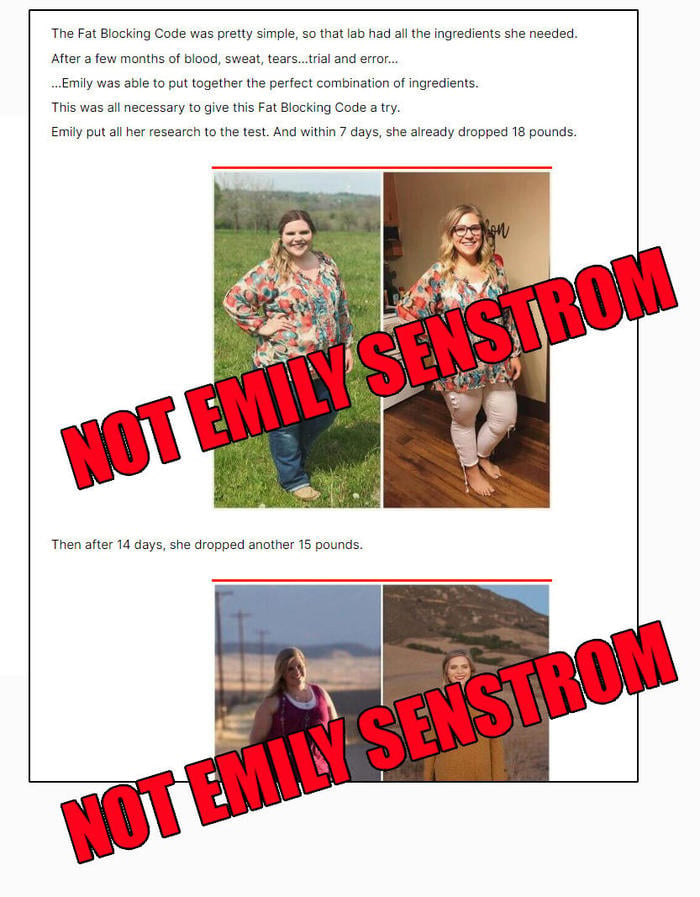 (Image source: Lead Stories composite of annesofe.com screenshot taken on Mon Jul 11 22:51:48 2022 UTC)
The "metabolism boost" numbers are inconsistent
The captions on the ads on Facebook are for the most part identical, but the exact numbers cited can vary. For example the metabolism-boosting potential of the product is advertised in some ads as 60 percent and in other ads as much as 90 percent. These claims are not backed up by any studies. Regardless of the percentage claimed, they link to the same article posted on different websites.
An article on medlineplus.gov, which is information free of advertising curated by the National Library of Medicine, tackles six common metabolism myths as it answers the question, "Can you boost your metabolism?" The article does not suggest that there is a quick and easy fix with a pill or supplement.
Your metabolism is the process your body uses to make and burn energy from food. You rely on your metabolism to breathe, think, digest, circulate blood, keep warm in the cold, and stay cool in the heat.

It is a common belief that raising your metabolism helps you burn more calories and increase weight loss. Unfortunately, there are more myths about boosting metabolism than tactics that work. Some myths can backfire. If you think you are burning more calories than you actually are, you could end up eating more than you should.