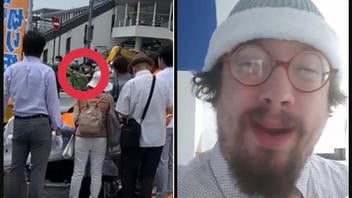 Was Samzuki Hydaiko identified as the person who shot former prime minister of Japan, Shinzo Abe? No, that's not true: A man named Tetsuya Yamagishi was taken into custody by security officers at the scene of the shooting. A gun that appeared to be homemade was found at the scene. There has been a long-running prank that a comedian named Sam Hyde, or some derivation of his name such as Samzuki Hydaiko, is named as the suspected gunman by internet trolls in the aftermath of a shooting. This hoax has resurfaced many times since it began in 2015.
In the aftermath of Abe's shooting, the Sam Hyde hoax was posted on Twitter (archived here) on July 7, 2022, by @EOA_Bants. It opened:
BREAKING:

#ShinzoAbe

's shooter identified as Samzuki Hydaiko. 'A known political extremist and Yakuza member'
This is how the tweet appeared at the time of writing: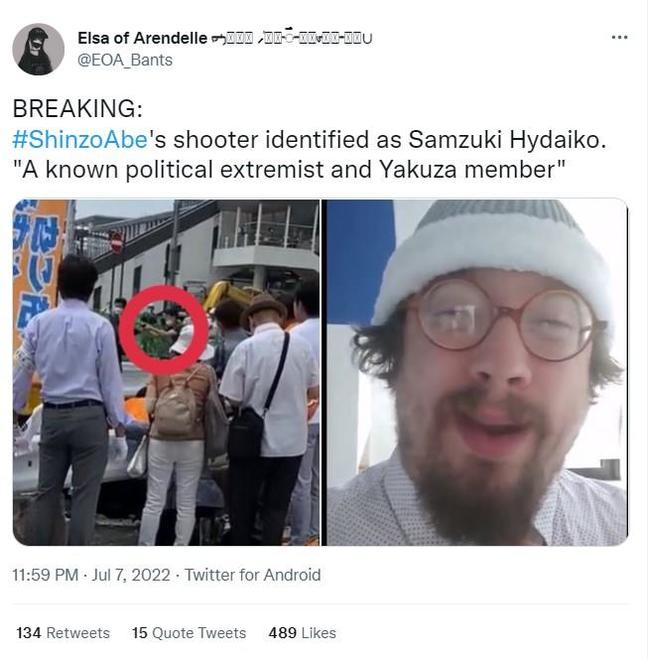 (Image source: Twitter screenshot taken on Fri Jul 08 14:39:22 2022 UTC)
The @EOA_Bants account that posted the tweet claims ties with 4Chan, a message board that has been associated with the origin of the "Sam Hyde is the shooter" hoaxes:
Official Elsa of Arendelle/General Bant Parody account: 4Chan Screenshots, Replies and Quotes on Elsa of Arendelle (!Frozen/S0A)
There are two photos included in the tweet. The photo on the left is an authentic screenshot from a video taken immediately after the Abe shooting as Yamagishi resisted being taken into custody. The image on the right is a still from a video made by the comedian Sam Hyde. A copy of the video titled, "Sam Hyde Still a n----" was posted on YouTube on September 28, 2018.
A July 7, 2022, article by nbcnews.com named the man who was arrested at the scene:
Police said that Tetsuya Yamagishi, a 41-year-old unemployed man, was arrested at the scene and was being investigated for murder. The suspect confessed to his crime, police said, adding that he told them he harbored a grudge against a group he believed was connected to Abe. Yamagishi also claimed to police that he had previously worked at Japan's Navy for three years.
Lead Stories has debunked many "Sam Hyde is the shooter" hoaxes in the past.