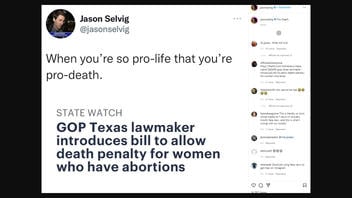 Did a GOP Texas lawmaker recently introduce a bill to allow the death penalty for women who have abortions? No, that's not true: State Rep. Bryan Slaton did introduce such a bill, but he did so in March 2021, not May 2022.
The claim was implied by an Instagram post on May 7, 2022. It includes a news headline that reads: "GOP Texas lawmaker introduces bill to allow death penalty for women who have abortions." Above the headline, the post reads:
When you're so pro-life that you're pro-death.
This is what the post looked like on social media at the time of writing:
The post was published shortly after POLITICO published a leaked Supreme Court opinion that outlined how the Court would overturn Roe v. Wade, the landmark 1973 case that guaranteed a constitutional right to abortion. The actual decision was released on June 24, 2022.
Because of its timing, the post strongly suggests that the GOP lawmaker introduced the bill in May 2022. He did not. Slaton introduced it in March 2021, more than a year before the Supreme Court overturned Roe v. Wade, leaving abortion policies up to the states.
The headline in the post copies a March 2021 headline in The Hill, as can be seen here. Slaton's bill can be read in full here.
The bill never became law. It was moved to the Public Health Committee on March 22, 2021, and did not progress from there.
Following the Supreme Court's reversal of Roe v. Wade, Slaton promised to reintroduce his bill:
'The Supreme Court has given us an opportunity, and Texas must lead. No more excuses, no waiting. Now the trigger bill we passed last session will take effect, but we cannot stop at pre-Roe laws. We must also completely and utterly abolish abortion in Texas.' pic.twitter.com/93ItmKe6jd

-- Bryan Slaton (@BryanforHD2) June 24, 2022
The Texas Legislature is scheduled to start its next session in January 2023.