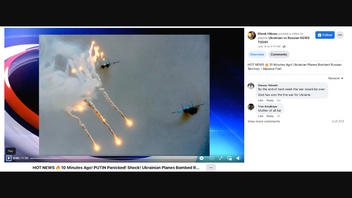 Does a Facebook video show Ukrainian and NATO planes bombing Russia on July 14, 2022, resulting in a gigantic blaze? No, that's not true: The video manipulates information and uses irrelevant images.
The claim was posted on Facebook on July 14, 2022. It did not contain any references to the time or dates of the purported events discussed in the video.
The caption said:
HOT NEWS 10 Minutes Ago! Ukrainian Planes Bombed Russian Territory - Massive Fire!
The video opened with a narrated sequence of grammatically incorrect and poorly connected sentences:
As Russia's attacks on Ukraine continue incessantly, Ukraine's retaliatory Ukraine, Russia. He allegedly carried out an attack on the Bryansk region bordering it. Bryansk Regional Governor Alexander Bogomaz made a statement on his social media account. He announced that a Ukrainian fighter jet had entered Russian territory and carried out an attack.
At the 2:57 mark, the voice-over said:
Three NATO planes aimed missiles at Novaya Kakhovka. During the attack of the armed forces of Ukrainian on Novaya Kakhovka, the strikes of American systems were corrected by at least three military aircraft and NATO drones.
Here is what the post looked at the time of writing: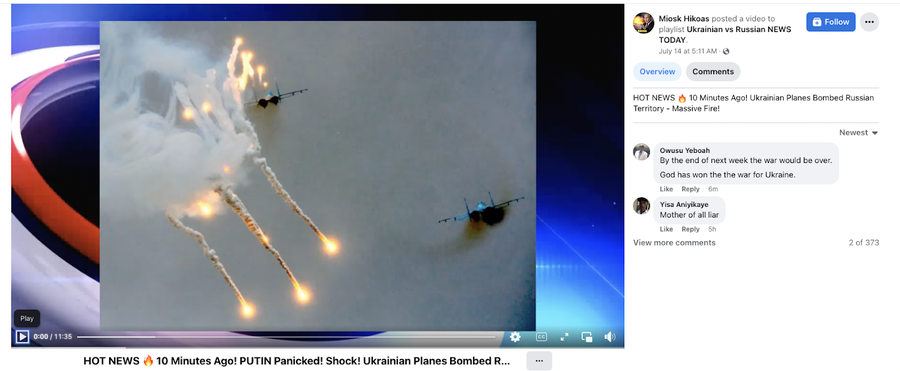 (Source: Facebook screenshot taken on Mon Jul 18 14:30:21 2022 UTC)
Almost identical clips appeared on YouTube here and here.
The very first shot of the Facebook video shows an unrelated image. It has nothing to do with the Russian-Ukrainian conflict. Instead, this photo captures a scene during the September 2009 Russian-Belorussian military exercises: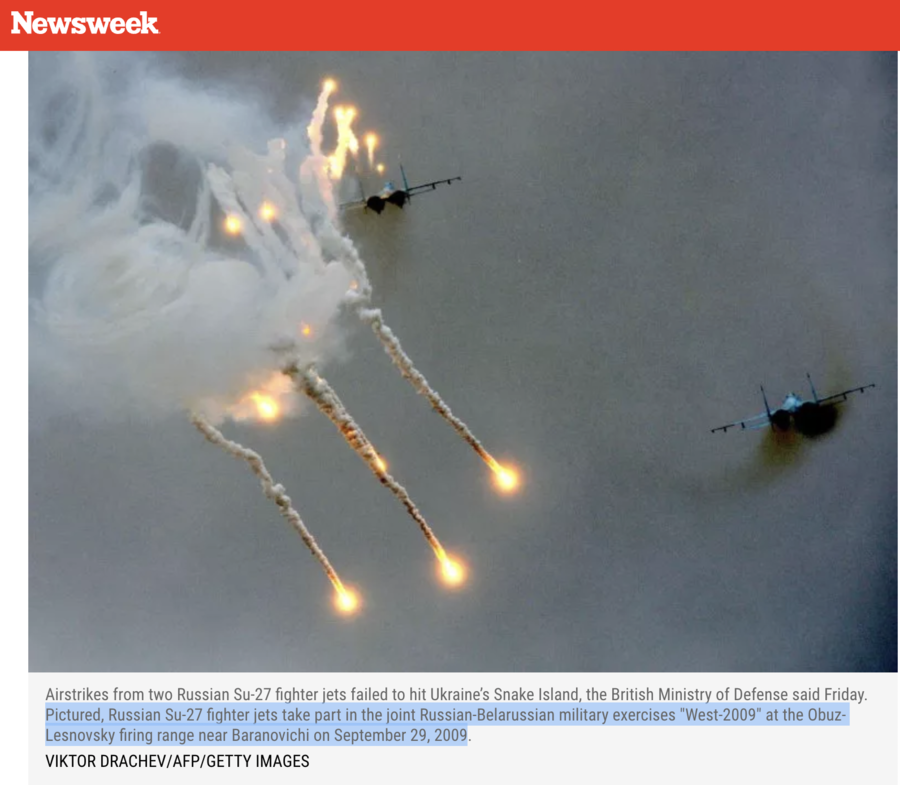 (Source: Newsweek.com screenshot taken on Mon Jul 18 16:15:44 2022 UTC)
The second still image in the Facebook video is a screenshot from one of the YouTube videos recycling a piece of user-recorded content that first appeared on social media no later than July 3, 2022. In other words, it was available to download 11 days before the supposed attack: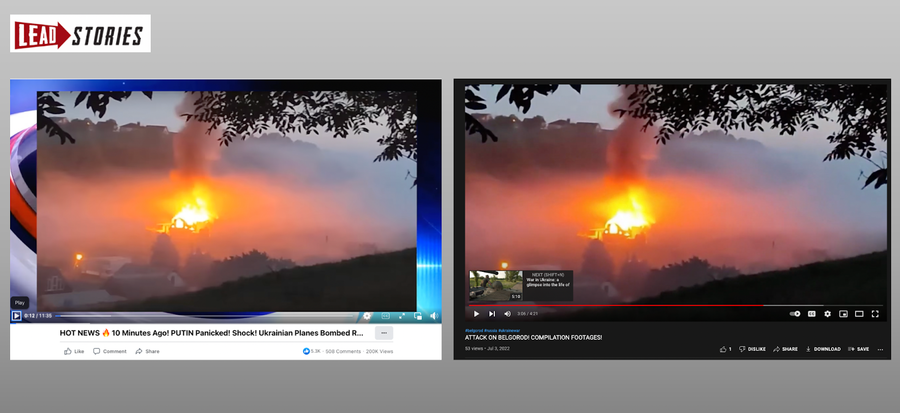 (Sources: Facebook screenshot taken on Mon Jul 18 16:38:24 2022 UTC; YouTube screenshot taken on Mon July 18 16:43:26 2022 UTC)
The third shot appears as the narrator cites the governor of the Bryansk region. But this image was published on social media on July 11, 2022, three days before the Facebook video was uploaded: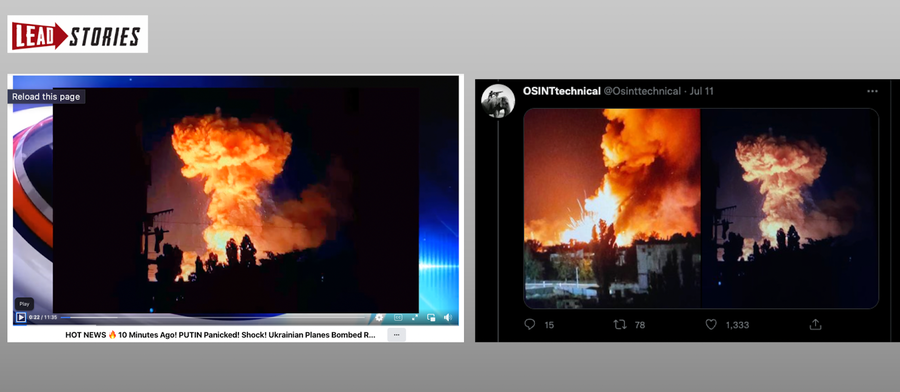 (Sources: Facebook screenshot taken on Mon Jul 18 17:14:08 2022 UTC; Facebook screenshot taken on Mon Jul 18 17:05:30 2022 UTC)
On July 14, 2022, Bogomaz, the governor of the Bryansk region in Russia, indeed wrote about a war-related incident on his Telegram channel. However, he described it as a series of drone attacks with a much less significant impact. According to Bogomaz, it did not lead to any major damage, including a massive blaze shown in the Facebook clip:
Today, Ukrainian drones entered our region's airspace. During the day, a border post was fired upon twice in the village of Chernozemny. In the evening, a drone hit a gas station in the village of Novy Yurkovichy in the Klimovsk district. There were no casualties, and no civilian objects were damaged. At the gas station, glass windows and the building's exterior were damaged.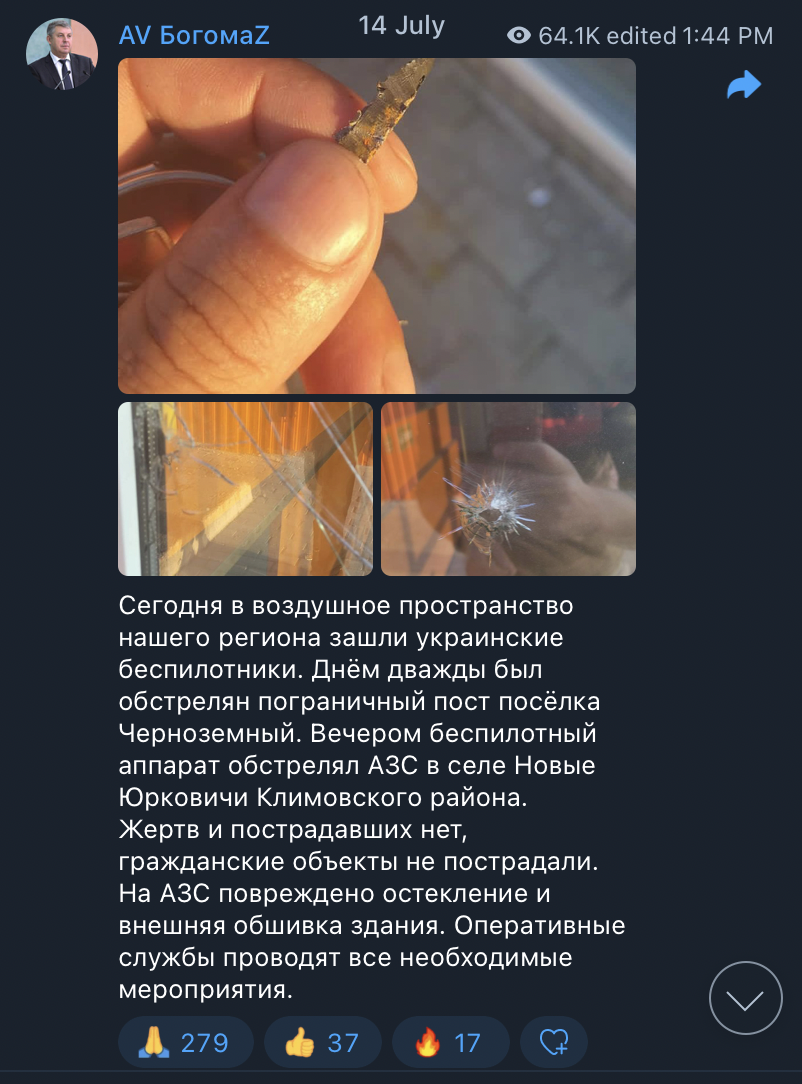 (Source: Telegram screenshot taken on Mon July 18, 13:11:58 2022 UTC)
His post did not provide any evidence proving it was due to Ukraine's military equipment. Moreover, his July 14, 2022, Telegram publication word-by-word repeated another message he posted on July 8, 2022, which casts doubt on the truthfulness of both statements: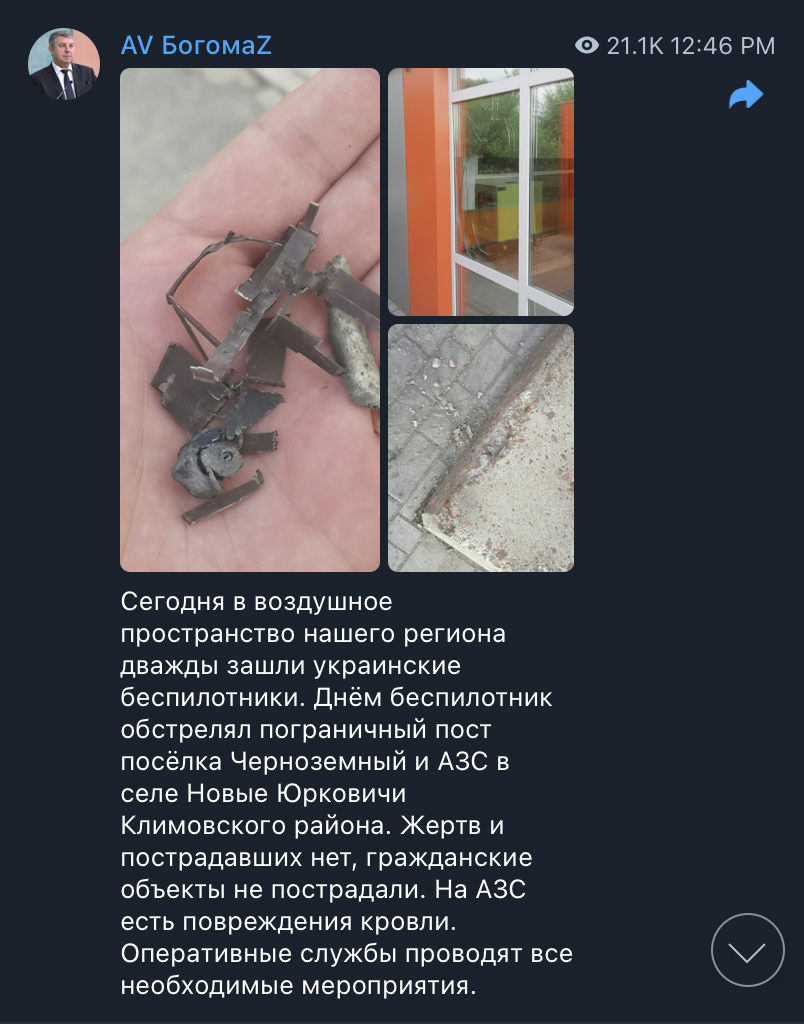 (Source: Telegram screenshot taken on Mon Jul 18 16:21:13 UTC)
The information about the July 14, 2022, supposed drone incident was not verified by independent sources. Ukraine does not appear to have confirmed or denied the occurrence of this event.
The Bryansk region borders the Ukrainian regions of Chernihiv and Sumy. On July 14, 2022, Dmitry Zhivitsky, the head of the latter, blamed Russia on his Telegram account for firing "more than 40 shots from a variety of weapons" upon eight localities in the Sumy region on that day: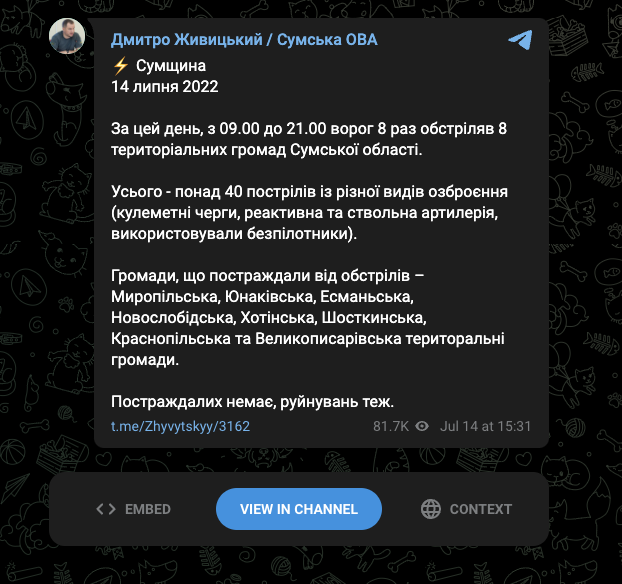 (Source: Telegram screenshot taken on Mon Jul 18 15:56:31 2022 UTC)
In contrast, explosions in Novaya Kakhovka -- another event discussed in the Facebook video -- were mentioned by many Russian and Ukrainian sources, but even the Russian state-run news agency RIA Novosti did not mention NATO planes or drones.
Novaya Kakhovka is not Russia. It is a city in the Kherson region of Ukraine currently occupied by the Russian forces. According to a BBC report, this location is crucially important for their supply chains and logistics.
One of the first reports about explosions came from a former member of the Ukrainian national parliament, Sergei Khlan. On July 11, 2022, he wrote on Facebook that Ukraine hit a Russian ammunition-storing facility in Novaya Kakhovka: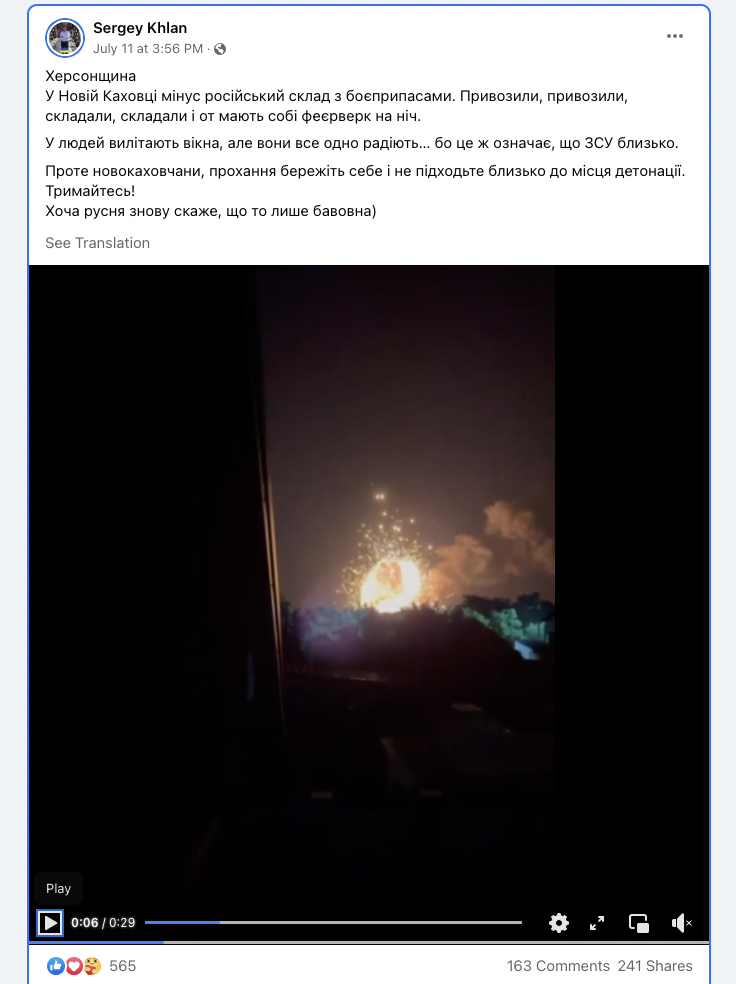 (Source: Facebook screenshot taken on Mon Jul 18 17:45:35 2022 UTC)
The Armed Forces of Ukraine confirmed Khlan's account.
RIA Novosti also said that Novaya Kakhovka was hit by the Ukrainian forces, not NATO forces, but cited a deputy head of the pro-Russian region's administration, Kirill Stremousov, who said that it was not an ammunition depot that exploded but a saltpeter warehouse.
The same government-owned Russian media organization published a report suggesting that Ukraine had used American multiple-launch rocket systems known as HIMARS to fire upon Novaya Kakhovka. A July 15, 2022, Financial Times article said that Ukraine had used these systems for three weeks, but did not make a reference to this specific incident. On the same day, a Pentagon senior official mentioned "​​ammunition, supplies, other logistical supplies" among Ukraine's recent targets while discussing the effects of supplying Kyiv with HIMARS.
The NATO website acknowledges that individual members of the Alliance send weapons and ammunition to Ukraine, but as an organization, NATO limits its support to "humanitarian and non-lethal aid": Since Ukraine is not a member, the Alliance's security guarantees do not extend to it.
Other Lead Stories fact checks related to the 2022 Russia-Ukraine conflict can be found here.