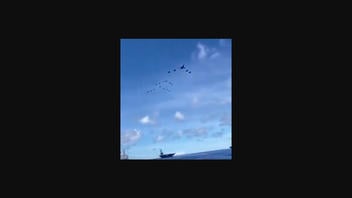 Does this video show 20 warplanes escorting U.S. House Speaker Nancy Pelosi's plane during her visit to Taiwan on August 2, 2022? No, this daytime video is from U.S. Naval Air Forces exercises in the Philippine Sea in 2020, according to a media officer with the U.S. Naval Air Forces. Pelosi arrived in Taiwan at night aboard a U.S. passenger jet at Taipei's International Airport.
The video appears embedded in a Facebook post on August 3, 2022, under the title "A bunch of Globalists BullShit right here."
It also said:
'Nancy Pelosi.' 20 Warplanes were escorting 'Nancy Pelosi's' plane including US fighter jets. US air force authorized to open fire in case of any Chinese interference on the plane carrying 'Nancy Pelosi to Taiwan '(See the video).

AT WHAT COST - WHO IS PAYING FOR HER LUXURIOUS ESCORTED AIR TRAVEL AND LAND RELATED SECURITY. You and I are paying the bills. WAKE THE HELL UP PEOPLE
This is what the post looked like on Facebook at the time of writing: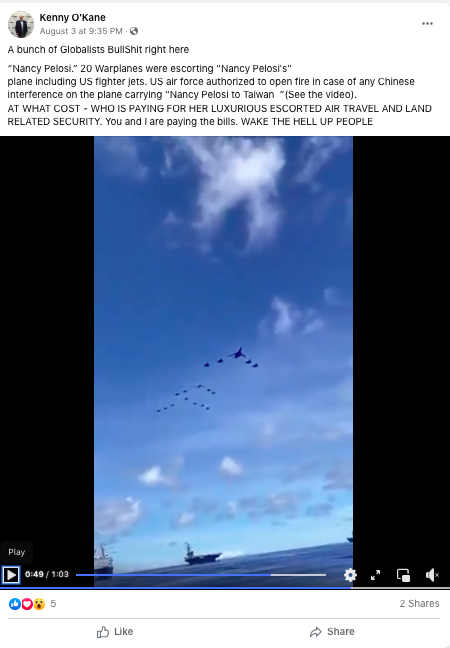 (Source: Facebook screenshot taken on Thu Aug 11 20:18:23 2022 UTC)
These nighttime videos by the Associated Press and Reuters show Pelosi walking down the steps of the aircraft that took her to Taiwan on August 2, 2022, and being greeted by Taiwan's foreign minister along with other Taiwanese and American officials.
In response to a query by Lead Stories, Ensign Bryan N. Blair, a media officer with the U.S. Naval Air Forces command, wrote in an email on August 9, 2022:
Turns out the video is from exercise Valiant Shield 2020.
Blair provided this link to a similar video taken by Senior Chief Petty Officer Barry Hirayama on July 26, 2020.
He also provided this link to a photograph taken on September 25, 2020, by Petty Officer 2nd Class Codie Soule.
The photo and video are on the site of the Defense Visual Information Distribution Service (DVIDS), under the U.S. Department of Defense, which provides news, images, audio, video and publications from military operations around the world.