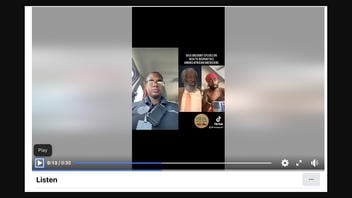 Do African Americans make up 87 percent of kidney dialysis patients in the United States in 2022? No, that's not true: According to government data, the proportion of Black recipients of the treatment is 35 percent.
The claim appeared in a TikTok video shared on Facebook on July 27, 2022. The post features a 30-second video and audio clip of comedian Dick Gregory, who died in 2017. Although Gregory's remarks are at least 5 years old, there is no indication of that in the post. It was published under the title "Listen."
The clip opened with Gregory saying:
African Americans is less than 12 percent of America's population, and yet, as we sit here now, 87 percent of everybody on kidney dialysis machines is Black folks. ... They don't have one kidney dialysis machine in all of Africa.
Here is what the post looked like at the time of writing:
(Source: Facebook screenshot taken on Tue Aug 2 17:23:39 2022 UTC)
This fact check does not address whether Gregory's remarks were accurate when he made them, but whether they are valid now as the post implies. And they are not accurate for 2022.
According to the National Institute of Diabetes and Digestive and Kidney Diseases, African Americans indeed face an elevated risk of developing kidney failure that is four times higher than White populations, but the share of Black patients on dialysis is significantly different from what the Facebook video claims:
While African Americans make up about 13 percent of the population, they account for 35 percent of the people with kidney failure in the United States. Diabetes and high blood pressure are the leading causes of kidney failure among African Americans.
A May 17, 2022, New York Times article summarized factors leading to these outcomes:
Social disparities and systemic racism contribute to this burden, but there is also a genetic factor. Many with sub-Saharan ancestry have a copy of a variant of the gene APOL1 inherited from each parent, which puts them at high risk. Researchers have known for a decade that APOL1 is one of the most powerful genes underlying a common human disease.
An April 1, 2020, article published in the peer-reviewed medical journal The Lancet described kidney disease and acute kidney injuries as "leading causes of mortality and morbidity" in Africa:
Chronic kidney disease accounts for 4 million disability-adjusted life-years ... lost across the continent annually, just behind diabetes (6.4 million.)
The same article discussed high costs of dialysis as one of the major obstacles to ensuring patients get the needed treatment, not the total absence of the machines.
By 2015, dialysis treatment had been available in some form in Africa for more than 50 years. This article, published by the peer-reviewed American Journal of Kidney Diseases, said that at least 29 out of 54 fully recognized African countries had maintenance dialysis treatment programs at the time, eight expanded them to the national level, and most of the states in the region had short-term dialysis therapy in place.
Country-specific inquiries show that the continent continues to face uneven distribution of dialysis facilities as well as shortages of equipment and trained professionals.
A January 17, 2018, article about the situation in Ghana (a country of 33 million people) published by BioMed Central (BMC), an open access science publishing company founded by Springer, a publisher of scientific and medical journals, said:
Fifteen dialysis centers with a total of 103 hemodialysis machines were identified with majority 59 (57.2%) in state-owned facilities. One half of regions in Ghana do not have any form of dialysis facilities.
Liberia, an African country with a population of 5 million, opened its first national dialysis center only in March 2022.
Monitor, a Uganda-based independent newspaper, wrote on January 31, 2022, that this country of 46 million people has only 13 kidney specialists in public hospitals and only three government dialysis centers equipped with 63 machines. The paper quoted ministry of health officials who said there are some private providers with additional dialysis machines but were not specific.