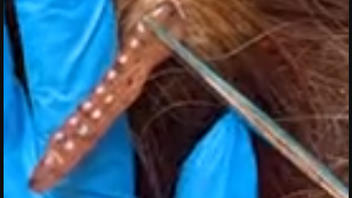 Did a doctor take over eight minutes to gingerly remove a "parasite" from a woman's scalp? No, that's not true: This video is the creation of sword swallower and content creator Juliette Electrique, who works with Las Vegas entertainment promoter and viral social media content entrepreneur Rick Lax Productions. Electrique's Facebook page is marked as Satire/Parody. In the past the videos have carried disclaimers that they are "for entertainment purposes only" -- but this video carries no warning.
Electrique's content has thoroughly parodied the "gross extractions genre" of social media video content, with an added twist of corny props and cringey anticipation. In this case, an actor plays the part of a doctor who uses forceps to slowly pull a squishy glittery pink fishing lure through a hole in a synthetic scalp.
The video was posted by the Facebook page Juliette Electrique on July 23, 2022, under the title "Doctor removes parasite from women's scalp."
This is how the video appeared at the time of writing: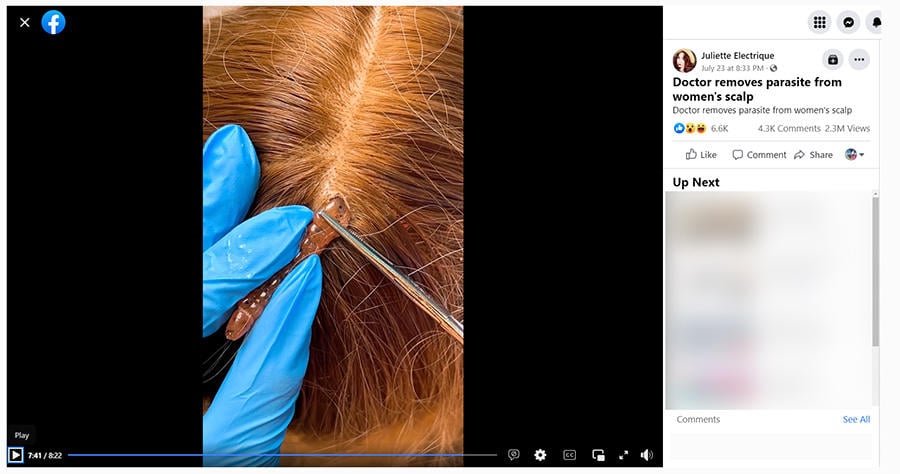 (Image source: Facebook screenshot taken on Tue Aug 02 18:00:27 2022 UTC)
The procedure is already underway as the video begins. There is no blood, since the scalp is not that of a living person. At the climactic end of the video when the stretchy molded fishing lure is finally extracted, the actor blocks the view of the hole in the synthetic scalp with their finger. The video's narration is pseudo-medical jargon. It begins:
I'm going carefully. Our patient's been sedated. This is quite the intrusion into her scalp. I'm gonna go slow because you can see whatever this organic matter is ... really wants to come apart into pieces. I'm going to massage some of the scalp here and here, it's not quite a tick. We have ruled out that it is a tick. Here we go. Oh, see coming through it there since there's no blood inside of it, and this is pretty superficial. We've definitely ruled out that this is not a tick. It is some sort of ocular extrusion of some sort. Oh, we're starting to tear. I'll be very careful here. Use our fingers and we're gonna gently, slowly knead it out. We'll see that the scalp is definitely broken and dry right in this area right here.
Below is a screenshot of some of the thumbnail previews for other videos on the page. One video features the extraction of a "bug" from a woman's ear that takes almost 15 minutes, another video takes almost eight minutes for a "fish" (another fishing lure) to be extracted from a woman's nose.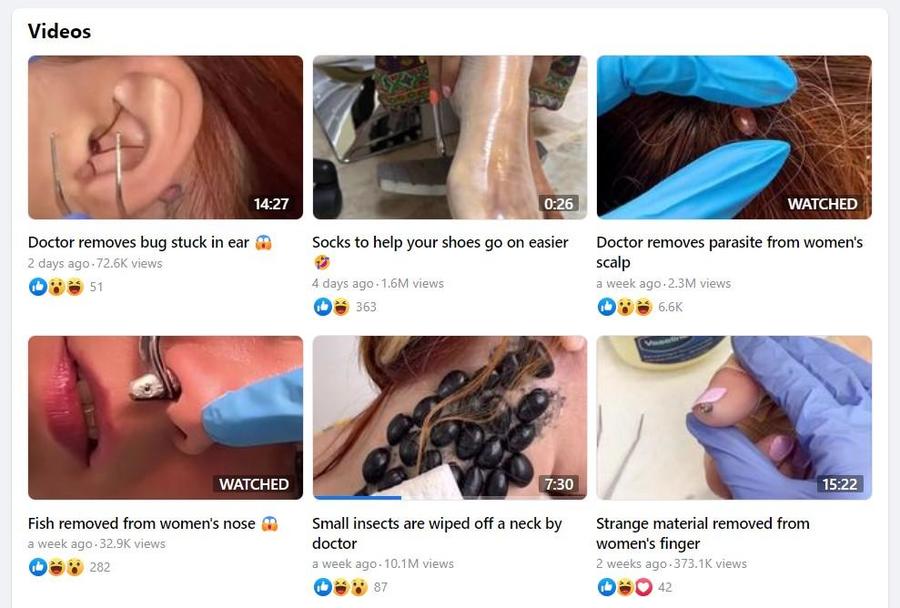 (Image source: Facebook screenshot taken on Tue Aug 02 18:00:27 2022 UTC)
Months ago, on January 6, 2022, a 15-minute, 10-second long video (pictured below) titled, "They got it out QUICK! 😱 ( for entertainment purposes only)" was posted. The video features a "doctor" using forceps to pull a mysterious dark strand from the tip of a prosthetic prop toe. The "patient" is conveniently wearing silver open toe platform shoes. The video was posted with this disclaimer:
They got it out QUICK! 😱 ( for entertainment purposes only)
Meidcal skit featureing wierd itemi n womens toe
Please be advised that this page's videos are intended for entertainment purposes only. The videos on this page include scripted dramas, satires, parodies, magic tricks, pre-recorded videos, and other forms of entertainment. Names, characters and incidents are often the product of the director's imagination, so any resemblance to actual persons or actual events is purely coincidental.
This original video was produced by Rick Lax Productions and Juliette Electrique
This live was prerecorded for your viewing pleasure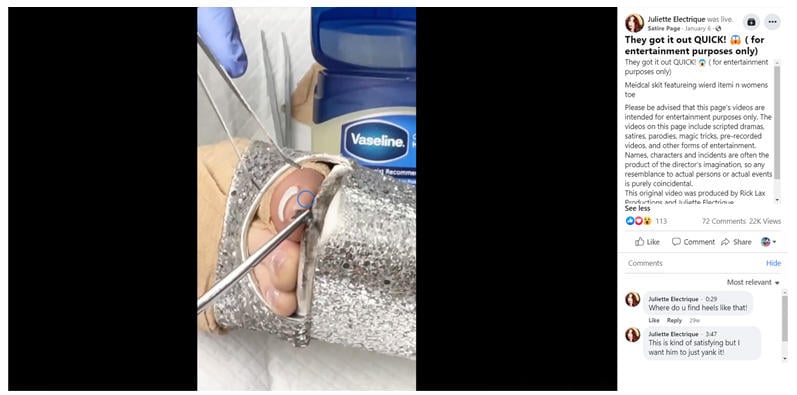 (Image source: Facebook screenshot taken on Tue Aug 02 18:00:27 2022 UTC)
When I was five, my parents got me a magic kit from the toy store. I've been entertaining people ever since. In 2017, I became the most-viewed influencer on Facebook. In 2019, I started teaching people the techniques I'd developed to 'go viral.' By August of 2021, Rick Lax Productions has racked up over one hundred billion video views.
The about section of networkmedia.com reads:
Disruptive Entertainment

Network Media's content creation system fosters continuous growth and best-in-class reach. Our process combines a trove of daily video data with a flexible, low-cost production structure.

Since 2020, Network Media has gotten 140 billion video views on Facebook and Snapchat.
Lead Stories has reported on other skit videos from several entertainment partners with Rick Lax Productions. These videos have featured scripted themes such as police situations purportedly caught on dashcam (
here
and
here
) and
poster board narratives
slowly revealed through suspenseful page turning. Sometimes these videos have been taken by others and reposted without credit or disclaimers.