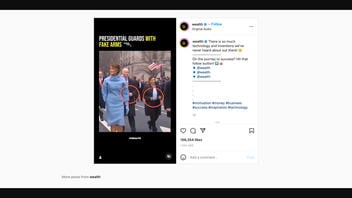 Did Secret Service agents use prosthetic arms to conceal their real hands and weapons during former President Donald Trump's January 20, 2017, inaugural parade? No, that's not true: A spokesperson for the U.S. Secret Service told Lead Stories that such a claim was false. Earlier versions of the claim were debunked in 2017.
The claim appeared in an Instagram post on July 30, 2022, with the caption, "PRESIDENTIAL GUARDS WITH FAKE ARMS 🔫."
The post-maker's first comment continued:
There is so much technology and inventions we've never heard about out there!
This is what the Instagram post looked like at the time of writing: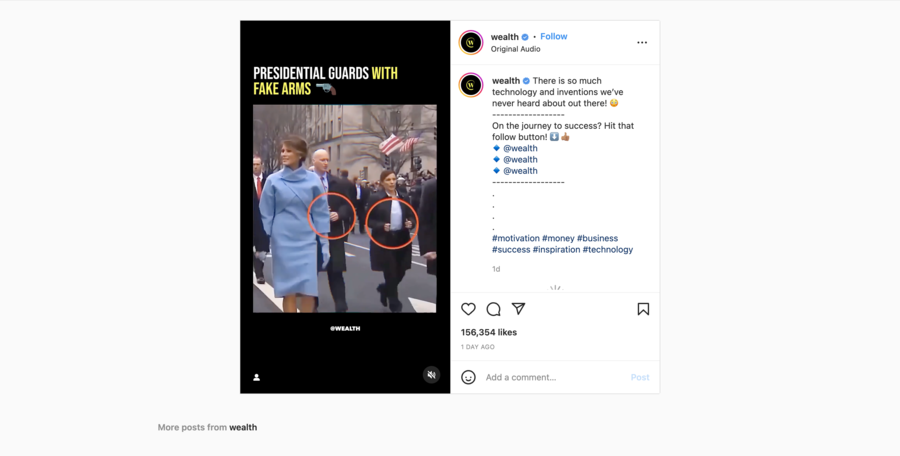 (Source: Instagram screenshot taken on Mon Aug 1 13:21:12 2022 UTC)
Lead Stories talked with a spokesperson for the Secret Service by phone on August 2, 2022, who said, "No, that claim is not accurate." Asked if this was a common way for agents to hold their hands on the job, the spokesperson said they were not at liberty to discuss the means and methods of protection the Secret Service use.
Articles from 2017 also countered this claim. A Huffington Post article included video footage showing other agents holding their hands in a similar position in front of themselves during Trump's 2017 inaugural walk, and it showed one of the agents highlighted in the post moving his fingers and fixing his tie. A Daily Mail article also included video from the 2017 walk, with one clip titled, "It's real! Trump's bodyguard moves his hand."
Here is the video example from the Daily Mail: