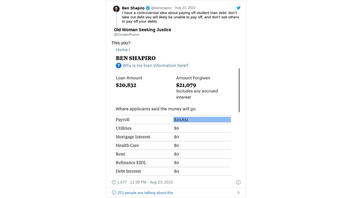 Did political commentator Ben Shapiro receive a Paycheck Protection Program loan (PPP) loan of more than $20,000 that was later forgiven? No, that's not true: Shapiro did not receive such a loan. Rather, an individual with the same name as Shapiro was given the loan for their real estate business and received loan forgiveness.
The claim appeared in a tweet (archived here) published on August 23, 2022. The tweet was a response to a tweet (archived here) posted by Shapiro, in which the commentator expressed his disapproval of the idea of paying off student loan debt. The response tweet read:
This you?
It included a screenshot of a page from the ProPublica "Tracking PPP" website. The page featured a loan recipient named Ben Shapiro who received $20,832 PPP loan. The forgiven loan amount was $21,079, which takes any accrued interest into account.
This is how the post looked on Twitter at the time of writing: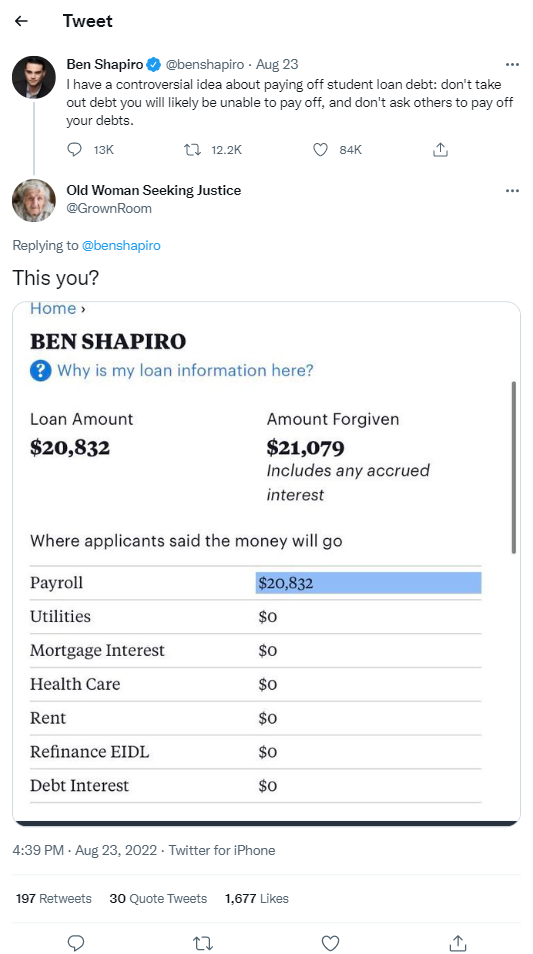 (Source: Twitter screenshot taken on Fri Aug 26 14:37:29 2022 UTC)
The Small Business Administration (SBA) describes the PPP loan as:
An SBA-backed loan that helps businesses keep their workforce employed during the COVID-19 crisis.
The program ended on May 31, 2021. The loans were designed to be forgiven if certain requirements were met.
The Ben Shapiro featured on the "Tracking PPP" website is not the same person as Shapiro the commentator. The Ben Shapiro who received the PPP loan is a real estate agent. This is shown in the information on the "Tracking PPP" website for both the first round of the loan they received (archived here) and the second round of the loan they received (archived here).
Shapiro the commentator is not a real estate agent. Shapiro is part owner of Bentkey Ventures, which owns the media outlet The Daily Wire. Lead Stories searched the "Tracking PPP" website to check whether Bentkey Ventures or The Daily Wire received a PPP loan. We did not find any evidence that the companies did.
Shapiro's thread is embedded below:
In short, Twitter is filled with gullible rubes who will believe nearly anything based on a partial screenshot.

-- Ben Shapiro (@benshapiro) August 24, 2022
More Lead Stories fact checks related to Shapiro can be found here.