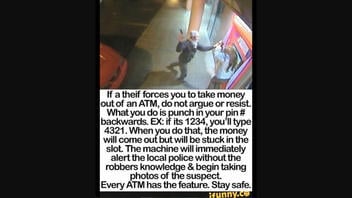 Does a person alert the police to a robbery in progress if they enter their ATM PIN number backward? No, that's not true: The executive director of the ATM Industry Association (ATMIA) told Lead Stories, that while a patent and old legislation does exist for this type of technology, it has never been implemented in any ATM or banking system. A spokesperson for an ATM manufacturer confirmed the backwards PIN code alert is a myth, which is what multiple fact checkers have concluded.
The claim appeared in a Facebook post on March 24, 2022. Beneath a photo of a man robbing a woman in front of an ATM from a higher-angled camera view, the text in the post reads:
If a theif forces you to take money out of an ATM, do not argue or resist. What you do is punch in your pin # backwards. EX: if its 1234, you'll type 4321. When you do that, the money will come out but will be stuck in the slot. The machine will immediately alert the local police without the robbers knowledge and begin taking photos of the suspect. Every ATM has the feature. Stay safe.
This is what the Facebook post looked like at the time of writing: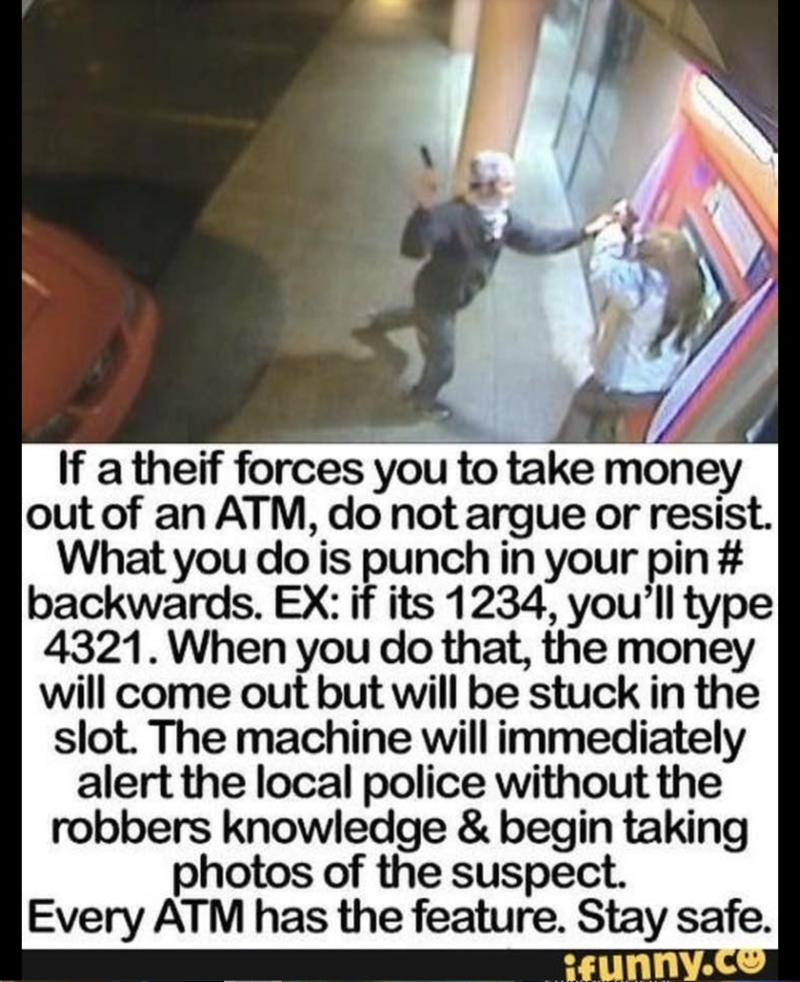 (Source: Facebook screenshot taken on Thu Aug 25 17:32:09 2022 UTC)
Similar posts were made on Facebook here as well.
David Tente, the USA, Canada, and Americas executive director of the ATMIA told Lead Stories in an email on August 24, 2022, that this claim was false:
Although a patent related to such technology does exist, neither ATMIA (ATM Industry Association) nor the ASA (ATM Security Association) is aware of any implementations in the U.S. or anywhere else in the world. There have been several instances over the past 10 years or so where a state has proposed legislation to require such functionality. None have passed.
Tente is referring to this 1998 patent by Joseph Zingher for "SafteyPIN," a technology recognizing PIN variations as distress alerts and contacting police, which was approved in 2015 as an option for banks to implement only in Illinois.
The Federal Trade Commission Bureau of Economics April 2010 Credit Card Accountability Responsibility And Disclosure Act Of 2009 report on Emergency Technology for use with ATMs found that emergency-PIN systems are not implemented in any banks and concluded that there would be no significant impact on ATM robberies if they were implemented. The ATM manufacturer Diebold Nixdorf also stated that to its knowledge, no ATMs have or had an emergency-PIN system.
Lead Stories reached out to Diebold Nixdorf for an update on whether this technology has been implemented in their system or any other ATM manufacturer systems since. In an August 24, 2022, email, Tiffini Bloniarz, senior manager of communications at Diebold Nixdorf responded:
... Diebold Nixdorf has not implemented reverse PIN or 'duress code' technology at any of its ATMs, and we are not aware of any other ATM manufacturers that have installed this technology in the U.S. or anywhere else.
Bloniarz wrote that Diebold Nixdorf has other ideas about safety at banking machines:
To increase security for ATM users as well as our customers, we recommend a layered approach to protect against threats ranging from physical to cyber and data. To protect consumers, we recommend installing cameras in and around the ATM and installing proper lighting.

To keep their ATM card safe, we advise consumers to follow these simple rules:

· Never write your PIN down--especially not on your debit card.

· Don't use ATMs that don't look secure. If it feels sketchy, wait until you find a different terminal. We work with banks to build an ATM finder into their bank app, to make it easier than ever to find an ATM close by.

· Don't throw your receipt away near the ATM.

· Shield the PIN pad while you enter your PIN to avoid shoulder-surfing.

· Slow down. While many of our ATMs offer the "card before cash" feature to minimize the chance that people will leave their card behind, customers have been known to leave their cash and/or their cards at the ATM when they're in a rush.

In addition, consumers should also be aware of their surroundings while using an ATM and choose a location that provides adequate lighting.
A February 15, 2018, Insider article titled, "There's a viral Facebook post with dangerous and untrue advice about what to do if you get robbed at an ATM -- we put it to the test," found that putting in an ATM PIN backward would not work anyway, ultimately debunking this claim as false. A March 3, 2015, WalletHub article titled, "ATM PIN Number Reversal: Myth or Reality?" came to a similar conclusion as it found the origins of this claim to be based on a myth.