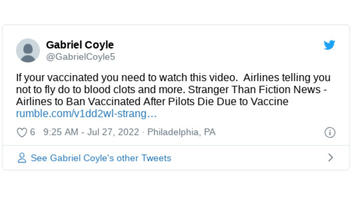 Are airlines banning travelers who are vaccinated against the coronavirus from flying because the shot elevates their risk for blood clotting? No, that's not true: This rumor has recently resurfaced on social media after being thoroughly debunked when it first emerged in 2021. No publicly available evidence supports the claim airlines were banning the vaccinated as of this writing.
This claim appeared in a Rumble video posted on July 23, 2022 on the "In Search of Truth" account under the title "Stranger Than Fiction News - Airlines to Ban Vaccinated After Pilots Die Due to Vaccine." A link to the video appeared in a July 27, 2022, Twitter post (archived here) that read:
"

If your vaccinated you need to watch this video. Airlines telling you not to fly do to blood clots and more."
This is what the post looked like on Twitter at the time of writing:
(Source: Twitter screenshot taken on Thu Aug 18 18:43:15 2022 UTC)
The video begins with a Sky News Australia clip from June 11, 2021, in which presenter Cory Bernardi says, "Airlines in Spain and Russia are warning people who've been vaccinated against coronavirus not to travel because of the risk of blood clots." Lead Stories looked into this claim on June 17, 2021 and determined it was false: Bernardi's information came from an article published by a Swiss news outlet that was based on rumors appearing on Spanish and Russian websites.
The International Air Transport Association (IATA) responded to such claims and has not reversed what it said in a July 6, 2021, press release:
There is no truth to these suggestions. IATA is not aware of any airlines considering denying vaccinated passengers travel due to the blood clot risk. IATA has a medical advisory group that looks at health and air travel issues. The issue of preventing travel due to blood clots as a side-effect of COVID-19 vaccination is not on their agenda and has never been suggested to this group as a risk.
So, has the vaccine been killing off airline pilots, as the Rumble video claims?

At the 0:38 mark, the video shows a screen shot of a June 17, 2021 tweet in which British Airways confirms that four of its pilots had recently died. The narrator ignores the part of the tweet that says:
there is no truth whatsoever in the claims on social media speculating that the four deaths are linked.
At 0:51, the video displays a June 18, 2021 tweet by Scottish nutritionist Gillian McKeith that quotes a May 24, 2021 Reuters article titled "United Airlines, union agree against mandatory COVID-19 vaccinations for pilots." There is no evidence that United Airlines implemented this policy over concerns that pilots would die from blood clots mid-flight. The Reuters article cites "risk of legal and cultural backlash" as a reason behind the airlines' decision.
In rare cases, patients who received the COVID-19 injection produced by Janssen Pharmaceuticals developed a blood-clotting disorder called thrombosis with thrombocytopenia syndrome (TTS), according to a May 5, 2022, statement by the U.S. Food and Drug Administration. The ratio of people who reported TTS after receiving the Janssen shot was 3.23 per million doses of vaccine, while the ratio of people who died from TTS was 0.48 per million doses, the statement said. The FDA decided to limit the Janssen vaccine's authorized use, but still stressed that its benefits outweigh the potential risks for adults older than 18.
The U.S. National Institutes of Health published a study on November 15, 2021, that found 3,420 people who received vaccines made by Pfizer-BioNTech, Moderna, and Oxford-AstraZeneca reported adverse thrombotic events between February 17 and June 14, 2021. These incidents may have occurred due to a multiple causative factors, the study said.
U.S. Centers for Disease Control and Prevention guidance does not list vaccinations as a risk factor for blood clotting.
Lead Stories has debunked other claims concerning pilots and COVID vaccinations. You can see those stories here, here and here.