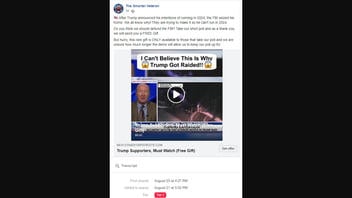 Did the FBI seize Donald Trump's home? No, that's not true: Unsealed court records reveal that agents took multiple sets of documents during the August 8, 2022, search of Mar-a-Lago in Florida, where the former president resides, but did not seize his home.
The claim originated in a Facebook post on August 20, 2022, under the title "Trump Supporters, Must Watch (Free Gift)."
It began:
🇺🇸 After Trump announced his intentions of running in 2024, the FBI seized his home. We all know why! They are trying to make it so he can't run in 2024.
The post continued with a call to enter one's personal information in exchange for a present:
Do you think we should defund the FBI? Take our short poll and as a thank you, we will send you a FREE Gift

But hurry, this rare gift is ONLY available to those that take our poll and we are unsure how much longer the dems will allow us to keep our poll up for.
Here is what the post looked like on Facebook at the time of writing: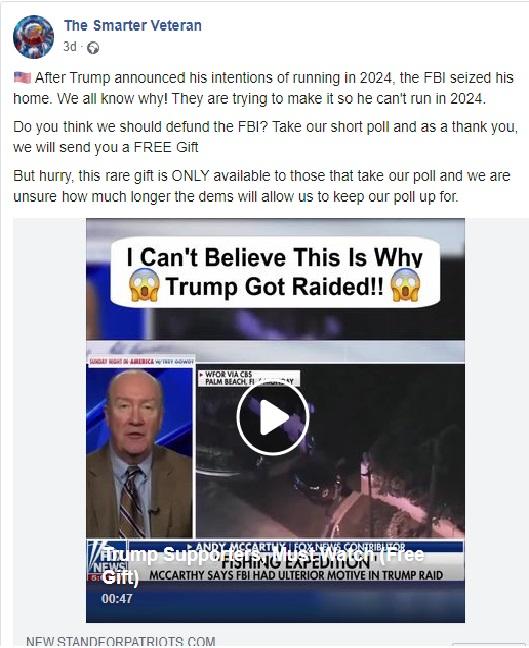 (Source: Facebook screenshot taken on Wed Aug 24 10:26 2022 UTC)
The video includes what appears to be a fragment of a Fox News show combined with a Defund the FBI campaign promo. The clip opens with:
Federal prosecutor Andy McCarthy says there is more to the raid than what the feds have indicated.
The video never says Trump's residence was seized. Instead, at the 0:36 mark, the male voice-over offers a "limited edition watch" "for free" if viewers answer the poll questions.
FBI agents never seized Trump's home -- instead, they collected many boxes of documents, as the recently disclosed court file containing the warrant and property receipt shows. It is available for the general public on Public Access to Court Electronic Records (PACER) and archived here.
Attachment A describes the premises to be searched ("a mansion with approximately 58 bedrooms, 33 bathrooms, on a 17-acre estate") while attachment B directs agents to seize:
all physical documents and records constituting evidence, contraband, fruits of crime.
As the following paragraphs specify, the primary focus of the search was classified documents, printed or electronically stored.
The property receipt issued on August 8, 2022, does not discuss any residential property being seized -- it only provides a description of the documentation taken by the FBI: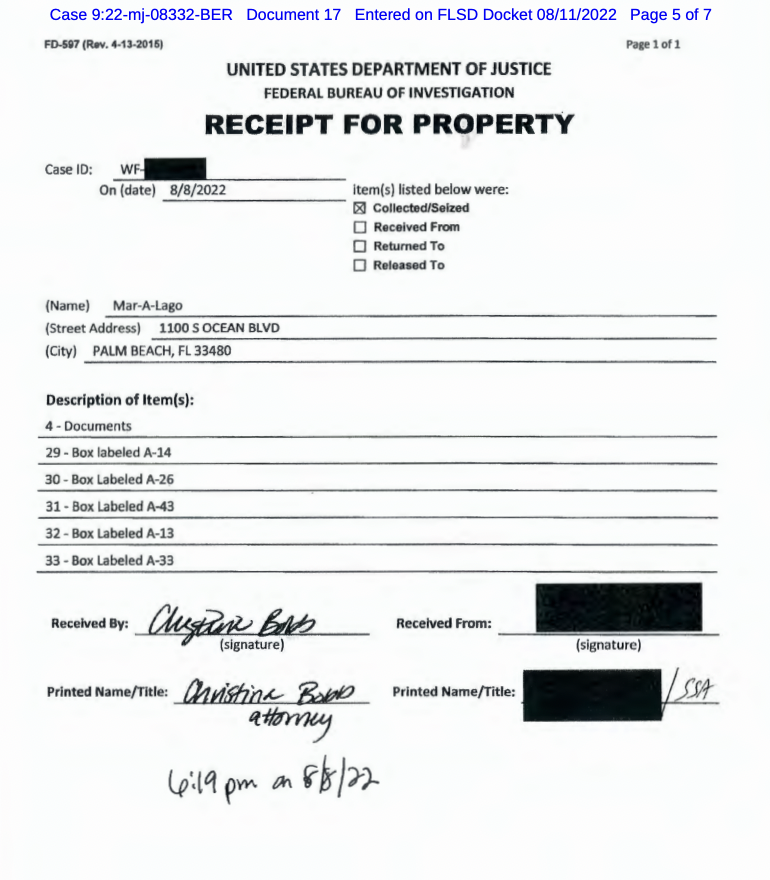 (Source: PACER screenshot taken on Wed Aug 24 15:18:08 2022 UTC)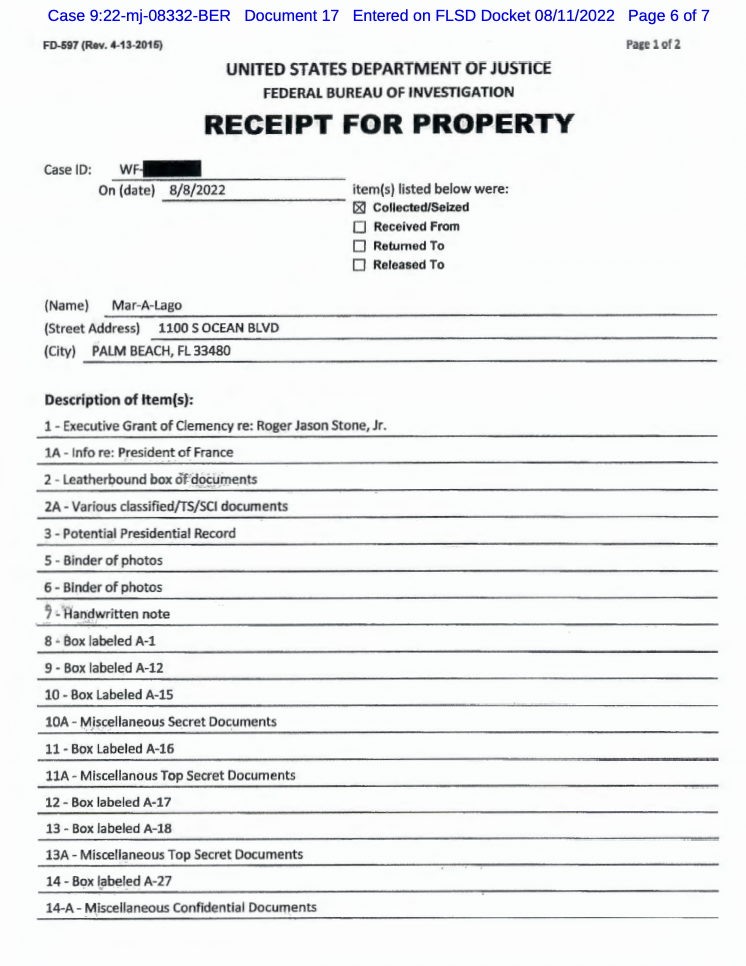 (Source: PACER screenshot taken on Wed Aug 24 15:18:31 2022 UTC)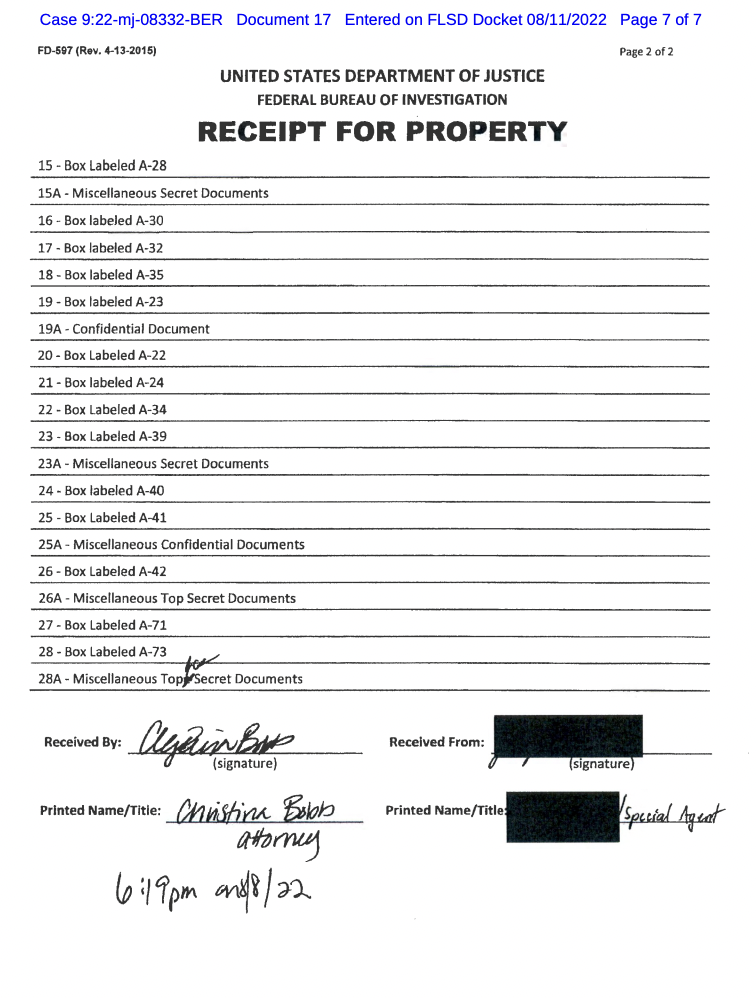 (Source: PACER screenshot taken on Wed Aug 24 15:19:02 2022 UTC)