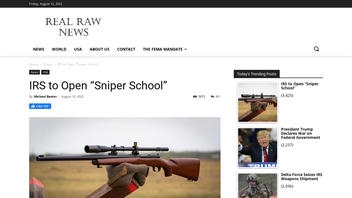 Is the IRS opening a "sniper school"? No, that's not true: The IRS Criminal Investigation unit declared to Lead Stories that there is no such school opening. The claim was made in an article on a website known for fictitious content.
The claim was originally found in an article (archived here) published on August 10, 2022, and titled "IRS to Open 'Sniper School.'" It opened:
An administration whistleblower speaking under condition of anonymity for fear of reprisal told Real Raw News on Tuesday that the IRS will spend some of its newfound wealth-$87bn--on opening a 'sniper school' where treasury agents will be trained to use the M24 Sniper Weapons System (SWS,) a military and police version of the popular Remington Model 700 series rifles.
This is how the article looked at the time of writing: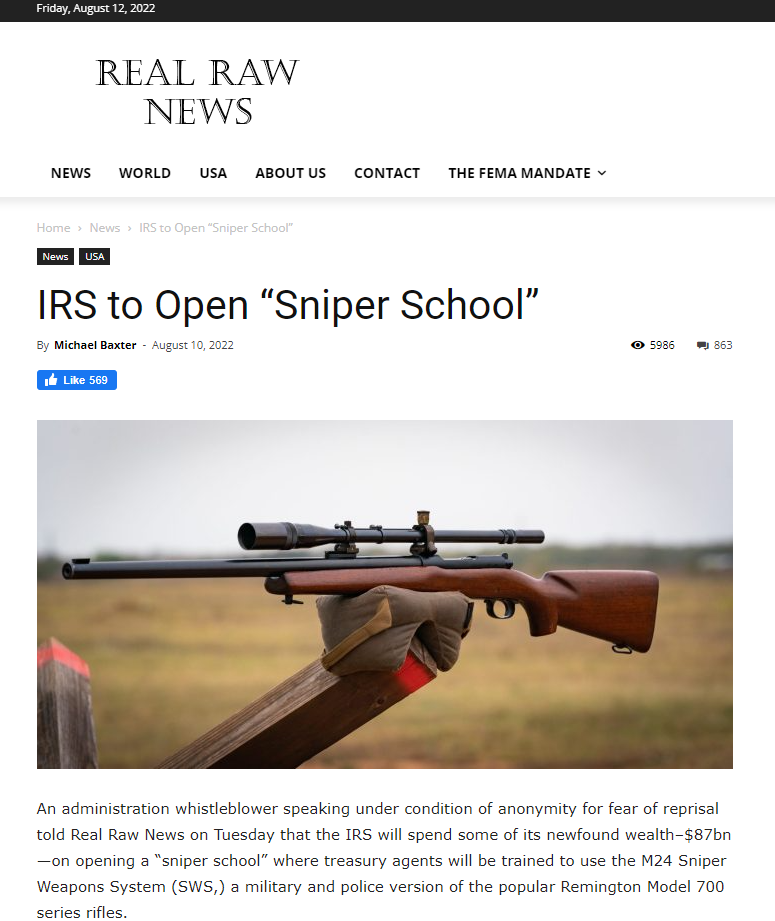 (Source: Real Raw News screenshot taken on Fri Aug 12 15:19:20 2022 UTC)
Although the IRS does have an armed Criminal Investigation unit, there is no evidence the IRS is opening a sniper school at the time of writing. The Real Raw News article only cites one anonymous person as its source and does not provide any documentary, photographic or other evidence to support its claim.
The IRS did not have information about a sniper school for the civilian portion of the agency and instead referred Lead Stories to its Criminal Investigation unit during an August 11, 2022, phone call. In an email sent to us on August 11, 2022, Anny Pachner, a spokesperson for the IRS Criminal Investigation unit, said that if the claim refers to the Criminal Investigation unit, "it is not true." She also provided more information about the unit:
IRS-CI is the 6th largest law enforcement agency in the U.S. Our special agents investigate criminal tax violations and other related financial crimes - namely in the money laundering, Bank Secrecy, National Security and National Defense matters. In order to carry out their daily duties, which include search warrants and arrests, CI special agents carry firearms. They also receive continuous annual training in order to carry a firearm. CI agents also work daily with other law enforcement agencies and are often called upon to assist in investigations for their ability to dismantle financial crimes.

There are about 3,000 employees in CI, 2,100 of which are special agents and the remaining professional staff. Only special agents carry firearms.
The official website of the IRS does not have any information on snipers, much less a sniper school, at the time of writing.
The only Google search results for "IRS sniper school" that corroborated the claim made in the Real Raw News article were webpages that referenced or seemingly referenced the content in the article. An example is here.
Real Raw News has a long history of publishing false claims in mock news stories, many of them about convictions and executions of various public figures at Naval Station Guantanamo Bay in Cuba. For example, the site reported former Secretary of State Hillary Clinton was hanged (she wasn't); former White House Chief of Staff John Podesta was executed (he wasn't); and that "the military" convicted former Attorney General William Barr on charges of treason (it didn't).
The website for Real Raw News includes a disclaimer that warns readers not to take its content too seriously. Specifically, it says:
Information on this website is for informational and educational and entertainment purposes. This website contains humor, parody, and satire. We have included this disclaimer for our protection, on the advice on legal counsel.

(Source: RealRawNews.com screenshot taken Tue Aug 3 16:39:48 UTC 2021)
Lead Stories has covered claims published by Real Raw News in the past. Previous Lead Stories debunks of Real Raw News items is collected here.