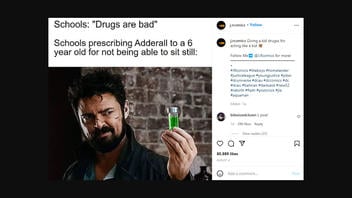 Can schools prescribe students Adderall, a drug used to treat attention deficit hyperactivity disorder (ADHD)? No, that's not true: According to federal law, public schools are not allowed to prescribe Adderall to students. Lead Stories did not find evidence that private schools can prescribe ADHD medication to students, either.
The claim was implied in an Instagram post on August 4, 2022. The post included a meme with an altered version of an image from an unrelated article about a TV series, shown here, and text that reads:
Schools: 'Drugs are bad'
Schools prescribing Adderall to a 6 year old for not being able to sit still:
This is how the post looked on Instagram at the time of writing: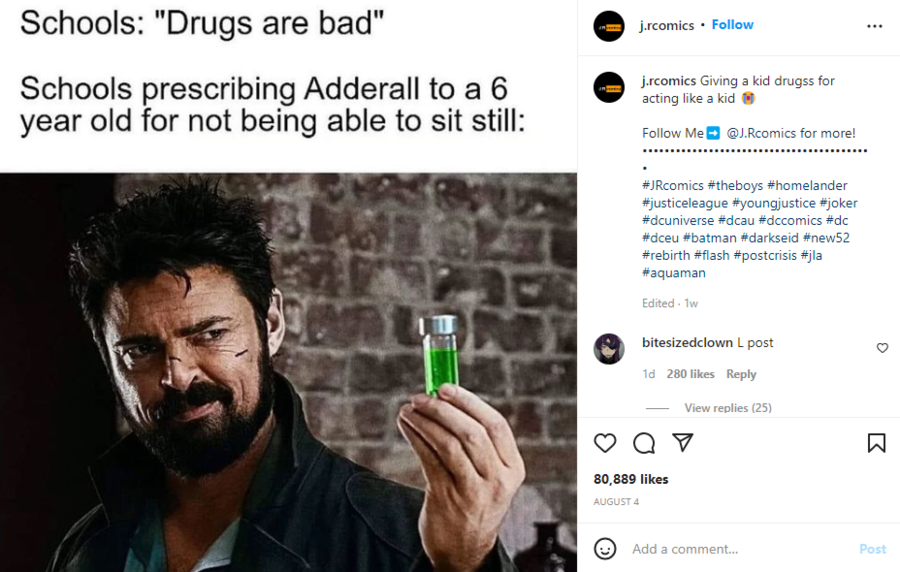 (Source: Instagram screenshot taken on Tue Aug 16 14:34:48 2022 UTC)
Anni Rodgers, general manager of ADDitude, a publication focused on providing ADHD education and support, sent Lead Stories an email on August 17, 2022, about the claim. She said:
In short, schools cannot prescribe ADHD medication - whether stimulant or non-stimulant. That statement is false.

Prescriptions may only be obtained from a primary care provider (pediatrician), a developmental and behavioral physician, a psychiatrist, a neurologist, an APRN [advanced practice registered nurse], an NP, or psychopharmacologist. Most psychiatrists cannot prescribe medication (laws vary by state) and licensed professional counselors, licensed medical health counselors, and licensed social workers cannot prescribe medication. Even schools with an LCSW on staff could not prescribe medication to a student.
Rodgers also referred us to an ADDitude resource explaining the role of health professionals in ADHD treatment.
The Individuals with Disabilities Education Act is legislation that accounts for the educational needs of children with disabilities. The act applies to public education. A section of the act discusses a prohibition on mandatory medication:
(A) In general
The State educational agency shall prohibit State and local educational agency personnel from requiring a child to obtain a prescription for a substance covered by the Controlled Substances Act (21 U.S.C. 801 et seq.) as a condition of attending school, receiving an evaluation under subsection (a) or (c) of section 1414 of this title, or receiving services under this chapter.
However, the section specifies that educators are allowed to share any concerns about a student's performance or behavior with the student's parents or guardians:
(B) Rule of construction
Nothing in subparagraph (A) shall be construed to create a Federal prohibition against teachers and other school personnel consulting or sharing classroom-based observations with parents or guardians regarding a student's academic and functional performance, or behavior in the classroom or school, or regarding the need for evaluation for special education or related services under paragraph (3).
The Code of Federal Regulations and the Drug Enforcement Administration list amphetamines, one of the generic names of Adderall, as a Schedule II controlled substance. The DEA explains that Schedule II controlled substances are considered to have a high potential for abuse that can lead to "severe psychological or physical dependence."
Lead Stories spoke with the Department of Education on a phone call on August 16, 2022, about the claim. The representative told us that the department does not prescribe Adderall to children, but clarified that each state sets its own curriculum and procedures for their schools and that the department's contribution to public schools is limited.
According to an article written by Lindsay Jones, CEO of CAST, a nonprofit education organization, public schools cannot make children take ADHD medication, as such an action is banned by law. However, private schools have more room to decide which students can and cannot attend their schools:
There's no specific law preventing a private school from requiring students to take ADHD medication. A private school can't refuse to admit your child just because your child has ADHD--that's disability discrimination. But private schools aren't required to serve all students. They can refuse to accept students for a variety of reasons.
Section 504 of the Rehabilitation Act of 1973 protects "qualified individuals with disabilities" from discrimination because of their disability. However, this law only applies to organizations that receive financial assistance from federal government departments or agencies. So, a private school that receives such funds would be subject to this law. More information about how the section applies to schools can be found here.
Lead Stories reached out to Jones to ask whether there is any scenario in which a private school can or has prescribed ADHD medication to students. The fact check will be updated with any relevant response. We also reached out to the National Center for Learning Disabilities for more information about the claim overall, but the organization could not assist us with the inquiry.
Lead Stories previously debunked a claim that a study concluded that cannabis treats ADHD better than Adderall.