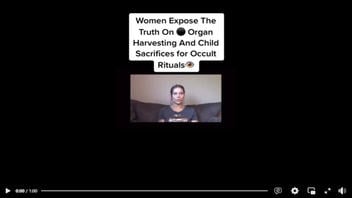 Is the CERN physics laboratory powered by child sacrifices or human blood? No, that's not true: There's no evidence that the lab, which is often referred to as the European Laboratory for Particle Physics, is being powered by anything other than the French electrical grid. In an August 17, 2022, email to Lead Stories the agency said, "CERN is powered by the French electrical grid, which is primarily nuclear power."
The claims appeared in a Facebook post (archived here) published on August 6, 2022, under the title "Women Expose The Truth on ⚫ Organ Harvesting And Child Sacrifices for Occult Rituals👁️." It opened:
Do you still not Comprehend What's Going On? Who do think are being harvested Blk Women ,Men,

Children perhaps

#Truth

#organharvesting

#occult

#fyb

#whattheydontwantyoutoknow
This is what the post looked like on Facebook at the time of writing: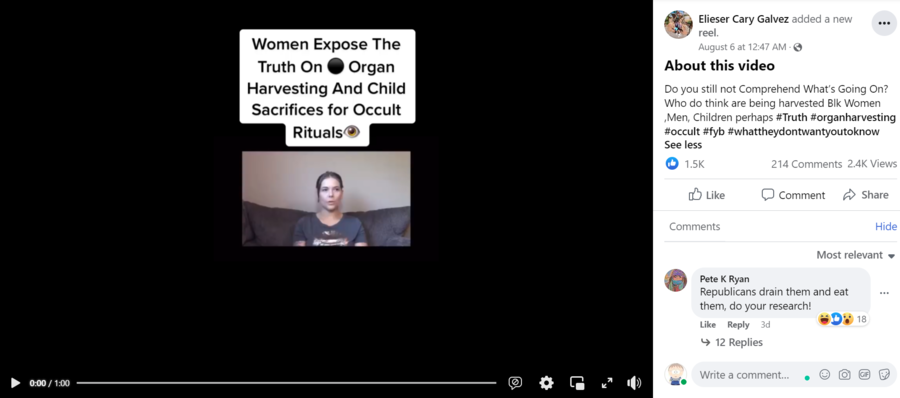 (Source: Facebook screenshot taken on Wed Aug 17 15:04:16 2022 UTC)
The video
The minute-long video features an unidentified woman, talking about an unidentified group or organization:
We do commit acts, vile acts against other human beings because blood and life essence from a human being is power. They steal blood and life essence, especially from children and consume it or store it away for power. They use child sacrifice and infant sacrifice to steal the life essence of those beings and that life essence not only gives them power but it powers temples, ley lines, rituals and other things that they're working on. If you've heard of CERN, it's being powered by ...
The video abruptly ends without the woman completing her thought or offering any evidence to support her claims. (Her spoken mention of "ley lines" is an apparent reference to supposed straight-line alignments betwen various historic landmarks around the world.)
In an August 17, 2022, email to Lead Stories, Sarah Charley with the CERN press office said:
CERN is powered by the French electrical grid, which is primarily nuclear power. You can find more information here: https://home.cern/science/engineering/powering-cern
Fake ritual
The discussion in the video about human sacrifices may have been a reaction to a mock human sacrifice recorded by CERN employees on laboratory grounds in 2016 (video here). In an August 19, 2016, article, Huffington Post reported:
The video was repeatedly dissected by conspiracy theorists, at least some of whom believed it was evidence of dark deeds at the facility.

In response, CERN updated its FAQ, called the video "fiction" and blamed its creation on lab employees.

'Persons that are authorized to access the CERN site sometimes let their sense of humor go too far, and that is what has happened on this occasion,' the FAQ stated. 'CERN does not condone this kind of spoof, which breaches CERN's professional guidelines, and is currently carrying out an internal investigation.'
The physics lab has also been the subject of other claims, including that the restart of its subatomic particle collider had opened portals to other dimensions or had caused time travel. Lead Stories debunked both of them.
QAnon
However, the video's claims also play into a greater QAnon conspiracy theory of a global cabal of satanic elites. QAnon is an unfounded conspiracy theory that presents as truth, among other things, that former President Donald Trump is waging a secret war against satanic Hollywood elites, Democratic elected officials and business leaders who are running a secret international child sex trafficking ring. QAnon followers receive messages online from an account called "Q" that they believe informs them of the coded messages Trump is sending to signify his accomplishments in the secret war. QAnon supporters believe Trump will oversee arrests of high-powered people for child sex abuse and that he will be returned to a place of power as the president again. They have been referring to something called the "Storm," which will be the moment Trump will expose and punish the international cabal of evil-doers.
Lead Stories has debunked multiple claims made by QAnon supporters including these here and here.