STORY UPDATED: check for updates below.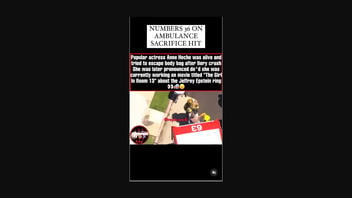 Was Anne Heche in a movie about pedophile financier Jeffrey Epstein, which some conspiracy theorists claim led to her death? No, that's not true: The Hollywood star crashed her car into a house August 9, 2022, succumbing to her injuries five days later. The Los Angeles County Coroner on August 17 ruled her death accidental. At the time of her death, she was starring in a movie titled, "Girl in Room 13," which is not based on Epstein, Lifetime Network told Lead Stories. The claim offered no credible physical or documentary evidence that she was murdered.
The claim appeared in a video (archived here) published on Instagram on August 15, 2022. It opened:
NUMBERS 36 ON AMBULANCE SACRIFICE HIT

Popular actress Anne Heche was alive and tried to escape body bag after fiery crash She was later pronounced de*d she was currently working on movie titled "The Girl in Room 13" about the Jeffrey Epstein ring
This is what the post looked like on Instagram at the time of writing:

(Source: Instagram screenshot taken on Wed Aug 17 21:38:03 2022 UTC)
The post is a video showing aerial footage from the live helicopter news coverage of when Heche was on a gurney and being placed in an ambulance after her car crashed into a house on August 5, 2022. The aerial footage shows an EMT vehicle with the number 63 on the roof.
The post claims Heche was "alive and tried to escape body bag after fiery crash." This is not true. According to a Fox 11 Los Angeles TV channel report from the scene posted on YouTube, Heche did sit up as she was on a gurney being moved to an ambulance following her car crash. She was not in a "body bag," but was wrapped in a white sheet and partially strapped down on the gurney. Heche was taken off life support following catastrophic injuries. There was some confusion surrounding her death, as her family announced she had died when she was declared brain dead. Her body was kept alive for several more days to allow her organs to be donated once viable recipients were located.
The caption on the Instagram account that posted the video claimed that Heche was "not dead" and also that the accident was an "Illuminati hit":
If this is true? Not sure why they said he tho. Must've been someone else also working on the documentary Someone is clearly not dead tho and this is a cover up this was an Illuminati hit #36 sacrifice CAUGHT!!! #anneheche not sure
There is no proof that she was a "sacrifice hit" or an "Illuminati hit." The Illuminati is a historic organization that conspiracy theorists believe still has worldwide control over celebrities, world leaders and current events.
Heche had completed filming the movie "Girl in Room 13," which was scheduled to be released on September 17, 2022. A spokesperson for the Lifetime network confirmed to Lead Stories via email on August 17, 2022, "the movie is inspired by true events but not by the Jeffrey Epstein case." The summary of the film according to IMDb reads:
Grace becomes addicted to opioids after suffering a sports injury. She's ready to leave her addiction behind under her mother's watch, but her past won't let her go: Richie kidnaps her in a motel room to sell her into human trafficking.
A trailer for the movie on the Lifetime YouTube channel describes the story the same way, with no mention of Epstein.
Epstein was accused of running an international sex trafficking ring but committed suicide in prison, where he was held while awaiting trial. Lead Stories has written several stories about false claims concerning Epstein, which can be found here.
2022-09-13T15:37:39Z

2022-09-13T15:37:39Z

Updated to make it clear the false claim being made was that Heche's work in a film about Epstein was the motivation for killing her. While the video the debunk focused on included an Illuminati reference, some others did not.