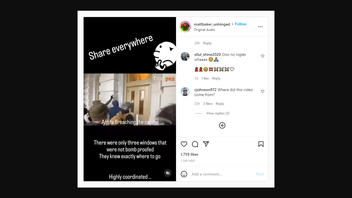 Were antifa and federal agents behind the 2021 attack on the U.S. Capitol? No, that's not true: Supporters of former President Donald Trump were behind the January 6, 2021, attack. Claims that antifa members were responsible have been repeatedly and widely debunked.
The recycled allegation appeared in an Instagram post on July 22, 2022. The post includes a short video of the attack, showing rioters breaking windows and climbing into the Capitol building. The post opens:
Antifa + Feds = false Flag share this NOW
This is what the post looked on social media at the time of writing:
The post offers no evidence to support its claim that the Capitol attack was a "false flag." A false flag is an operation or attack that's made to look like it was carried out by people other than the people who are responsible.
Claims that antifa was responsible have been repeatedly and widely debunked, as can be seen here, here, here and here. In those stories, Lead Stories found that CNN did not report that antifa took responsibility for storming the Capitol; that Aaron Mostofsky, aka the "Caveman Capitol Protester," is not a "violent leftist" and antifa member; that the FBI did not confirm antifa activists stormed the Capitol and that there is no evidence rioters were antifa activists dressed as Trump supporters.
In lieu of evidence, the post made some observations and asked questions, such as the following:
4:where did the riot shield come from?
5: who is the super recognizable guy with the graying curly hair and has he been charged or is he having a cookout with Ray Epps.??
Presumably, the post was referring to the man in the video who can be seen smashing a window with a riot shield.
Authorities have identified him as Dominic Pezzola of Rochester, New York. According to a superseding indictment, filed June 6, 2022, Pezzola stole a riot shield from a Capitol Police officer and used it to break a window of the Capitol. The first members of the mob, including Pezzola, entered the Capitol through this window.
The indictment, which identifies Pezzola as a member of the Proud Boys, says that he shouted at Capitol Police officers trying to stop the crowd, something to the effect of, "You think antifa's fucking bad, just you wait!"
Among other charges, Pezzola has been charged with seditious conspiracy, destruction of government property and conspiracy to obstruct an official proceeding. He has pleaded not guilty and was behind bars as of a June 6, 2022, Department of Justice statement.