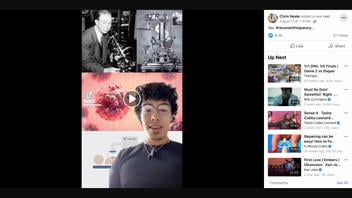 Does resonant frequency therapy with the Rife machine cure cancer? No, that's not true: A video making that claim provides very little evidence that Rife machines work. A medical doctor who specializes in radiation oncology and a nursing professor both told Lead Stories that Rife machines do not cure cancer, and there is no evidence that they do. The energy emitted from Rife machines is not powerful enough to kill cancerous cells, the doctor said; and these machines are often sold for financial incentives, rather than health incentives, the professor said.
The claim appeared in a TikTok video reposted as a Facebook Reel on August 13, 2022, with the caption "Yes. #resonantfrequency." The video opened with:
Did you know that the cure for cancer has already been found?
This is what the post looked like on Facebook at the time of writing: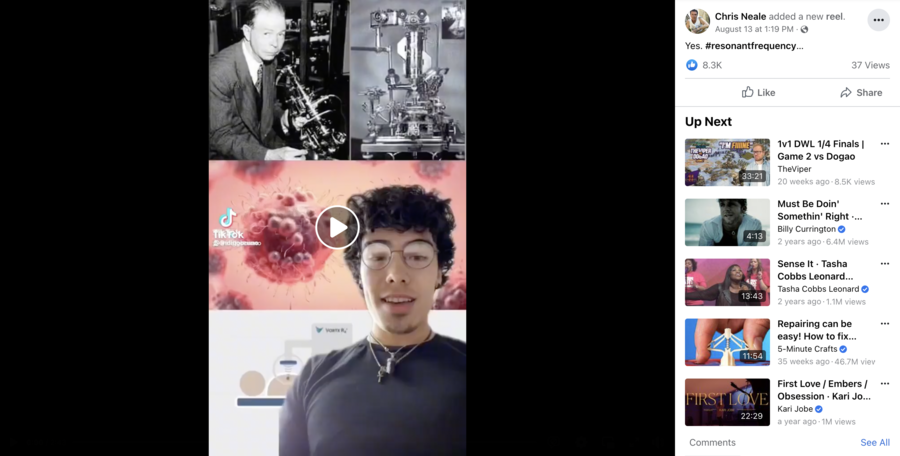 (Source: Facebook screenshot taken on Wed Aug 24 18:39:20 2022 UTC)
In the almost three-minute video, an unidentified narrator claims that Royal Rife, an American scientist, found the cure to cancer by creating the Rife machine. According to CancerResearchUK.org, Rife machines produce low electromagnetic energy waves that pass through the body. Beyond that, there is not a lot of evidence supporting the claims the narrator makes. For example, he claims that Rife's machine destroyed 60 percent of the cancer cells in Rife's patients. There is no source backing this claim. Additionally, destroying 60 percent of cancer cells presumably would still leave 40 percent of cancer cells alive.
The narrator also claims that "some greedy people" didn't want Rife curing cancer, so they found ways to destroy Rife's career and invention, which the narrator says is why some have referred to the treatment as a "hoax." No names are mentioned, and it cannot be determined from this video whether the narrator believes that what he calls "greedy people" were successful in their efforts. As of this writing, Rife machines are advertised online at prices ranging from a few hundred to several thousand dollars.
Experts in oncology say that Rife machines don't cure cancer because there is no evidence to support the claim, not because they want to destroy Rife's legacy. Toward the end of the video, a scientific paper titled, "Targeted treatment of cancer with radiofrequency electromagnetic fields amplitude-modulated at tumor-specific frequencies" is shown in the background as the narrator speaks. A closer look at the paper shows there's a conflict-of-interest statement that states two of the authors have filed for patent protections and own patents related to electromagnetic fields amplitude-modulated at tumor-specific frequencies as they relate to the diagnosis and treatment of cancer. The two authors also hold stock in and are the co-inventors of TheraBionic, a technology company specializing in using frequencies as cancer therapy.
Finally, the narrator of the video says the cancer treatment industry is worth $1.58 billion, but the text on-screen corrects him to $158 billion -- in other words, the video is correcting itself. It's not clear what year and what country or countries the estimate applies to.
Dr. Skyler Johnson, a physician and assistant professor specializing in radiation oncology at the University of Utah Huntsman Cancer Institute, told Lead Stories in an August 24, 2022, email:
Rife machines have not been demonstrated to treat or cure any cancer. The energy created is not strong enough to damage cancer cells. The claims that it does cure cancer have been debunked multiple times. Patients who opt to use this to treat their cancer put their lives at serious risk.
Echo Warner, an assistant professor in the College of Nursing at Huntsman Cancer Institute and an associate member of the Huntsman Cancer Institute, added:
There is no scientific evidence to support the claim that Rife machines treat cancer. Our research about online health misinformation has shown that these claims often have financial incentives. Though there is no scientific evidence to support the claim that Rife machines treat or cure cancer, these machines are often sold to cancer patients for thousands of dollars. Cancer patients who pursue purchasing these machines may increase their risk of financial hardship during a cancer experience, while also risking their health by delaying cancer treatment.
The Facebook video includes clips from two speakers. One clip is titled, "Shattering cancer with resonant frequencies: Anthony Holland at TEDxSkidmoreCollege." The TEDx Talks YouTube channel has this written disclaimer below the video:
NOTE FROM TED: Please do not look to this talk for medical advice. We've flagged this talk, which was filmed at a TEDx event, because it appears to fall outside TEDx's content guidelines. Resonant Frequency Therapy has not been proven effective by scientific research.
The second clip is about another form of resonant frequency therapy, histotripsy. A 2014 scientific paper, "Development and Translation of Histotripsy: Current Status and Future Directions," published in Current Opinion in Urology, outlines what histotripsy could mean for cancer cells. This paper defines histotripsy as a "noninvasive image-guided focused ultrasound technology that mechanically homogenizes targeted tissues." Histotripsy was used on prostate cancer cells formed in dogs. It did not treat chronic subjects showing metastases, or secondary cancerous growths at a distance from the primary site of a cancer. The study notes that histotripsy may be used as a prostate focal therapy, but more research is needed.
Here, here, and here are more Lead Stories articles about purported cures for cancer.