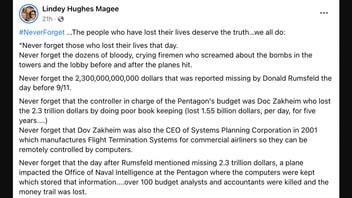 Did then-U.S. Secretary of Defense Donald Rumsfeld report that $2.3 trillion was missing the day before the September 11, 2001 terrorist attacks? No, that's not true: Rumsfeld gave a speech on September 10, 2001 about the bureaucratic red tape in the U.S. government and his plans to update processes. He remarked that it was difficult to track financial transactions within the current system. He did not say that $2.3 trillion was missing.
The claim appeared in a Facebook post on September 11, 2022. It opens:
#NeverForget

...The people who have lost their lives deserve the truth...we all do:
This is what the post looked like on Facebook at the time of writing: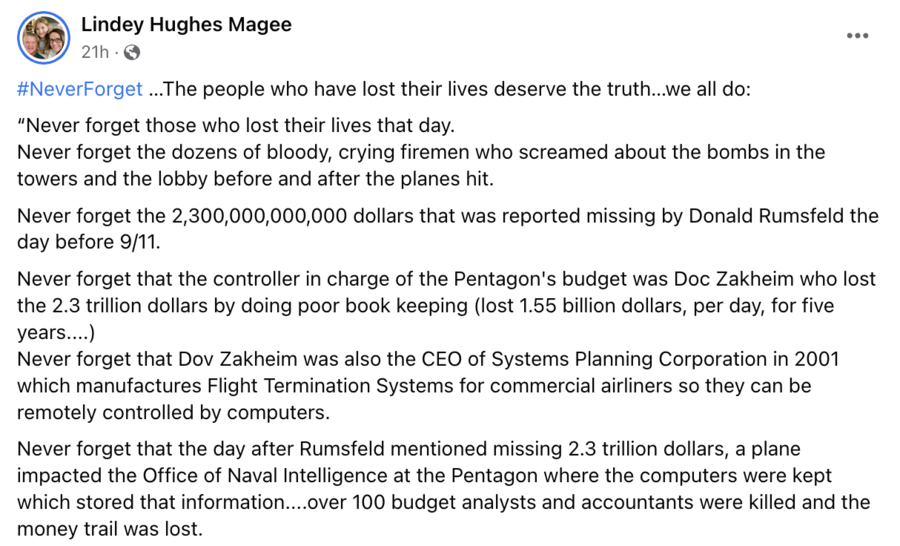 (Source: Facebook screenshot taken on Mon Sep 12 22:53:59 2022 UTC)
The lengthy Facebook post has a list of things to "never forget," implying that all are reasons to disbelieve what really happened on September 11, 2001. This fact check will focus on three of the items.
Claim: 'Never forget the 2,300,000,000,000 dollars that was reported missing by Donald Rumsfeld the day before 9/11.'
The claim misrepresents remarks Rumsfeld made on September 10, 2001, when he was secretary of the Department of Defense (DOD) under President George W. Bush.
Rumsfeld did not report that $2.3 trillion was missing. He was criticizing DOD bureaucratic red tape and used that number as an example of the department's problems in keeping track of its finances. "To that end, we're announcing today a series of steps the Department of Defense will take to shift our focus and our resources from bureaucracy to battlefield, from tail to tooth," he stated. According to an archived copy of his speech from the DOD website, Rumsfeld said:
The technology revolution has transformed organizations across the private sector, but not ours, not fully, not yet. We are, as they say, tangled in our anchor chain. Our financial systems are decades old. According to some estimates, we cannot track $2.3 trillion in transactions. We cannot share information from floor to floor in this building because it's stored on dozens of technological systems that are inaccessible or incompatible.
This was not an arbitrary or new number that Rumsfeld claimed could not be tracked. More than a year earlier, on July 20, 2000, Robert J. Lieberman, assistant inspector general for DOD, spoke to a task force of the House Budget Committee about the Department of Defense's financial management and cited the $2.3 trillion amount. From Lieberman's statement on the DOD website:
The audits of the FY [fiscal year] 1999 DoD financial statements indicated that $7.6 trillion of accounting entries were made to compile them. This startling number is perhaps the most graphic available indicator of just how poor the existing systems are. The magnitude of the problem is further demonstrated by the fact that, of $5.8 trillion of those adjustments that we audited this year, $2.3 trillion were unsupported by reliable explanatory information and audit trails or were made to invalid general ledger accounts. About $602.7 billion of accounting entries were made to correct errors in feeder reports.
Claim: 'Never forget that no video has ever been released showing a plane hitting the pentagon despite having 85 external cameras that could have captured the footage.'
This is false. Following a Freedom of Information Act request by the non-governmental organization Judicial Watch, the DOD in 2006 released video footage of American Airlines Flight 77 crashing into the Pentagon. Multiple news outlets reported on this release, as can be seen here and here. The footage was available to the public 16 years before the Facebook post. The Associated Press posted the video on their YouTube page in 2015.

Claim: 'Never forget the "terrorists" passports that were miraculously found untouched amongst the rubble.'
A public hearing on January 26, 2004 for the National Commission on Terrorist Attacks Upon the United States confirmed that four passports had been found, but the passports were "whole or in part," not "untouched." According to the hearing transcript, archived here, Susan Ginsburg, a senior counsel to the Commission, testified as follows:
MS. SUSAN GINSBURG: Beginning with passports. Four of the hijackers passports have survived in whole or in part. Two were recovered from the crash site of United Airlines flight 93 in Pennsylvania. These are the passports of Ziad Jarrah and Saeed al Ghamdi. One belonged to a hijacker on American Airlines flight 11. This is the passport of Satam al Suqami. A passerby picked it up and gave it to a NYPD detective shortly before the World Trade Center towers collapsed. A fourth passport was recovered from luggage that did not make it from a Portland flight to Boston on to the connecting flight which was American Airlines flight 11. This is the passport of Abdul Aziz al Omari.

In addition to these four, some digital copies of the hijackers passports were recovered in post-9/11 operations. Two of the passports that have survived, those of Satam al Suqami and Abdul Aziz al Omari, were clearly doctored. To avoid getting into classified detail, we will just state that these were manipulated in a fraudulent manner in ways that have been associated with al Qaeda.
Lead Stories has fact-checked several claims concerning the 9/11 attacks. You can see those fact checks here.