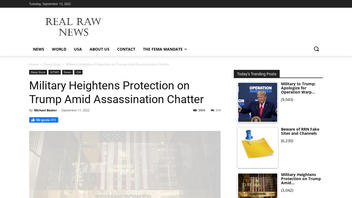 Did the U.S. military heighten protection on Donald Trump "amid assassination chatter"? No, that's not true: A spokesman for the U.S. Marine Corps denied this claim. Lead Stories contacted the Marine Corps because the article making the claim mentions Gen. David H. Berger, commandant of the Marines. Real Raw News, the website that originated the claim, has a disclaimer on their website saying that their stories are satirical, for parody and for humor.
The claim originated in an article (archived here) published by Real Raw News on September 11, 2022. Headlined "Military Heightens Protection on Trump Amid Assassination Chatter," the article opened:
The White Hat partition of the U.S. military has strengthened security on President Donald J. Trump, his family and Trump-owned properties, sources in Gen. David H. Berger's office told Real Raw News.
Users on social media only saw this title, description and thumbnail:
The article claims that Berger "authorized" an increase in Trump's security in response to a prisoner at the Guantanamo Bay detention center offering to share details of purported assassination plans. The story cites unnamed "sources in Gen. David H. Berger's office" for this information. Berger is the commandant of the Marine Corps at the time of writing.
Lead Stories contacted the Marine Corps, the U.S. Secret Service, which guards current and former presidents, and the Pentagon about this claim.
Jay Hernandez, a spokesman for the Marine Corps, responded in a September 13, 2022 email, saying:
There is no validity to this claim.
We will update this story if the Pentagon or the Secret Service responds.
U.S. law authorizes the Secret Service, not the military, to provide lifelong protection for former presidents and their spouses under Title 18, Part II, Chapter 203, Section 3056 of the U.S. Code, the official compendium of federal statutes.
Real Raw News has a long history of publishing false claims in mock news stories, many of them about convictions and executions of various public figures at Naval Station Guantanamo Bay in Cuba. For example, the site reported former Secretary of State Hillary Clinton was hanged (she wasn't); former White House Chief of Staff John Podesta was executed (he wasn't); and that "the military" convicted former Attorney General William Barr on charges of treason (it didn't).
The website for Real Raw News includes a disclaimer that warns readers not to take its content too seriously. Specifically, it says:
Information on this website is for informational and educational and entertainment purposes. This website contains humor, parody, and satire. We have included this disclaimer for our protection, on the advice on legal counsel.

(Source: RealRawNews.com screenshot taken Tue Aug 3 16:39:48 UTC 2021)
Lead Stories has covered claims published by Real Raw News in the past. Previous Lead Stories debunks of Real Raw News items are collected here.