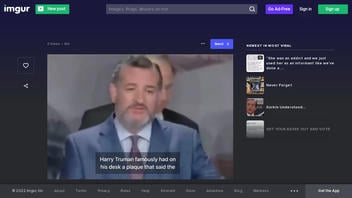 Did Sen. Ted Cruz angrily call Rep. Adam Schiff a "son of a bitch" in public remarks during a news conference held by Senate Republicans? No, that's not true: Cruz criticized only President Joe Biden during his remarks and never mentioned Schiff nor used the phrase "son of a bitch."
The claim appeared in text for a video posted on Facebook on September 12, 2022, under the title: "You Son Of A 𝐁*CH" Sen Ted Cruz 𝐀𝐧𝐠𝐫𝐢𝐥𝐲 𝐆𝐞𝐭𝐬 Up and 𝐌𝐎𝐏𝐒 𝐓𝐇𝐄 𝐅𝐋𝐎𝐎𝐑 with Adam Schiff 𝐚𝐧𝐝 𝐄𝐧𝐭𝐢𝐫𝐞 𝐃𝐞𝐦𝐬." It opens:
Harry Truman famously had on his desk a plaque that said 'The Buck Stops Here.' Joe Biden seems to have replaced that plaque with instead the phrase 'The Buck Stops With Putin,' because nothing is Joe Biden's fault. Well, I'll tell you what, the little stickers on gas pumps all across the country illustrate the American people know exactly whose fault this is.
Here's how it looked at the time of writing: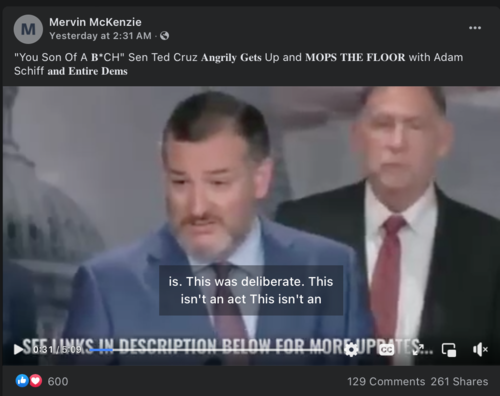 (Image source: Facebook screenshot taken on Sept 13 14:32 2022)
The post has a bait-and-switch title, as the content of the video is unrelated to Schiff. Instead it's political criticism of Biden and his policies, which Cruz claims have deliberately driven up gas prices to inflict pain on Americans and force them to buy electric cars.
"He's willing to make the American people suffer because of his political agenda," Cruz said of Biden.
The five-minute nine-second video is a clip from a May 18, 2022, press conference held by GOP senators to express their concerns about rising gas prices. The news conference, led by Sen. Lisa Murkowski, ran just under 45 minutes and was aired on C-SPAN that day.
Cruz's remarks begin at the 28:30 mark of the video and were also posted on his Twitter account on the same day as the news conference.
Lead Stories has reported on other political posts that use false headlines to draw in viewers or readers, which can be seen here and here.