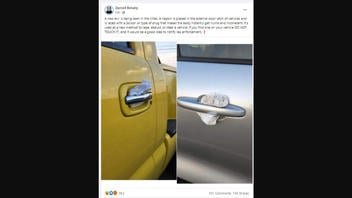 Is an instantly disabling drug being soaked into napkins and placed on car doors to incapacitate targets of rape, abduction and car theft? Experts that Lead Stories spoke with said that there is no scientific evidence or official reports to support such claims, and the experts refuted related rumors.
Since summer 2022 some social media users have posted warnings and supposed first-hand accounts of such events having transpired, many of which alluded to fentanyl as being the drug used. One example of such a post was published on Facebook on September 14, 2022 (archived here). It claimed that napkins laced with poison or a drug that "makes the body instantly get numb and incoherent" are being placed on car door handles as a way to "rape, abduct, or steal a vehicle."
Here is a screenshot of the Facebook post as it appeared at the time of this writing: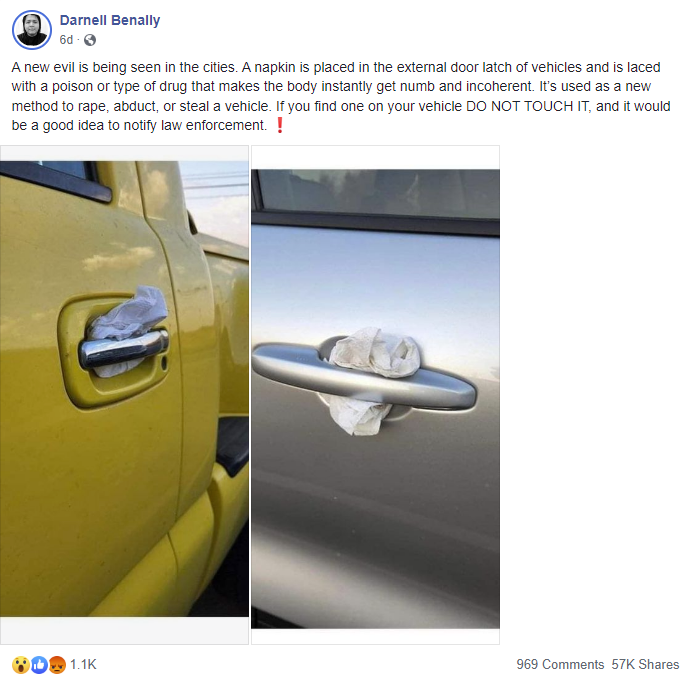 (Source: Facebook screenshot taken on Tues Sept 20 17:56:44 2022 UTC)
"These are not accurate suggestions and there is no scientific evidence of this," Linda Cottler, an epidemiologist and professor at the University of Florida, told Lead Stories in an email received on September 20, 2022.
Accidental skin contact of fentanyl has been described as a "medical impossibility" and such content along with purported events in the posts is not only fearmongering, but also vague. Rarely do posters specify a location, date, or victim, nor do they include official warnings or reports from law enforcement. In response to an inquiry from Lead Stories on September 19, 2022, a spokesperson for the National Institute on Drug Abuse (NIDA) said in an email that the agency is not "immediately aware of any formally documented trends or research on this topic within NIDA's portfolio."
Fears of such purported attacks were called "hysteria" in a commentary published in Science Magazine on July 15, 2022. A month prior, researchers at Cambridge University tested part of the scenario by exposing a test subject to a 10 micrograms/mL solution of pharmaceutical fentanyl citrate by placing the solution on the subject's hand. No signs of opioid intoxication or overdose were recorded, and the person simply washed their hand following the test. To reach dangerous blood levels, a person would need to soak their limbs in such a solution for an extended period of time, concluded the authors of the study, which was titled, "Accidental Occupational Exposure to a Large Volume of Liquid Fentanyl on a Compromised Skin Barrier with No Resultant Effect."
Even so, such reports do "pop up from time to time," NIDA told Lead Stories. In August 2022, for example, a Texas woman claimed that she was drugged after touching a napkin stuffed into her car door handle. However, officials with the Houston Police Department, with whom a police report was filed, have not found evidence to corroborate the woman's story as of this writing.
"There are numerous reports online related to a single incident in Houston. This is not a legitimate concern -- illicit drugs like fentanyl are not absorbed through the skin," Bruce Goldberg, a toxicologist and director of the Division of Forensic Medicine at the University of Florida College of Medicine, told Lead Stories in an email received on September 20, 2022.
That being said, in June 2022, a Tennessee sheriff's office posted a legitimate warning on Facebook (archived here) about fentanyl-laced folded dollar bills that when touched, could expose a person to high doses of the drug. However, social media users and news outlets hyped these concerns by making cases appear more widespread than they actually were, and further spread false accounts of exposure. A study published in a 2020 issue of the Journal of Medical Toxicology affirmed that exposure concerns have been hyperinflated:
The consensus of the scientific community remains that illness from unintentional exposures is extremely unlikely, because opioids are not efficiently absorbed through the skin and are unlikely to be carried in the air
Although the risk to first responders is also extremely low, misinformation continues to spread both on social media and through police networks, according to a 2021 study published in Health and Justice Journal. Many symptoms of perceived exposure incidents share characteristics with a panic attack, rather than opioid overdose or exposure, say experts.
A joint report issued in 2017 by the American College of Medical Toxicology and the American Academy of Clinical Toxicology asserted that the risk of fentanyl overdose via accidental skin exposure is low, and it would "take 200 min[utes] of breathing fentanyl at the highest airborne concentrations to yield a therapeutic dose, but not a potentially fatal one." Even in the unlikely event of an unintentional exposure to a substantial amount of fentanyl by inhaling it in powder form or ingesting it through the mouth after touching, the onset of symptoms would not be immediate and would allow enough time to detect and likely reverse a harmful response.
Fentanyl is a highly potent synthetic opioid that is increasingly cut into street drugs because of its strength and cheap price tag. The Centers for Disease Control and Prevention recorded more than 71,000 fentanyl deaths in 2021 and the National Institutes of Health notes that its potency makes fentanyl especially addictive. There is legitimate concern over the risk of fentanyl overdoses, but not through touching a "laced" napkin.