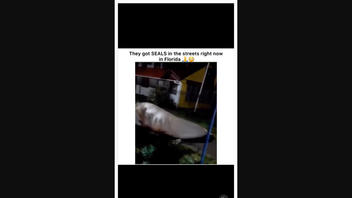 Does a video circulating on social media show an elephant seal on a Florida street in the wake of Hurricane Ian? No, that's not true: The video is from a seaport community in southern Chile, where the large, flipper-footed mammal wandered into a residential area back in 2020.
The claim appeared in an Instagram post on September 20, 2022, under the title "They got SEALS in the streets right now in Florida 🙏😳" The video shows a lone elephant seal shimmying down a walkway.
Here's how it looked on the day of writing: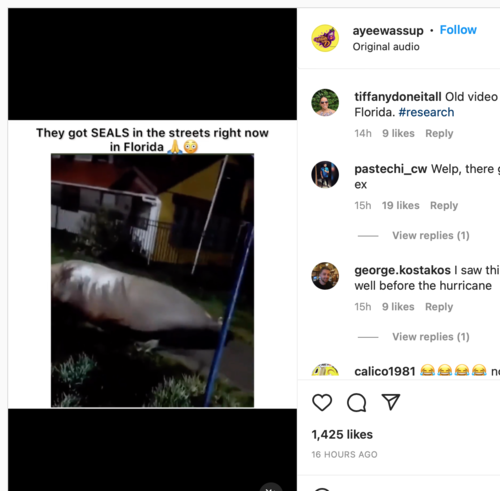 (Source: Screenshot of Instagram post taken on Fri Sep 29 2022 09:07:45 UTC)
The post misidentifies the video, which was first posted on October 5, 2020, by a radio host from Puerto Cisnes, Chile. Manuel Novoa recorded the video of the seal flapping about on the street and posted it on Twitter. Novoa's video documented the pinniped's struggle to get back to the water and the rescue efforts of residents and authorities.
Here's how it appeared originally, including an English translation of the text: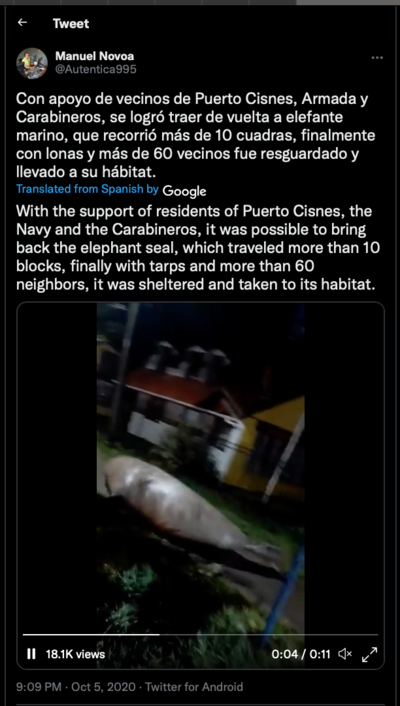 (Source: Screenshot from Twitter taken on Fri Sept 30 2022 at 11:15:20 UTC)
Novoa also narrated a live video of the rescue on his Facebook page on October 5, 2020. The broadcast showed a group of residents throwing water on the seal and using large tarpaulins to guide it down a city street to the water.

At the time, the rescue story made headlines in Chile and around the world, including in Florida. Media reports have repeatedly used Novoa's videos and credited him for the footage, including here, here and here.
Since Hurricane Ian made landfall in southwestern Florida on September 28, 2022, numerous similar claims have been posted on Facebook and Twitter, racking up millions of views. In some cases, readers on both social networks have noted that the video is actually from the 2020 seal rescue in Chile.
Additional Lead Stories fact checks about hurricanes can be found here.