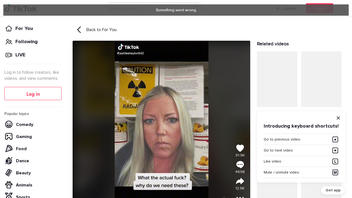 Are iodine pills sold in a Canadian Home Hardware store? Yes, that's true: The operations manager for the store featured in a viral video told Lead Stories the pills are for sale at their location due to rising tensions between Russia and Ukraine and the threat of a possible nuclear war.
The claim appeared in a video (archived here) on TikTok on September 16, 2022. It opened:
OK, so, this could be something, this could be nothing. I don't know. You tell me what the hell is going on.
This is what the post looked like on TikTok at the time of writing:

(Source: TikTok screenshot taken Fri Sept 30 12:15:33 UTC 2022)
The woman in the one-minute and 21-second video says she was shopping at her local Home Hardware store when she saw iodine pills for sale on the shelf. She speaks in front of a picture of a black and yellow caution sign and what appear to be pills. She says:
I see this strange display of ... Now everything that is around these, is emergency preparedness kits and stuff like that. These are iodine pills. This explains why you should take these pills if you're exposed to radiation.
The account owner posted in the comments that she lives in Cranbrook, British Columbia, Canada. Lead Stories spoke with Brad Brehm, operations manager for Home Hardware in Cranbrook via telephone on September 30, 2022.
"We have been selling them [iodine pills] for years," he said. When asked why a store on the opposite side of the country from the six nuclear power plants in Canada is selling the pills, he explained, "Well because of the tensions between Ukraine and Russia and we've never been closer to the potential of a nuclear bomb being shot between countries."
Brehm said the black and yellow caution sign near the pills was a "marketing ploy to get attention," and noted they've sold more iodine pills in the last week since the TikTok video was posted than they have in the last two years.
He explained the store has "quite a good emergency preparedness section" and confirmed that the pills are not sold on the Home Hardware website. The store is independently owned. Brehm said the company website does not sell emergency preparedness products on their website. Lead Stories reached out to the Home Hardware corporate office and will update the story if a response is received.
The Canadian Nuclear Safety Commission details what potassium iodide should be used for:
KI only protects the thyroid gland from radioactive iodine; it is not effective against any other nuclear substance.
The website warns:
Do not take KI pills unless you are instructed to do so by public health officials.
During a nuclear emergency, you will be promptly notified by radio, television, Internet, sirens, automated phone calls and social media.
(Source: Canadian Nuclear Safety Commission website screenshot taken Fri Sept 30 15:44:08 UTC 2022)​​
The threat of nuclear war was amplified by Russian President Vladimir Putin on September 22, 2022, as ABC7 News reported. Dmitry Medvedev, deputy chairman of Russia's Security Council, "outlined the scenario of a nuclear strike on Ukraine, saying that the U.S.-led NATO military alliance would be too scared of a 'nuclear apocalypse' to directly enter the conflict in response," Reuters reported on September 27, 2022.
Other Lead Stories fact checks about the ongoing conflict in Ukraine can be found here.