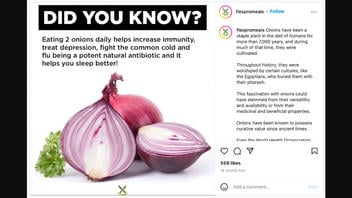 Does "eating 2 onions daily" treat depression? No, that's not true: While the National Onion Association website states that onions support your health in various ways, such as defending against a variety of cancers and providing anti-inflammatory properties, they do not treat depression. A registered psychologist told Lead Stories, "there is no compelling research identifying onions as a treatment for depression." A Ph.D. clinical dietician told Lead Stories that they are "unaware of onion affecting mood."
The claim appeared in an Instagram post published on September 11, 2022. Beside a meme displaying the image of two red onions, the caption opened, in part:
... fascination with onions could have stemmed from their versatility and availability or from their medicinal and beneficial properties.

Onions have been known to possess curative value since ancient times...
The text above the image of the two red onions in the meme reads:
DID YOU KNOW?

Eating 2 onions daily helps increase immunity, treat depression, fight the common cold and flu being a potent natural antibiotic and it helps you sleep better!
This is how the post appeared at the time of writing: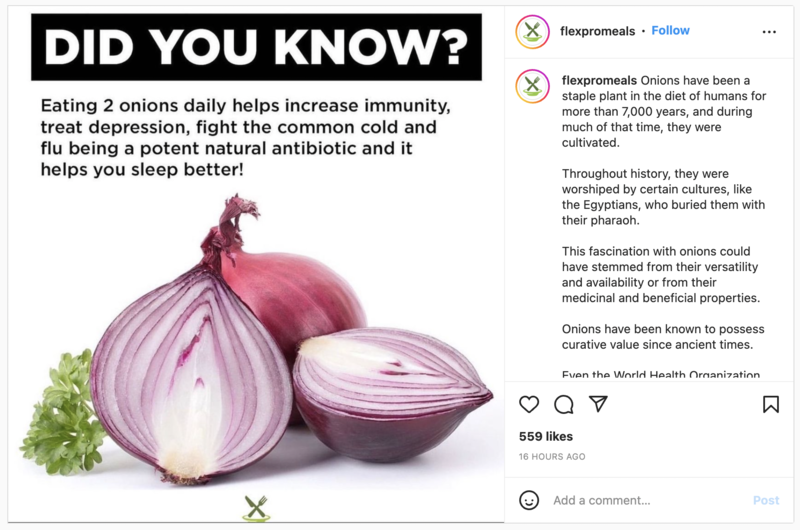 (Image source: Facebook screenshot taken on Mon Sept 12 18:32:23 2022 UTC)
The caption continued:
Even the World Health Organization confirms that they are beneficial for people with reduced appetite and those suffering from atherosclerosis.

Health experts acknowledge the fact that onions provide great respite for patients with chronic asthma, allergic bronchitis, and common cold-related cough syndromes.

The potential antibacterial properties of onion may include extensive antifungal applications, which have made it a household name in antifungal relief.
While this post made various claims about the purported medicinal properties of onions, this fact check aims to address the portion that claims eating whole and raw onions every day reduces depression.
Dr. Simon Sherry, a registered psychologist, and professor in the department of psychology and neuroscience at Dalhousie University told us in a September 12, 2022, email that this claim is false:
Onions are definitely awesome on pizza, but they are not a treatment for depression. There is no compelling research identifying onions as a treatment for depression. Individuals suffering from depression should seek out evidence-based interventions for depression such as psychotherapy.
Lead Stories also reached out to Dana Hunnes, Ph.D., MPH, RD, a senior clinical dietitian at UCLA medical center, assistant professor at UCLA Fielding school of public health, and author of RECIPE FOR SURVIVAL (2022) with Cambridge University Press. She responded in a September 12, 2022, email also confirming that this claim is false:
I've never heard of onions helping with depression; other than, sometimes a good cry makes you feel better and onions will often make you cry.
Other than that, I am unaware of onion affecting mood.
The Onion Nutrition page on the National Onion Association (NOA) website states that onions are beneficial in providing anti-inflammatory properties, reducing atherosclerosis and cardiovascular disease, serving as a good source of vitamin E- a powerful antioxidant, and providing protection from many forms of cancer. The Onion Health Research page on the NOA website states that onion skin lowers blood pressure, onions may prevent gastric ulcers, reduce heart attack and stroke, reduce thrombosis risks, and are beneficial for eye health.
The NOA already has an "Onions & Flu" debunk page, and Lead Stories previously debunked the claim that onions prevent the flu and other viral infections. That fact check can be found here.
The Common Myths page on the NOA website also debunks the claims that cut or leftover onions are poisonous, promote hair growth, and finds the assertion that onions are "the ultimate health cure" to be misleading.
Other Lead Stories fact checks on the medicinal use of onions can be found here.