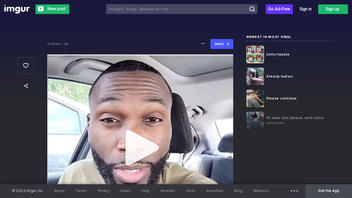 Can little-known herbs like guaco and huereque reverse Type 2 diabetes? No, that's not true: This condition cannot be cured or "reversed," the American Diabetes Association told Lead Stories.
The claim appeared in a September 2, 2022, Instagram post. The caption said:
Reverse type 2 diabetes with these herbs you never hear of before.....

#diabetes #insulin #type2diabetes #Diabetic .
#holisticliving #holisticnutrition #naturalremedy #holistichealth #naturalremedies #holistichealing #naturalmedicine #naturalcure #holistic #veganlifemoss #naturalcures #seamosssislife #seamoss
Here is what it looked like at the time of writing: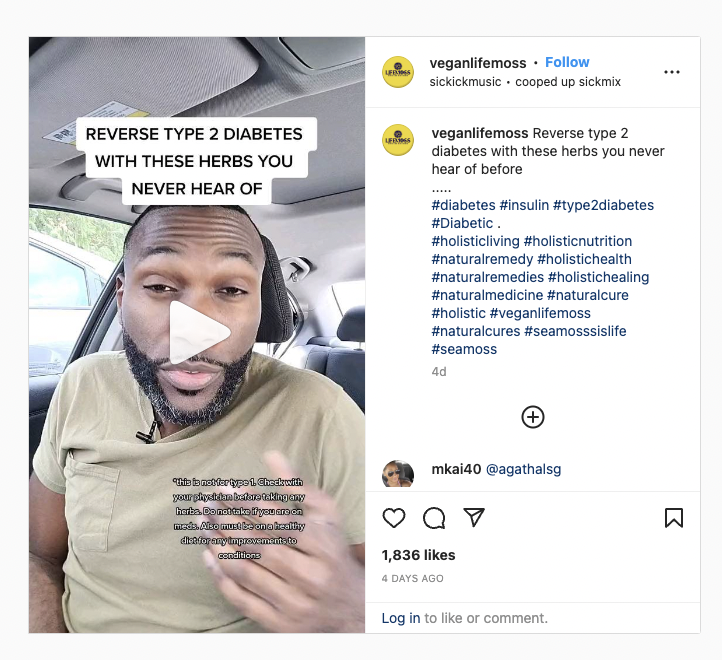 (Source: Instagram screenshot taken on Tue Sept 6 23:21:21 2022 UTC)
The attached video appears to show a man sitting in a car. He doesn't introduce himself or describe his credentials. Instead, he says:
Herbs you never heard of that can reverse diabetes. So let's get right into [it]. First is going to be guaco and that removes inflammation and mucus. Two is going to be huereque that lowers your blood sugar level. [Third] is going to be nopal that reduces high cholesterol and your blood sugar level for type 2. Fourth is gonna be prodigiosa and that actually reduces blood sugar level as well. Number five is going to be sage that you can mix up that lowers glucose level.
The Instagram video was posted by an account containing multiple references to Dr. Sebi (for example, here and here), an herbalist without medical credentials, whose statements appeared posthumously in the 2022 series of claims already debunked by Lead Stories.
This Instagram account is connected to the website of the same name that sells herbal products priced between $18.99 and $149. However, it reveals very little about the company behind it, only telling visitors that it was founded by the person who goes by A.J. in 2015 when he had "a life changing moment, which put him in the hospital for a month."
Dr. Robert Gabbay, the American Diabetes Association's chief scientific and medical officer and a Harvard Medical School faculty affiliate, told Lead Stories on September 6, 2022, via email that Type 2 diabetes cannot be fully cured or "reversed":
The ADA does not at this time use the word reversed or cured in relation to type II diabetes. Type II diabetes can be in remission based on the lack of need for medications while normalizing blood glucose levels. The concern around using words like reversed or cured is that as far as we know at this point, people with type II diabetes still need to be monitored for potential complications (i.e. yearly eye exams, screening for kidney disease, etc.) and using words like your first suggest they need not do so.
According to the American Diabetes Association, "people with type 2 diabetes should be considered in remission after sustaining normal blood glucose (sugar) levels for three months or more" without medication. However, herbs are not known to be a contributing factor to remission:
There is no clear evidence that dietary supplementation with vitamins, minerals (such as chromium and vitamin D), herbs, or spices (such as cinnamon or aloe vera) can improve outcomes in people with diabetes who do not have underlying deficiencies, and they are not generally recommended for glycemic control.
Moreover, herbs do not help diabetes patients manage their condition:
Despite widespread marketing and exorbitant claims, there is no clear evidence that dietary supplements (such as herbs and botanicals, high-dose vitamins and minerals, amino acids, enzymes, antioxidants, etc.) are effective for obesity management or weight loss. Several large systematic reviews show that most trials evaluating dietary supplements for weight loss are of low quality and at high risk for bias. High-quality published studies show little or no weight loss benefits.
The National Center for Complementary and Integrative Health, the federal government agency tasked with the scientific research of these matters, warns that supplements, promoted as "natural" remedies, may worsen a Type 2 diabetes patient's condition, and people should not substitute prescribed medications with herb-based products:
Although diabetes has no cure, people with diabetes can take steps to manage their condition and stay healthy. Taking insulin or other diabetes medicines is often part of treating diabetes, along with healthy food choices and physical activity.

Kidney disease has been linked to using some dietary supplements. This is of particular concern for people with diabetes, since diabetes is the leading cause of kidney disease. If you have or are at risk for kidney disease, a health care provider should closely monitor your use of supplements. ...

The FDA is warning consumers not to buy illegally marketed, potentially dangerous products claiming to prevent, treat, or cure diabetes. These products make claims like 'lowers your blood sugar naturally' or 'inexpensive therapy to fight and eliminate type II diabetes.' They may contain harmful ingredients and the label may not tell you what you're actually taking.

Fraudulent diabetes products can be especially dangerous if you use them instead of proven treatments for diabetes. Without proper disease management, people with diabetes are at greater risk of developing serious complications.
Additional Lead Stories fact checks about allegedly natural cures for Type 2 diabetes can be found here and here.