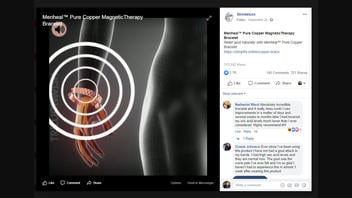 Is an online video advertisement realistic in showing people having inflammation reduced due to wearing a piece of jewelry? No, that's not true: Clinical studies that included multiple forms of arthritis, done by credible clinics and medical doctors, have debunked this claim.
The McGill University Office for Science and Society director, seen in one of the edited clips in this post, is a chemistry professor -- not a medical doctor. In his own video, from which the edited clip is taken, he dispels the myth that a copper bracelet can heal pain, as it only offers a placebo effect.
The claim appeared in a video with a Facebook post on September 28, 2022. The caption began:
Menheal™ Pure Copper MagneticTherapy Bracelet
Relief gout naturally with Menheal™ Pure Copper Bracelet...
This is what the post looked like on Facebook at the time of writing: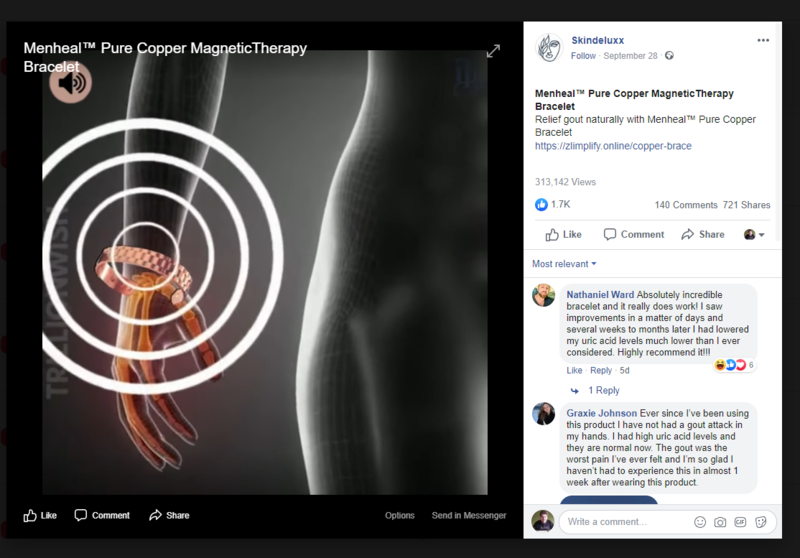 (Image source: Facebook screenshot taken on Tue Oct 11 18:52:23 2022 UTC)
Gout is defined as a complex form of arthritis that can affect anyone and typically affects the big toe. The only treatments are medications such as nonsteroidal anti-inflammatory drugs or medications that help limit the amount of uric acid the body makes.
Lead Stories reached out to Stewart Richmond, a medical writing services manager at North American Science Associates with a doctorate in health science and clinical trials. He responded in an October 11, 2022, email saying that there is no medical evidence to substantiate the claim:
There is certainly nothing to suggest that wearing copper bracelets is harmful, provided users do not rely on them instead of following legitimate medical advice. Claims that they have any medical benefits are highly dubious however. There is no credible scientific rationale or medical evidence to indicate that they alleviate gout, or relieve it's symptoms.
He was also quoted in an Arthritis Foundation article titled, "Magnets, Copper Don't Ease Arthritis Pain."
One clip in the video at 0:21 includes one sentence from Joe Schwarcz, Ph.D., a chemistry professor and director of the McGill University Office for Science and Society. The clip has him saying: "Copper dissolve in the skin, get into your bloodstream and kind of rejuvenate the enzymes that take care of pain."
Schwarcz's clip comes from an August 18, 2017, YouTube video titled, "Dr. Joe Schwarcz: The properties of copper," that debunks the claim that a copper bracelet can heal pain because, Schwarcz says in his own video, it offers only a placebo effect. What Schwarcz says in full in his video is: "The supposed therapeutic effect of copper -- you may have heard stories about how wearing a copper bracelet is beneficial if you have aches or pains. Why? Because ... according to the theory, tiny amounts of copper dissolve in the skin, get into your bloodstream and kind of rejuvenate the enzymes that take care of pain. There is really no scientific validity to that." Schwarcz goes on in his video to discuss the placebo effect, closing with, "I think if anyone is feeling better because of that copper bracelet, I think they're just experience the placebo effect. That's an important effect, though."
Dr. Margaret Tsai, a rheumatologist, stated in a July 2, 2018, article that two British studies involving two types of arthritis "found that magnetic wrist strips and copper bracelets worked no better than dummy devices," or placebos.
A February 8, 2018, Skeptical Inquirer article titled, "Copper Bracelets and Moscow Mules: Will Copper Heal You or Kill You?" by Dr. Harriet Hall, a retired family physician who writes about pseudoscience and questionable medical practices, concluded:
There is no good evidence that copper bracelets reduce pain or inflammation; in fact, there is fairly good evidence that they have no clinical effects. Any perceived improvement is due to the placebo effect, not the copper.
This claim is similar to a recent fact check Lead Stories published concerning a magnetic bracelet aiding weight loss. That story can be found here.