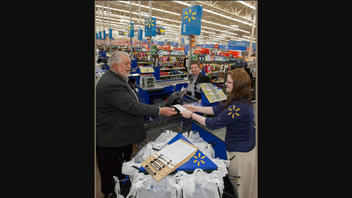 Will answering three questions for Walmart earn consumers a $500 shopping credit to spend on groceries? No, that's not true: There is no evidence that the big box retailer has such a program.
The claim appeared in a September 30, 2022 post on Shopping Daily's Facebook page. It opened:


Walmart directors insists to help by spreading -- $500 shop credit to buy groceries -- Complete 3 questions and the credit is yours
Here's how the post looked on the day of this fact check's publication: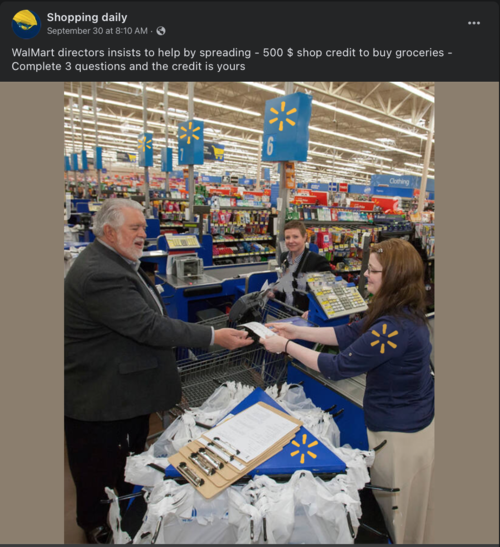 (Source: Facebook screenshot taken on Wed Oct 12 at 15:35:48 2022 UTC)
The post includes a photo of a smiling Walmart associate handing a receipt to a male shopper while another customer, also smiling, looks on. The post offers no other information or details about the picture, such as a store location or a link to apply for a gift card program.
A Google search for a Walmart program offering $500 in grocery credits to consumers who answered questions found no information from the company about such a program. A search for consumer-feedback reward programs on Walmart's corporate website led only to a list of press releases about the company's community charity work.
Walmart does have a sweepstakes for a year of free groceries if customers make a direct deposit of $500 to a new Walmart MoneyCard, a prepaid debit card, by January 1, 2023. This promotion has nothing to do with any government program.
The company also has a fraud alert webpage and a flyer that detail common consumer scams that promise Walmart gift cards and provides information about spotting and reporting fraudulent claims.
Lead Stories has fact checked similar claims about programs that offer Walmart credit to participating consumers and found they were also false.
Lead Stories has contacted Walmart headquarters about this claim and will update this fact check when the company responds.

Additional Lead Stories fact checks related to Walmart can be found here.