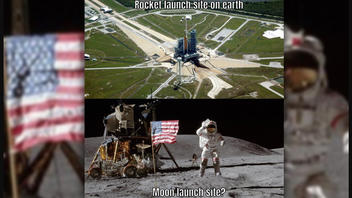 Do two photos comparing launch sites on Earth and on the moon imply that the Apollo moon missions were faked -- and, furthermore, suggest that the Earth is flat? No, none of this is true: These photos, taken 33 years apart, are real photos from two different NASA missions.
The upper photo shows the Kennedy Space Center Launch Complex 39B, taken on June 19, 2005. It shows the space shuttle Discovery on the launch pad. The space shuttles did not go to the moon.
The lower photo in the meme, taken by astronaut Charles M. Duke, shows astronaut John W. Young with the lunar module and lunar rover in the background. It was taken on the moon during the Apollo 16 mission in 1972. A large, high-resolution copy of the image can be viewed on the NASA site.
The photo meme was posted on Instagram on October 25, 2022, by @brainwashedsheep. It was captioned only with the hashtags:
#researchflatearth #flatearth
The text of the meme reads:
Rocket launch site on earth

Moon launch site?
This is how the post appeared at the time of writing: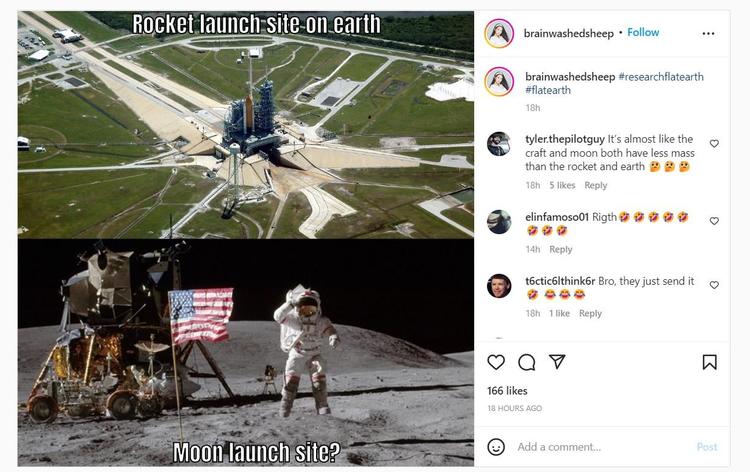 (Image source: Instagram screenshot taken on Wed Oct 26 21:34:00 2022 UTC)
Photos of the moment of liftoff from the moon's surface are in a NASA History blogpost published on April 26, 2022, titled, "50 Years Ago: Apollo 16 Heads Home to Earth." The liftoff can be viewed at the 52:45 mark in the NASA documentary "The Journeys of Apollo."
An Apollo mission needed 7.7 million pounds (page 143) of thrust to lift off from Earth and carry fuel plus all the stages of the Saturn V launch vehicle that would later be jettisoned. That's not comparable to what it needed (3,500 pounds of thrust [page 17]) to propel the small ascent stage of the lunar module (bottom photo in the post) from the moon's surface (the moon has only about one-sixth the gravitational pull of Earth). The lunar module then rendezvoused with the orbiting command module that carried the crew back to Earth.
Although the flat Earth claim is not described explicitly in this one post, the Instagram account @brainwashedsheep is dedicated to one thing -- promoting the flat earth conspiracy, a topic Lead Stories has debunked. Some of the posts in the account are designed not to be viewed individually, but as tiles in a larger image displayed in the three-column-wide grid of the Instagram feed.
Another @brainwashedsheep post from March 24, 2022, is a meme featuring an astronaut on the moon and an image of Earth. The text reads:
They faked the moon landing
So people believe this lie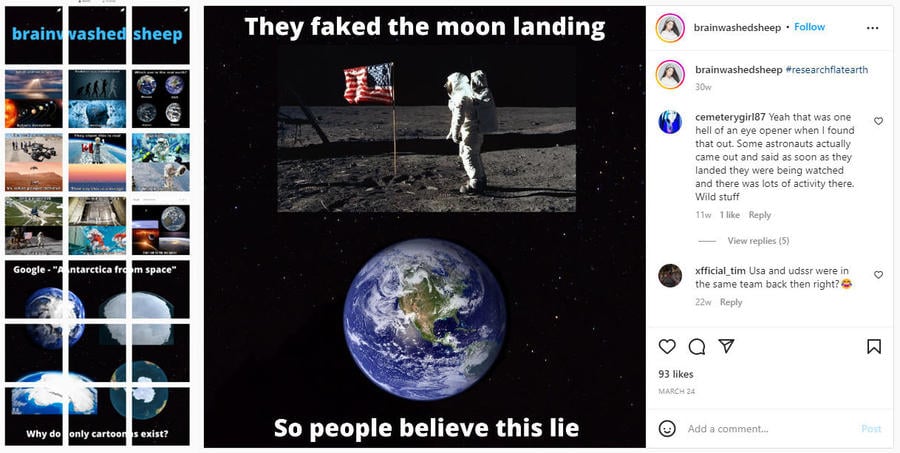 (Image source: Lead Stories composite image with Instagram screenshots taken on Thu Oct 27 00:00:00 2022 UTC)