Does a heavy consumption of grapes reverse kidney failure and cancer? No, that's not true: An expert told Lead Stories it is "false that grapes alone can treat and reverse cancer and kidney failure." While early small studies suggest that grapes contain antioxidants that may be beneficial to human health, there is no proof that eating grapes -- or grape seed extract -- will prevent or cure cancer, nor has a heavy consumption of grapes been proven to reverse kidney failure.
The claim appeared in a seven-second TikTok video on July 14, 2022. In the comments section, the original poster responded to two users claiming to have stage 5 kidney disease, stating that eating "fruit, berries and melons only" will "eliminate toxins from the body."
The video was later shared on Instagram on October 25, 2022, that included the above TikTok video with a caption overlay that reads:
Reverse Kidney Failure

All grape cleanse plus herbs until you heal , I personally know someone who reversed stage 4 in 48 days , 4 years ago , she's doing great eating right
Hashtags that accompanied the Instagram post included #kidney, #cancer and #cancerfighter, implying that a "grape cleanse plus herbs" could cure or reverse kidney failure and cancer. Below is a screenshot of the post at the time of this publication: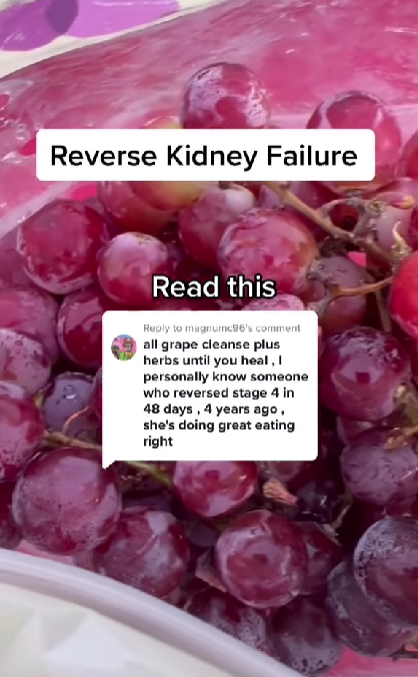 (Source: Instagram screenshot taken on Thurs Oct 27 07:11:00 2022 UTC)
Studies on the subject have been small, limited, and largely done in in vitro (petri dish) and mouse models. To date, evidence regarding the anti-cancer effects of grapes is inconclusive, and there is no proof that a diet heavy in grapes will result in positive health outcomes.
Lead Stories spoke with Melissa Prest, a Chicago-based registered dietician nutritionist who works at the National Kidney Foundation of Illinois and is a spokesperson for the Academy of Nutrition and Dietetics. In an email sent on October 31, 2022, Prest said: "There's no argument that including grapes in the diet provides health benefits, but cancer and kidney failure are complicated diseases that require more than grapes for treatment."
Found in the skins and seeds of grapes are phenolic antioxidants, a food compound that is absorbed through the intestinal tract walls that may provide antioxidant benefits that avert cell damage that occurs during oxidation reactions like that which can occur in cancer, researchers noted in 2019. Phenolic antioxidants are found in other food products as well, including milk. Though phenolic antioxidants show promise for their antioxidant properties and may provide health benefits, existing research into their anti-cancer effects is inconsistent and limited to in vitro and animal studies.
As of this writing, there is no definitive proof that grapes can reverse kidney failure or cure cancer. Prest added:
Antioxidants are powerful at attacking free radicals which cause damage to our cells. This cellular damage has been linked to the formation of certain cancers and other chronic health conditions. Research has shown that grapes along with berries, colorful vegetables, and nuts are some of the foods that contain these powerful antioxidants; however, we do not have enough evidence to suggest that grapes and these other antioxidant-rich foods on their own can cure or treat cancer and kidney failure. What research has demonstrated is how eating diets rich in antioxidants may decrease the risk of developing certain cancers and chronic illnesses.
According to the Cancer Council, a cancer charity in Australia, some substances in grapes have shown promise in early trials, but there is "very little reliable evidence that a diet high in grapes, or grape compounds, can prevent or treat cancer." The organization added:
Several studies have shown that proanthocyanidins, the chemicals found in grape seed extract, have antioxidant properties. A small randomised clinical trial of grape seed extract demonstrated that these antioxidants have the potential to inhibit the development of some types of cancer. Other studies in laboratory animals have suggested that grape seed extract may act against prostate, colon and breast cancer. Proanthocyanidins may also reduce the body's production of oestrogen, which may have an effect on hormone-sensitive tumours, such as some types of breast cancer.
A 2019 study found that an alcohol-based extract made from muscadine grapes reduced tumor growth in prostate cells in petri dishes and mice -- not humans. Similarly, a 2012 review of research involving the anti-cancer properties of grapes suggested that grape skin and seeds showed anti-cancer effects in in vitro studies, again, not humans. As of this writing, no human models have demonstrated consistent results:
Nonetheless, a growing body of evidence from human clinical trials has demonstrated that the consumption of grape, wine and grape juice exerts many health-promoting and possible anti-cancer effects. Thus, grape skin and seed extracts have great potential in cancer prevention and further investigation into this exciting field is warranted.
In a small 2016 study consisting of 23 people, grape seed extract supplement capsules were given to patients with chronic kidney disease. After six months, there was some improved kidney function but the disease was not cured. Additionally, this was a preliminary pilot study that served as evidence that more research is needed before medical experts can determine whether grapes have a positive effect on kidney failure and cancer.
Together, these studies have demonstrated the value of grapes, along with other fruits and vegetables, and their possible role in disease prevention. However, as of this publication grapes alone have not been proven to cure kidney disease or cancer.
"When eaten with a varied diet along with engaging in healthy lifestyle behaviors like not smoking and getting enough sleep, grapes can provide health benefits and be included in the nutrition therapy plan for cancer and kidney failure," Prest told Lead Stories.
"If you have cancer or kidney failure it's important to work with a registered dietitian nutritionist who can help you navigate the latest evidence for nutrition therapy to manage the complexity of these diseases."