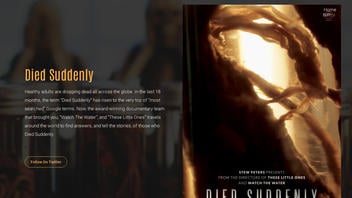 Does the "Died Suddenly" movie trailer demonstrate that COVID-19 vaccinations cause widespread sudden death or severe medical events? No, that's not true: The trailer recycles previously debunked claims that the vaccine is lethal. To support its implications, the trailer stitches together footage and screenshots of acute medical events unrelated to COVID vaccination. Public health experts, relying on clinical safety trials and the results of 5 billion vaccinations worldwide, recommend immunization against the virus and maintain that it is exceedingly rare for COVID vaccines to cause death or hospitalization.
The "Died Suddenly" trailer (archived here), promoting an upcoming movie, gained traction on social media after it was released in late October 2022. The headline on the website opens: "Healthy adults are dropping dead all across the globe." It continues:
In the last 18 months, the term 'Died Suddenly' has risen to the very top of 'most searched' Google terms. Now, the award-winning documentary team that brought you, 'Watch The Water', and 'These Little Ones' travels around the world to find answers, and tell the stories, of those who Died Suddenly.
Users on social media saw this title, description and thumbnail: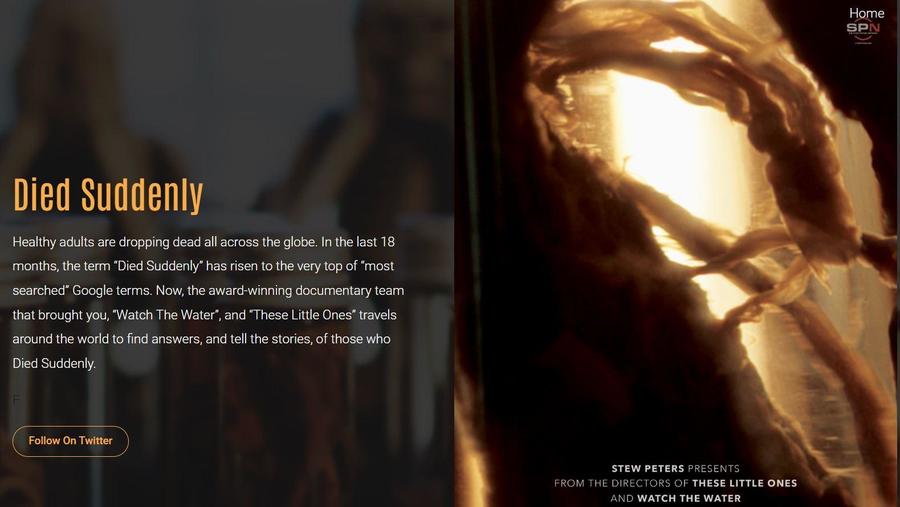 (Source: Twitter.com screenshot taken Mon Oct 31 at 22:31:31 2022 UTC)
Although Google does not readily provide such lists, "Suddenly Died" is not even in the top 100 searches, according to this October 2022 list by a Boston online marketing firm, SemRush.
Not only does the trailer try to link the vaccine to sudden death, it also implies some sort of government conspiracy that's "the greatest orchestrated die-off in the history of the world." In the opening minute of the trailer, an on-camera figures says: "This is Agenda 23, the Great Reset."

The Great Reset is shorthand for a debunked claim that global elites are masterminding a plan to use COVID-fighting restrictions to limit freedoms and push radical policies. In reality, "The Great Reset" is the name of a public policy initiative to increase economic equity and sustainability, which the World Economic Forum launched in response to the pandemic. Some offshoots of the false theory purport that elites orchestrated COVID-19 to seize power, while others believe the virus just presents the opportunity for the elites to do so.
The promo for "Died Suddenly" includes multiple nods to already-debunked conspiracies, using various screenshots and clips to create an impression of accumulating evidence of a link between severe medical events and COVID vaccines. But when those clips and screenshots are put back into their original context, it's clear that they're almost entirely unrelated to the pandemic.
Old conspiracies
The movie promo incorporates a previously debunked conspiracy that claims vaccine makers are hiding immunization information from the public because large paper inserts in the boxes that COVID vaccines are packaged in say "Intentionally Blank."
When we open it almost two years into it, we find that it still says 'Intentionally Blank,' a woman in the trailer says while unfolding a piece of paper.
An insert with those words does come as a part of the Johnson & Johnson/Janssen package, but there is also a QR code and a website on the back of the box that guide people to lists of benefits, risks and vaccine ingredients.
Clips of white and red stringy substances in test tubes are littered throughout the trailer. While the exact claim the trailer is making about these substances is unclear, it appears to be a reference to another previously debunked conspiracy.
"It's just there's something different about the blood," an unidentified narrator says.
Claims about the immunization causing heart damage and planting "engineered biostructures" in patients' arteries have already been debunked, most recently by a leading medical examiner who said trained experts are finding no such vaccine damage in the corpses they autopsy.
Out-of-context examples
"Go onto Google and go into the news section and then type in 'died suddenly,' and lo and behold here's a whole listing of people of articles of people within that last week that died suddenly," a male speaker in the promo says. "And then you find out they were vaccinated and so it's like 'OK, so it's the vaccine might be causing this.'"
To support that claim, the movie promo flashes a constantly changing montage of screenshots of Google News listings of October 2022 articles about people who died suddenly. However, most of those articles attribute the deaths to something entirely separate or make no mention of a recent vaccination.
For example:
The montage flashes an article from October 16, 2022, headlined "Dad of two, 46, dies suddenly in his sleep."
But the article makes no mention of a COVID vaccine. "Edward died in his sleep in the early hours of September 27, having spent some time in hospital while struggling with his mental health," the article states.
Another article in the montage is headlined: "Actor's sudden death aged 33," but the piece itself explains that the actor died as a result of a "tragic fall" and does not mention vaccination.
Another article, the first-person essay of a mother who lost a son, is about his death in a car crash.
Celebrity health crises misattributed to vaccine
The trailer includes footage of a college basketball player collapsing face-first during a game.
That's Keyontae Johnson, who collapsed on-court before any members of the public had received a COVID vaccination. Johnson, a former forward for University of Florida, was videotaped collapsing during a Dec. 12, 2020, game. It was not until two days later that members of the public -- mostly health care professionals -- started receiving the immunization.
The basketball star did not die after he collapsed.
Johnson and some teammates did contract the virus months before the incident, but the Johnson family released a statement confirming that the collapse was "not related to or a result of a previous or current" COVID diagnosis.
The "Died Suddenly" promo uses a brief clip of talk show host Megyn Kelly saying that her sister "died suddenly on Friday of a heart attack."
But when Kelly announced the death, she made no mention of the COVID vaccine and said her sister "hasn't been in very good health over the past couple of years ... It's just been sort of like one problem after another," Kelly said. "So it was sudden and it was unexpected."
Those additional explanations were edited out of the movie promo's montage of evidence of vaccine-related sudden deaths.
Singer Justin Bieber is featured as well. The trailer includes a clip of Bieber's eye twitching, but the pop star has explained that he is suffering from Ramsay Hunt Syndrome, the partial facial paralysis that caused him to cancel some concerts. Neither the syndrome nor his facial paralysis are connected to COVID vaccination.
The film is set to release Nov. 21 on the Stew Peters Network.