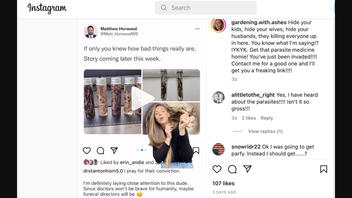 Do Comirnaty (Pfizer) COVID-19 vaccines contain parasites? No, that's not true: Claims made on social media that COVID vaccines contain parasites provided no laboratory or independent evidence to support the allegations, and a medical examiner told Lead Stories she has never seen any "parasites with tentacles" during autopsies she's conducted on people who had received the vaccine. In a statement emailed to Lead Stories, a Pfizer spokesperson further confirmed that the COVID vaccines are "completely synthetic" and do not contain "any live material."

The claim appeared in an Instagram post on October 27, 2022, that implied COVID vaccines contain parasites that feed off blood clots. A caption that accompanied the post read:
Hide your kids, hide your wives, hide your husbands, they killing everyone up in here. You know what I'm saying!? IYKYK. Get that parasite medicine homie! You've just been invaded!!!! Contact me for a good one and I'll get you a freaking link!!!!
Below is a screenshot of the post as it appeared at the time of this publication: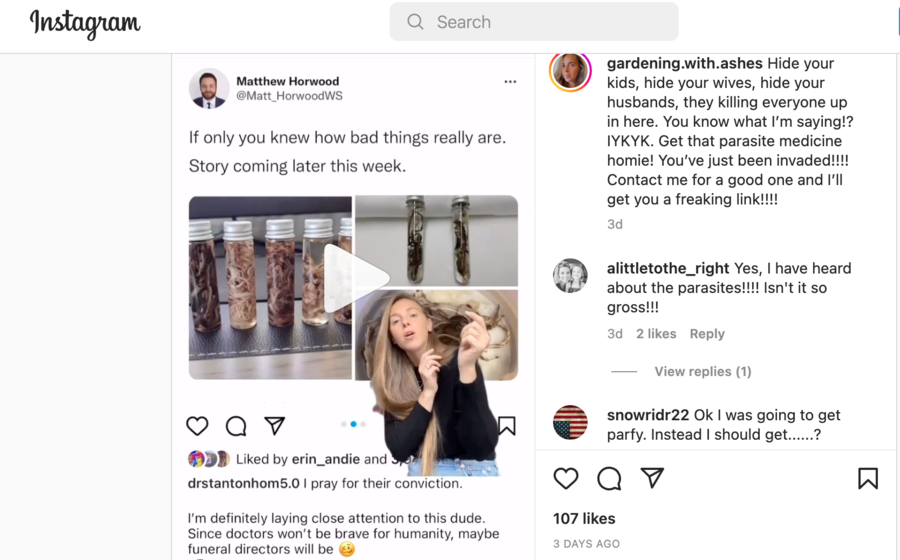 (Source: Instagram screenshot taken Mon Oct 31 14:09:29 2022 UTC)
The photos in the Instagram post originated in an article published by the Epoch Times on September 2, 2022. In the article Richard Hirschman, a licensed funeral director and embalmer in Alabama, claimed without evidence that he had seen an increase in blood clots observed in deceased people who had received the COVID vaccine.
Photos from the Epoch Times article were repurposed on Instagram, this time under the false guise that "freaking parasites" were inside the glass vials. The Instagram poster also cited a 52-page Vaccine Death Report shared by a New Hampshire state legislator in 2021 that made false claims about parasites and creatures with tentacles being found inside COVID vaccines. The online document is a vaccination disinformation paper filled with debunked claims. The website hosting this report also contained a section dedicated to QAnon conspiracies that Lead Stories has previously fact checked. (Lead Stories has also fact checked related claims here and here.)

Dr. Kathryn Pinneri, president of the National Association of Medical Examiners, told Lead Stories in an email sent on October 31, 2022, that in the hundreds of autopsies that she has conducted on individuals who received the COVID-19 vaccine, she has never seen any "parasites with tentacles." The images show what is likely to be vascular casts or blood clots that have been fixed with embalming fluid or formalin -- not parasites. Furthermore, forensic pathologists do not use containers like those shown in the video and instead often use shatter-proof vessels for samples like those shown here. A Google search of "embalming clots" returned results including the pictures in the Instagram post, which Pinneri said appear to be reposted and interpreted incorrectly.
A Pfizer spokesperson confirmed to Lead Stories that the objects featured in the Instagram video were neither parasites nor living organisms found within the vaccine.
"Parasites are not a component of the COVID-19 vaccine. The COVID-19 vaccine does not contain any live material and is completely synthetic," said the spokesperson in an email to Lead Stories on October 28, 2022.
In a follow-up email, Pfizer sent the Lead Stories newsroom the Comirnaty vaccine fact sheet listed on the Food and Drug (FDA) administrations website, which included ingredient lists (here and here). Lead Stories found no evidence of living organisms, including parasites, in the publicly available vaccines listed on fact sheets and ingredient lists posted by the FDA or the Centers for Disease Control and Prevention (CDC).
Lastly, no medical expert or parasitologist has conclusively identified the "fibrous masses that look like parasites" presented in the video.
Hirschman's claims have also been debunked by fact checkers at AFP, and by staff scientists at Healthfeedback.org, a nonprofit cohort of experts who debunk medical claims online, the latter of which concluded:
The laboratory analysis of blood clots has critical methodological flaws, including a sample size of one and the inadequate use of a blood sample as a control. These issues invalidate the results from the analysis and the conclusions drawn from them.