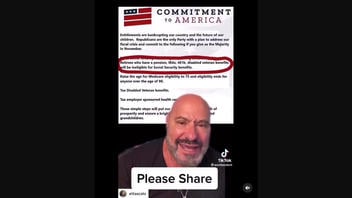 Does the Republican "Commitment to America" say they will take Social Security away from disabled veterans, and raise the age for Medicare to 75 and take it away at 90? No, that's not true: The image of the plan proposed by Republicans led by Kevin McCarthy in the House of Representatives is not the real plan. The minority leader's website does not include the phrases cutting Social Security, Medicare and other benefits.
The claim appeared in a video on Instagram on October 23, 2022. It opened:
And to all you idiots that think the Republicans' hearts are in the right place, here's another little ditty.
This is how the post appeared on Instagram at the time of writing: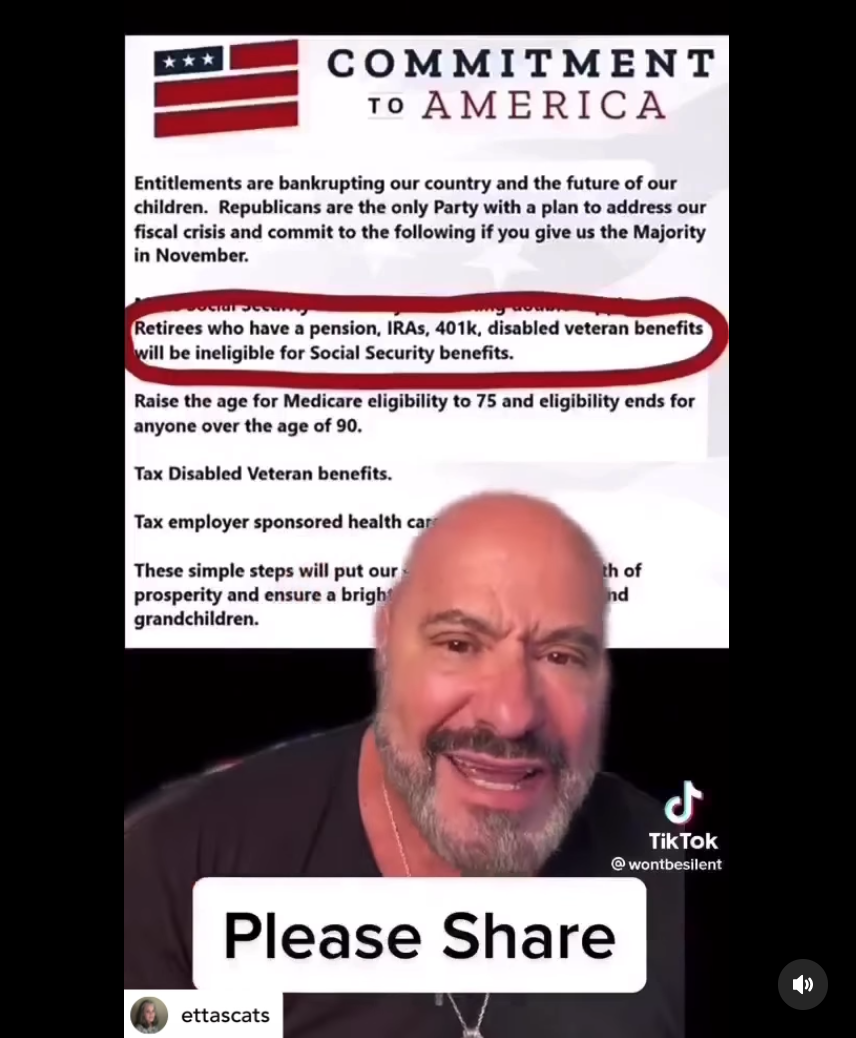 (Source: Instagram screenshot taken on Mon Oct 24 17:58:26 2022 UTC)
The person in the video speaks while pointing to a image with the following text:
Entitlements are bankrupting our country and the future of our children. Republicans are the only Party with a plan to address our fiscal crisis and commit to the following if you give us the Majority in November.
Make Social Security solvent by eliminating double-dipping. Retirees who have a pension, IRAs, 401k, disabled veteran benefits will be ineligible for Social Security benefits.
Raise the age for Medicare eligibility to 75 and eligibility ends for anyone over the age of 90.
Tax Disabled Veterans benefits.
Tax employer sponsored health care plans.
These simple steps will put our country back on the path of prosperity and ensure a bright future for our children and grandchildren.

While the origin of the image is unknown, it does not accurately reflect what the "Commitment to America" website touts as McCarthy's political plan. (Other versions of the false plan image have just the text that's not obscured by the person speaking.)
A search of the Commitment to America's one-pager and pocket card (found under Resource Center on the website) yields no matches for the following words: entitlements, disabled, veterans, 401k, or employer sponsored health care plans.
The only mention of Social Security and Medicare is under the section titled "A Government That's Accountable" on both versions. It reads, "Save and strengthen Social Security and Medicare." This is a screenshot of the phrase on the website:

(Source: Republican Leader website screenshot taken on Mon Oct 24 18:00:44 2022 UTC)