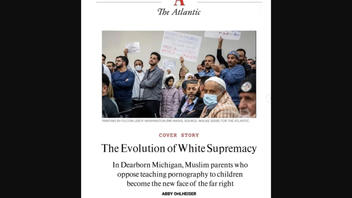 Did The Atlantic magazine publish a cover story titled "The Evolution of White Supremacy" arguing that Muslim Americans represent "the new face of the far right," as a screenshot circulating on social media claims? No, that's not true: A spokesman for The Atlantic told Lead Stories that his magazine had never run such a story. Also, the photo accompanying the claim was taken from a different publication.
The claim appeared in an Instagram post on October 13, 2022. It opened with purported headlines from an article:
The Evolution of White Supremacy: In Dearborn, Michigan, Muslim parents who oppose teaching pornography to children become the new face of the far right
Here's how the post looked at the time of publication: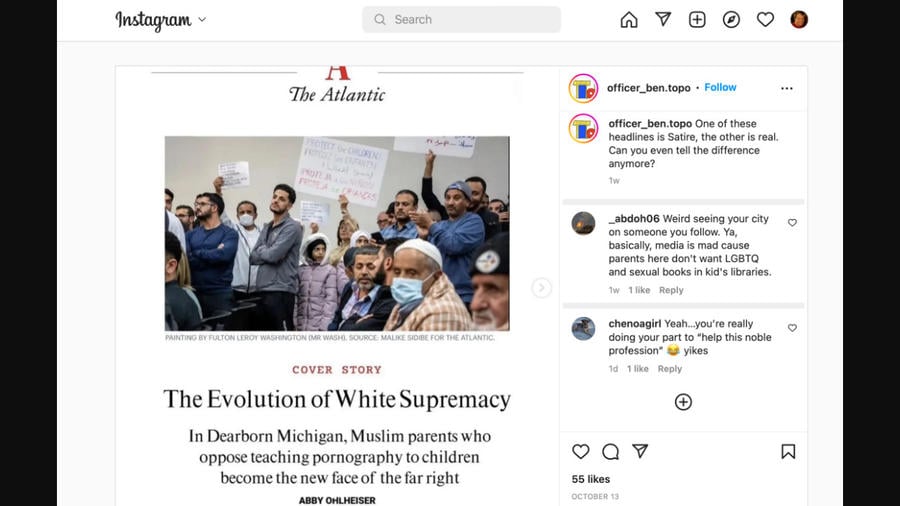 (Source: Instagram screenshot taken on Mon Oct 24 14:49:14 2022 UTC)
This story never appeared in The Atlantic.
"That screenshot is fabricated. The Atlantic published no such thing," Paul Jackson, the magazine's senior director of communications, said in an email to Lead Stories on October 24, 2022. "We reported it as a trademark infringement, and it was removed by Twitter."
A reverse-image search for the photo in the post reveals that it was published by the Detroit Free Press on October 11, 2022, in an article titled "Protesters shut down Dearborn school board meeting over LGBTQ books." The article described how parents and other demonstrators packed into a meeting of Dearborn Public Schools on October 10, 2022.
Dearborn, a suburb of Detroit, is home to a large community of people from the Middle East, many of whom are Muslims. The Free Press said the protesters held placards reading "Keep your porno books to yourself" and "If democracy matters, we're the majority," but did not mention any far-right presence at the meeting.

The Atlantic's list of online stories containing the term "Dearborn" does not include coverage of this school board meeting.
Abby Ohlheiser, whom the post credits as the author of the story, is a senior editor for digital culture at the MIT Technology Review.
A Google search for the title "The Evolution of White Supremacy" turns up no recent articles in any other publication, either.