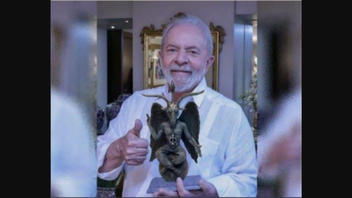 Does an image of Brazilian presidential candidate Luiz Inácio Lula da Silva show Brazil's former leader holding a statuette of the pagan deity Baphomet? No, that's not true: The photograph has been digitally manipulated to place the figure in his hands.
Written in French, the claim was posted on Twitter on October 7, 2022, along with the photograph of a smiling Lula da Silva, known as "Lula," holding the statue of a seated half-man/half-demon-like creature with horns, wings and a pentagram on its forehead. As translated by Twitter, the tweet reads:
This is Lula. A man who is now proudly photographed holding a statuette of Baphomet during a visit to a satanic church in São Paulo.
Here's how the tweet looked in French and English at the time of this fact check's publication: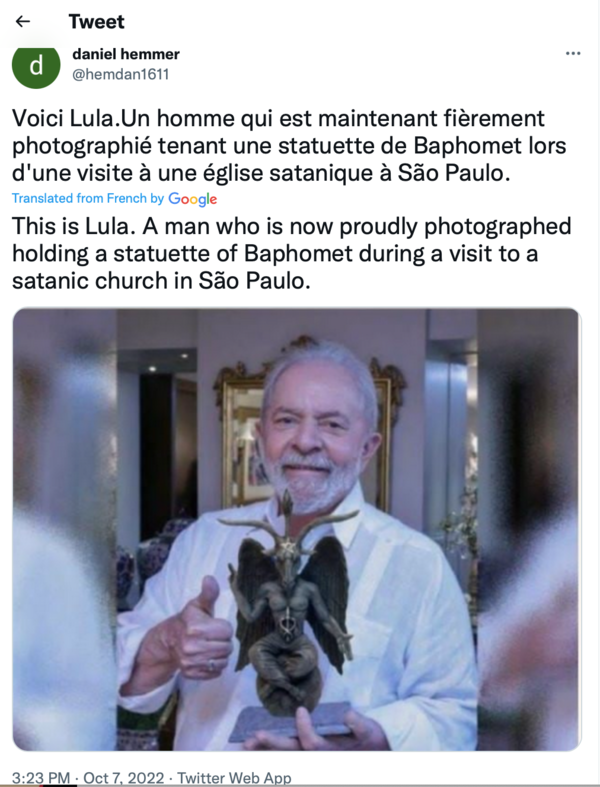 (Source: Twitter screenshot taken on Tues Oct 11 at 11:26:20 2002 UTC)
Lead Stories' fact check relies on translated versions of reporting by Lupa and Aos Fatos, two Brazilian fact-checking groups that are fellow members of the International Fact-Checking Network, which relies on a set of principles to investigate claims.

Lupa and Aos Fatos examined the posted image of Lula with the statuette of Baphomet and concluded that the image is a digital manipulation of an October 6, 2021 photo posted by Lula on his Twitter account.
In that picture, he is shown holding a figurine of himself with the flags of his left-leaning Workers' Party (Partido dos Trabalhadores) and Brazil at its feet.
"Baphomet's sculpture was inserted digitally," Aos Fatos wrote in its October 5, 2022 report, according to an English translation of the findings. Rather than Baphomet, the original photo, taken by Ricardo Stuckert and posted on Lula's official Twitter account, shows the Brazilian politician holding a statuette of himself dancing, the fact checkers found.

This is how the original image of Lula da Silva looked when it was posted on Twitter on October 6, 2021: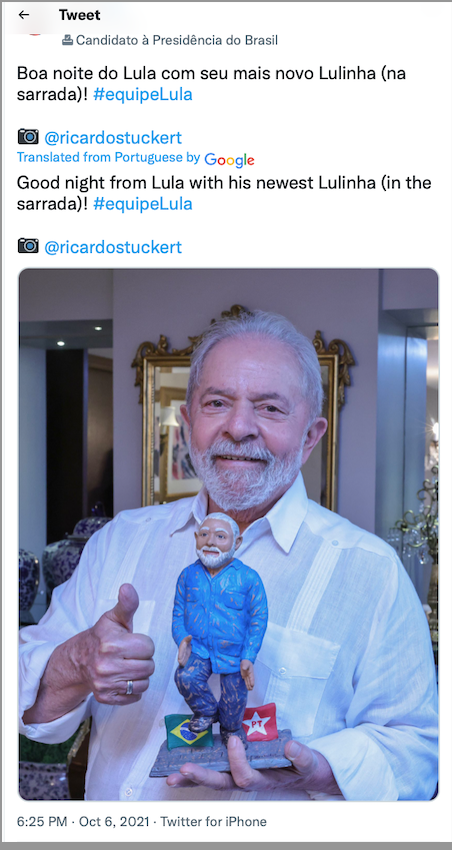 (Source: Twitter screenshot taken on Tues Oct 11 at 02:41:53 2022 UTC)
Lupa and Aos Fatos also concluded that the false post had been written to look like a news item by a reporter for G1, a news portal run by the Brazilian TV network Globo.

In a note to a Lupa reporter, translated by Lead Stories, G1 stated that such a report did not appear on its site and that the byline is not from anyone on its staff:
Another fake news [item]. G1 has never published such a report and we don't have someone with this name on our team.


The posted image of Lula da Silva with Baphomet is controversial in deeply Catholic Brazil.
Baphomet is a gnostic idol that has been embraced by mystics and followers of the occult.
Religious media have reported that faith plays a key role in the upcoming October 30, 2022 presidential election that will see Lula da Silva face off against incumbent President Jail Balsonaro, who, according to U.S. news reports, is backed by former U.S. President Donald Trump.

Lula da Silva is currently leading in the polls by a slim margin.
Lula da Silva was president of Brazil from January 1, 2001 to January 1, 2011. He was convicted on corruption charges in 2017 -- charges he denied -- and released in 2019 after a ruling by the country's Supreme Court.
- With translation assistance by Lead Stories writer Helena Cavendish