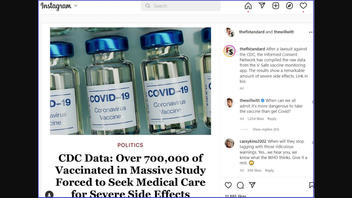 Does a "massive study" of "v-safe" data collected by the Centers for Disease Control and Prevention (CDC) prove that the COVID-19 vaccine caused a "stunning amount" of severe side effects? No, that's not true: No such study occurred, and no reputable scientific or medical institution has published a wide-scale "study" to establish causation between vaccination and self-reported vaccine adverse events collected by the CDC's voluntary v-safe smartphone program.
The claim originated in an Instagram post on October 8, 2022, by The Florida Standard that claimed "over 700,000 of vaccinated in massive study forced to seek medical care for severe side effects."
The post read:
After a lawsuit against the CDC, the Informed Consent Network has compiled the raw data from the V-Safe vaccine monitoring app. The results show a remarkable amount of severe side effects. Link in bio
This is how the post appeared on Instagram at the time of this writing: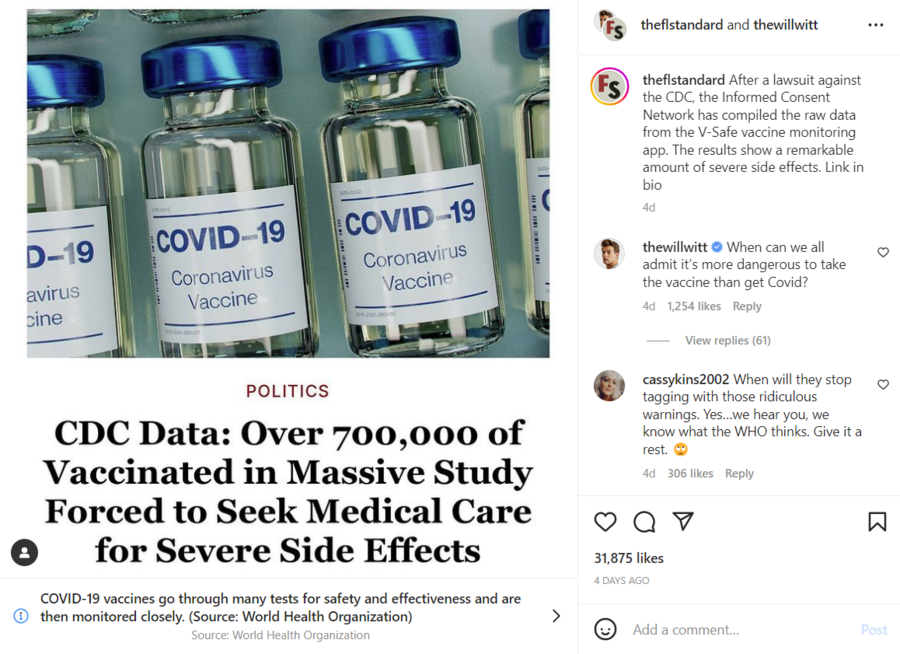 (Source: Instagram screenshot taken on Tues Oct 11 21:32:36 2022 UTC)
The link in the Instagram bio directed users to an article published on the website The Florida Standard on October 7, 2022 (archived here). In it, the author described a "study" conducted by the anti-vaccine group Informed Consent Action Network (ICAN).
However, the ICAN data did not reflect a reputable, peer-reviewed study. Rather it reflected a dashboard created to display what was said to be "v-safe" data compiled by the CDC. While the existence of such reports may be authentic, they do not establish a causation between the vaccine and reported health outcomes.
What is v-safe?
V-safe is an active surveillance program implemented by the CDC and Food and Drug Administration (FDA) after COVID vaccines were rolled out.
The smartphone-based program is used to monitor safety following vaccinations, and does so by periodically sending text message reminders to people enrolled in the program to enter health information as a means to identify possible adverse events following immunization.
V-safe reports do not equate causation
Like the Vaccine Adverse Event Reporting System (VAERS), v-safe is a self-reporting mechanism limited in its scope as it relies solely on individuals reporting their experiences, which have not been verified by medical professionals, notes the CDC website. Symptoms reported in the v-safe system do not indicate that they were caused by a vaccine, reports The College of Physicians of Philadelphia nonprofit organization History of Vaccines.
That's not to say that such events didn't happen, but that they have not been evaluated by experts to determine causation between vaccine administration and a reported side effect.
More likely to report adverse health outcomes
The Florida Standard article suggested that a large number of vaccine recipients reported "severe" health outcomes after being vaccinated:
... 7.7 percent or 782,913 individuals experienced such severe adverse events that they had to seek medical care, ended up in the emergency room and/or were hospitalized.

What's remarkable is also that these participants experienced a stunning amount of side effects - over 71 million symptoms were reported. Out of those, the most common were pain, fatigue and headaches. Over four million symptoms were reported as 'severe.'
The article concluded:
The V-Safe program only included less than four percent of people that received a COVID-19 vaccine.
According to the Department of Health and Human Services, the agency that oversees both the FDA and CDC, serious adverse events "are probably more likely to be reported than minor ones, especially when they occur soon after vaccination, even if they may be coincidental and related to other causes."
In short, those who experienced adverse events are more likely to report them than people who didn't. As the CDC notes in its 2021 v-safe protocols:
Vaccinated people who choose to participate in v-safe might be different from those who decline; therefore, rates of side effects and adverse events generated from v-safe might not be generalizable to the full population of vaccine recipients.
Additionally, an adverse health event can include a number of factors as defined by the CDC:
Any health problem that happens after vaccination is considered an adverse event. An adverse event can be caused by the vaccine or can be caused by a coincidental event not related to the vaccine, such as an unrelated fever, that happened following vaccination.
Similarly, because v-safe collects data over a long period of time, a number of health outcomes that may be unrelated to vaccination could also be included in the dataset. On Page 14 of its 87-page report titled, "V-safe active surveillance for COVID-19 vaccine safety," the CDC says:
V-safe allows people to enter late in the post-vaccination monitoring period. The group of individuals who enroll in v-safe late might be heterogenous-those who simply neglected to enroll early, those who chose to enroll only after experiencing a clinically important adverse event, and others. Data collected from these individuals may need to be analyzed separately from data from those who enrolled early.

The information provided by v-safe participants at 3, 6, and 12 months after vaccination might be impacted by recall bias.
Are vaccines safe?
Yes. In the U.S., the Pfizer and Moderna mRNA vaccines are strongly recommended as "safe and effective," reports Johns Hopkins Medicine. This is affirmed by CDC data:
More than 619 million doses of COVID-19 vaccine have been given in the United States from December 14, 2020, through September 28, 2022. To view the current total number of COVID-19 vaccinations that have been administered in the United States, please visit the CDC COVID Data Tracker.

COVID-19 vaccines are safe and effective. COVID-19 vaccines were evaluated in tens of thousands of participants in clinical trials. The vaccines met the Food and Drug Administration's (FDA's) rigorous scientific standards for safety, effectiveness, and manufacturing quality needed to support emergency use authorization (EUA).
The CDC and FDA continue to monitor possible safety concerns and have concluded that as of this writing, the potential risks of vaccine outweigh the symptoms of COVID infection.
Other fact checks Lead Stories has written about the v-safe program are here.