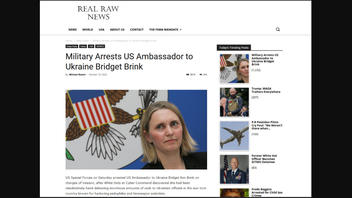 Did the military arrest the U.S. Ambassador to Ukraine Bridget Brink? No, that's not true: Real Raw News, the website that posted the story, has a disclaimer saying that their articles are "humor, parody and satire." The site has a history of posting false stories of arrests and executions of government officials, celebrities and well-known public figures. Also, the Posse Comitatus Act forbids the military from enforcing civilian law.
The claim appeared in an article published by Real Raw News on October 10, 2022, titled "Military Arrests US Ambassador to Ukraine Bridget Brink | Real Raw News" (archived here). It opened:
US Special Forces on Saturday arrested US Ambassador to Ukraine Bridget Ann Brink on charges of treason, after White Hats at Cyber Command discovered she had been clandestinely hand-delivering enormous amounts of cash to Ukrainian officials in the war-torn country known for harboring pedophiles and bioweapon scientists.
Users on social media only saw this title, description and thumbnail:
An internet search of the key words "ambassador bridget brink arrested" yields no legitimate news reports of any such incident. The three links to stories of her arrest are from Real Raw News, Bitchute and Best News Here, all sites that have published false claims. The absence of corroborating reports on what would be a major international story indicates the claim is baseless.
As of October 11, 2022, Brink was active on her official Twitter account @USAmbKyiv with a tweet posted in both English and Ukrainian:
Ukraine doesn't stop, and neither will we. Proud to work in partnership with @Olkubrakov as he and his team work to repair damage and continue fighting after Russia's barbaric strikes in homes, schools, and playgrounds. pic.twitter.com/mj6yn9t1Ye

-- Ambassador Bridget A. Brink (@USAmbKyiv) October 11, 2022
Lead Stories reached out to the State Department for comment on the post and will update this story if a response is received.
Real Raw News has a long history of publishing false claims in mock news stories, many of them about convictions and executions of various public figures at Naval Station Guantanamo Bay in Cuba. For example, the site reported former Secretary of State Hillary Clinton was hanged (she wasn't); former White House Chief of Staff John Podesta was executed (he wasn't); and that "the military" convicted former Attorney General William Barr on charges of treason (it didn't).
The website for Real Raw News includes a disclaimer that warns readers not to take its content too seriously. Specifically, it says:
Information on this website is for informational and educational and entertainment purposes. This website contains humor, parody, and satire. We have included this disclaimer for our protection, on the advice on legal counsel.

(Source: RealRawNews.com screenshot taken Tue Aug 3 16:39:48 UTC 2021)
Lead Stories has covered claims published by Real Raw News in the past. Previous Lead Stories debunks of Real Raw News items is collected here.