STORY UPDATED: check for updates below.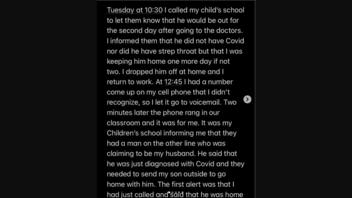 Did a stranger in a mask try to kidnap students from at least two schools around the Puyallup, Washington, area? No, that's not true: The Puyallup Police Department told Lead Stories that while two schools received phone calls about a person trying to pick up students who did not belong to them, investigators had found nothing to substantiate an online post.
The post claimed that a school resource officer found a man with a mask in a school parking lot, with the masked man later being spotted at a second school. The calls to schools were traced back to a number from another state, a police official said, describing the calls as "spoof" calls.
The story appeared in an Instagram post on October 17, 2022, with the caption, "**¡¡ PSA - If you have kids, know kids, work with kids, or just simply want to protect kids - PLEASE READ !!** This is from a coworker of mine. An experience them and their family had last week." It opened:
Tuesday at 10:30 I called my child's school to let them know that he would be out for the second day after going to the doctors.
This is what the Instagram post looked like at the time of writing: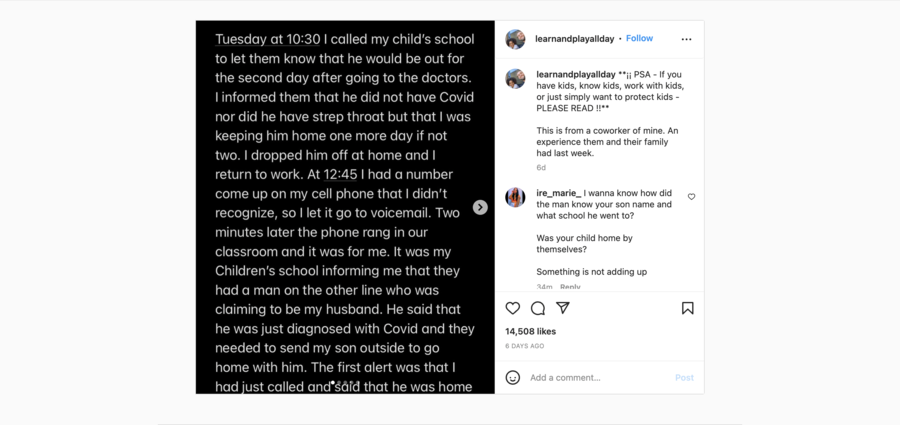 (Source: Instagram screenshot taken on Mon Oct 24 14:48:51 2022 UTC)
The lengthy Instagram narrative by a writer who did not identify themselves continued, saying the children's school called the parent and told them that their "husband" wanted to pick up their child. The author of this story found out their husband was not present at the school, and it was a stranger who was trying to check their child out. According to this post, the man then tried to do the same thing at a school "down the road" 35 minutes later.
Lead Stories contacted the Puyallup Police Department about the post. In an October 21, 2022, email, Capt. Donald Bourbon responded that the police department's school resource officers, or SROs, and police detectives were aware of the situation and it had been investigated and cleared with no follow-up. There is no threat that the Puyallup Police Department is aware of and they have heard -- but not confirmed -- that this incident has happened at a few other school locations, he said.
Bourbon described the number that was tracked as a "spoof" number from an area code in Alabama that did not lead to a specific person.
The story told in the Instagram post stretches across five slides. In the second and third slides, the unidentified writer writes that a school officer found a man parked in the back of the parking lot with a mask. The school officer asked the man what he was doing there, and the man with the mask "muffled something about picking up a student." After the school officer told the man to leave, the writer says this man showed up at a different school shortly after. "Come to find out our son was the first attempt that day and less than 35 minutes later this person tried it again at a school down the road in Puyallup, Washington," the writer says in the post.
In an October 24, 2022, email, Bourbon provided more information, saying:
... our report does not mention a person wearing a mask or any staff confronting a person wearing a mask. Our report indicates it was a phone conversation only.
Lead Stories contacted the communications department at Puyallup School District about the two schools Bourbon mentioned in his October 24, 2022, response. Executive Director of Communications and Public Engagement, Sarah Gillispie, responded on October 24, 2022, writing back:
Approx. 2 weeks ago, we became aware of an individual attempting to call a student out of class at Aylen Junior HIgh without going through the proper protocol. Office staff did not release the student because the caller did not follow protocol. We have no information on the caller and cannot confirm that the caller was on school grounds. As such, we cannot confirm this was a related incident. Our front office staff are trained to ensure all safety protocols are followed before releasing students to parents.
Bourbon told Lead Stories the other school that received a call is outside the Puyallup School District.
Lead Stories reached out to authorities at the second school. That second school was Cascade Christian Junior High. In an October 28, 2022, phone call, we spoke to Jake Petersen, the Director of Safety and Security at Cascade Christian Schools. Petersen told us that "in early October," the junior high received a phone call "that the front staff recognized as odd behavior." The front staff alerted the families of the children who are targeted, and the district has sent out public service announcements since then.
Here, here and here are more Lead Stories fact checks about similar claims.
2022-10-28T19:50:12Z

2022-10-28T19:50:12Z

Added a response from Cascade Christian Schools.