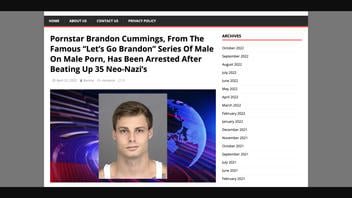 Did a gay porn actor named Brandon Cummings get arrested after fighting off 35 neo-Nazis? No, that's not true: This story originated on a satirical website. A screenshot of the headline and what looks like a mug shot was making the rounds on social media in October 2022 with no clear label that this was not a real story. Daily News Reported, the website that published the story, has a disclaimer in their About Us section that reads, "Daily News Reported is a fabricated satirical newspaper and comedy website."
The claim appeared in an article (archived here) published by Daily News Reported on April 22, 2022, under the title "Pornstar Brandon Cummings, From The Famous 'Let's Go Brandon' Series Of Male On Male Porn, Has Been Arrested After Beating Up 35 Neo-Nazi's." It opened:
Van Nuys California- Brandon Parker (28) was walking his dog late last night when he was approached and harrassed by a group of Neo Nazi's.
This is what the post looked like at the time of writing: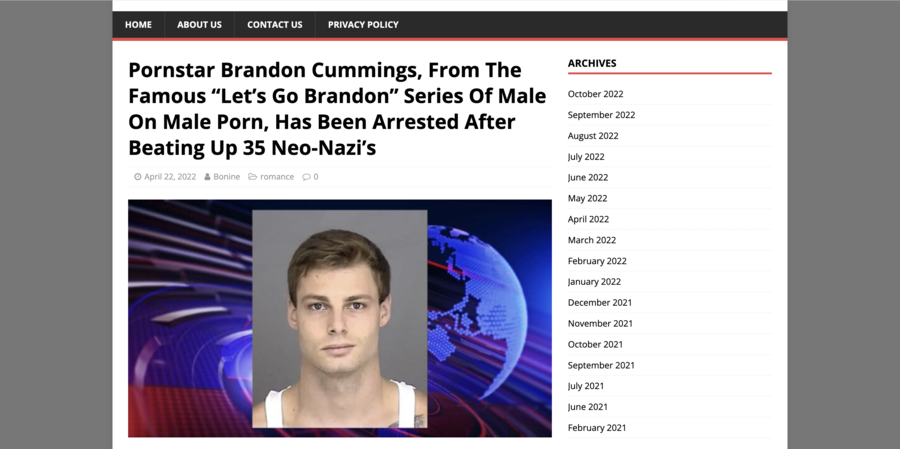 (Source: Daily News Reported screenshot taken on Tue Oct 25 15:38:19 2022 UTC)
A screenshot of just the headline and a photo of an unidentified man made the rounds on Twitter in October 2022.
The Daily News Reported describes themselves as a "fabricated satirical newspaper and comedy website" in their About Us section on their website. The screenshots circulating on Twitter did not include the fact that this story is not real and satirical.
Here are more Lead Stories fact checks about satirical stories.