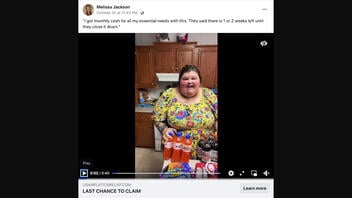 Is there a new stimulus package that is giving $440 a month to low-income Americans who don't have Medicaid or Medicare? No, that's not true: The claim offers no proof that the money is being distributed to people who do not have Medicaid or Medicare health insurance programs. The link in the caption does not go to an official government website and the person answering the phone instructed Lead Stories to call their own state for health insurance. There are no government programs offering the money to people without either program as of publication of this article.
The claim appeared in a video on Facebook on October 10, 2022.
The caption on the post read:
LAST CHANCE TO CLAIM 'I got monthly cash for all my essential needs with this. They said there is 1 or 2 weeks left until they close it down.'
The video opened with a voice saying:
New stimulus is here and it's giving $440 a month to low-income Americans who don't have Medicaid or Medicare. If you fall in this category, you're owed cash.
This is what the post looked like on Facebook at the time of writing: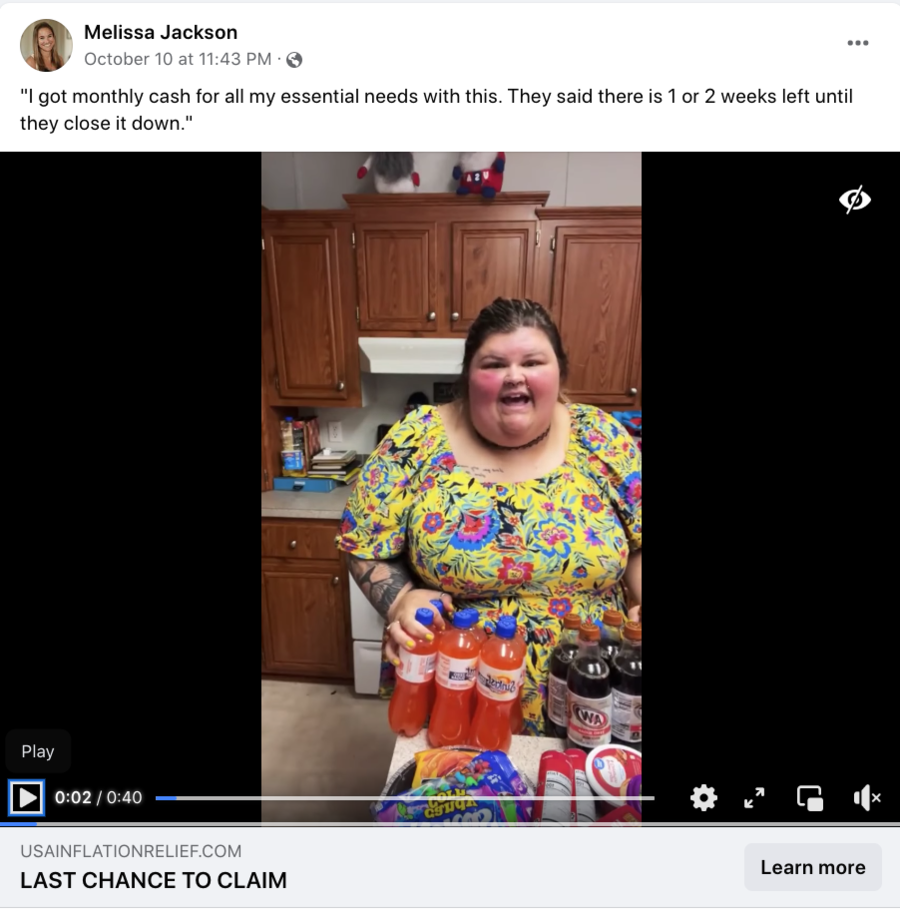 (Source: Facebook screenshot taken on Wed Oct 12 18:56:42 2022 UTC)
The 40-second video has a voice claiming that the deadline to claim $440 if they do not have Medicare or Medicaid is expiring in two weeks. Here is the full transcript:
New stimulus is here and it's giving $440 a month to low income Americans who don't have Medicaid or Medicare. If you fall in this category, you're owed cash. Anything you don't use on medical, you can use for groceries, gas and other essential needs. I just used it to get a full cart of food. I got on the phone with a representative and they were able to qualify me in just a few minutes. My cousin who works at the office told me about this and they don't really want anybody knowing about it. So make sure to take advantage of this rare opportunity while it lasts. The deadline is ending in two weeks. I'm happy I could share this with others who are in need of relief. Click below to learn more.
The footage shows people with cash, medicine bottles on a shelf, groceries on a counter and a woman holding a gas pump. When the voice claims, "I just used it to get a full cart of food," the footage shows several grocery carts filled to the top. Nowhere in the video is there evidence that anyone received $440 from a new stimulus package or how they obtained it.
The post contains a link to the website usainflationrelief.com, where it claims, "Americans Rush to Claim Free Medical Benefits Starting This Week. Check Eligibility Below."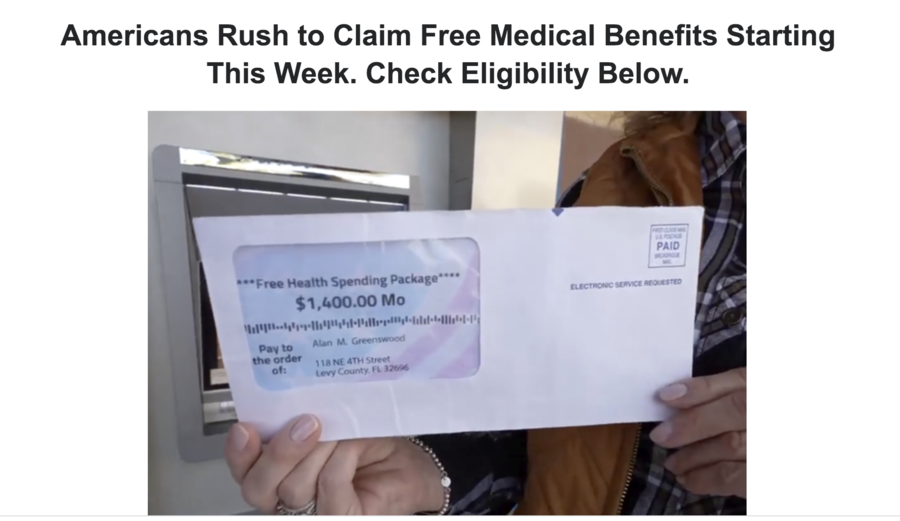 (Source: USA inflation relief website screenshot taken on Wed Oct 12 19:30:15 2022 UTC)
The link asks a few questions and then a phone number is provided to call for "Free Health Benefits in your area."
Lead Stories called the number on October 12, 2022, and after two questions the operator ended the call. This is a transcript of the call:
Operator: Health enrollment sent on a recorded line. Are you looking to enroll in health insurance today?
Lead Stories: Yes.
Operator: OK. What state do you live in?
Lead Stories: California.
Operator: I'm sorry.You have to call your local California for health insurance. OK? Sorry. Thank you.
Operator hangs up.
As of October 12, 2022, there were no credible news reports or government announcements of either a new stimulus package or a $440 government cash payment. Lead Stories debunked a similar claim, that the U.S. president had announced new "health credits" for anyone making under $50,000 a year, in August 2022. You can see that story here.
The Federal Trade Commission (FTC) lists health care scams among the most frequent ones. According to the FTC website:
You see an ad on TV, telling you about a new law that requires you to get a new health care card. Maybe you get a call offering you big discounts on health insurance. Or maybe someone says they're from the government, and she needs your Medicare number to issue you a new card.

Scammers follow the headlines. When it's Medicare open season, or when health care is in the news, they go to work with a new script. Their goal? To get your Social Security number, financial information, or insurance number.
The FTC recommends that people should spend enough time doing thorough research before sharing any personal or financial information.
HealthCare.gov, a health insurance exchange place operated by the federal government, additionally points out that official announcements and communications always come from websites and emails that end in ".gov," not ".com," ".org" or anything else.
While the Facebook account name is listed as Melissa Jackson, the "page transparency" button notes that the name was changed from "Enjoying Boys" to "Melissa Jackson" on October 6, 2022. A reverse image search of the profile picture appears to show that it was taken from a Duke University alumni profile page and is of a person who is not named Melissa Jackson.