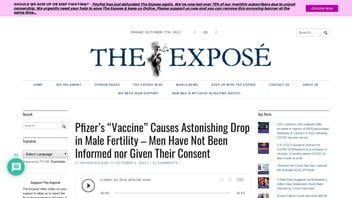 Does the Pfizer COVID-19 vaccine cause an "Astonishing Drop in Male Fertility"? No, that's not true: The shot temporarily lowers sperm count, much the same as after a "simple viral infection," according to Itai Gat, one of the authors of a study published June 17, 2022, that looked into the connection. The Centers for Disease Control and Prevention also said it "detected no unusual or unexpected patterns of reduced sperm count in men following immunization."
The claim appeared in an article (archived here) published by The Exposé on October 3, 2022, under the title "Pfizer's 'Vaccine' Causes Astonishing Drop in Male Fertility -- Men Have Not Been Informed nor Given Their Consent." It opened:
When the Covid-19 vaccine rollout to the public began in late 2020, medical professionals, public health agencies, and government spokespeople all assured the public that the novel mRNA 'vaccines' did not cause negative systematic effects on human bodies. They promised the public, many of whom were sceptical about the safety of a drug brought to market at 'warp speed,' that the vaccines were 'safe and effective.'

Those who questioned or challenged the 'safe and effective' assurances were dismissed as 'anti-vaxxers' and accused of wanting to kill others, especially the elderly. Few medical and public health experts spoke out about the need for long-term studies.

This attack on challengers to public health's all-out push, and the resulting censorship of the emerging problem, resulted in catastrophic harm to male fertility.
This is what the article looked like at the time of writing: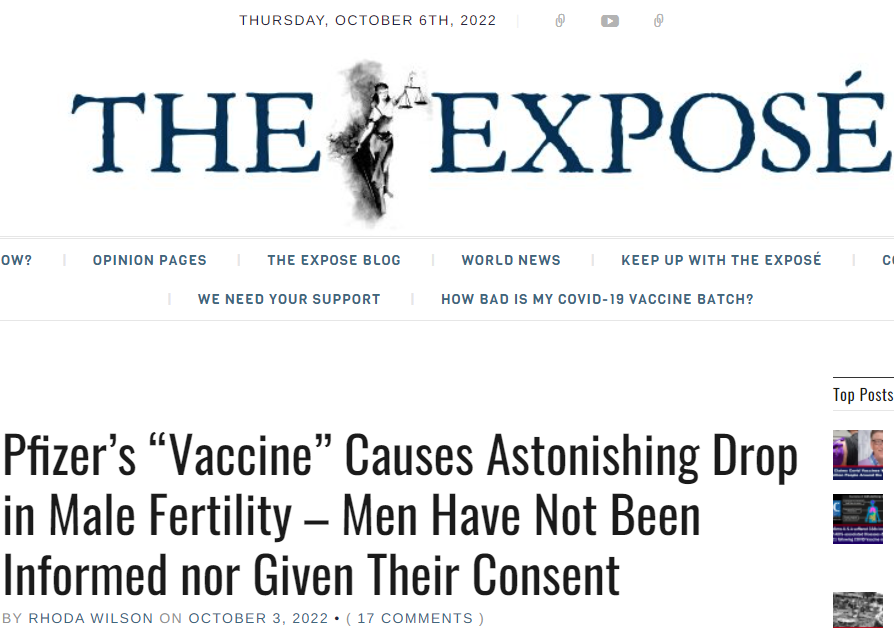 (Source: The Exposé screenshot taken on Fri Oct 7 15:05:25 2022 UTC)
Gat is one of the authors of a study called "Covid-19 vaccination BNT162b2 temporarily impairs semen concentration and total motile count among semen donors," which was referenced in The Exposé article. He told Lead Stories in a June 22, 2022, email for another story on the same topic that men should "not be concerned about their fertility." He added:
We found a temporary decline in sperm concentration specifically 3 months after vaccination (first 2 doses). It makes sense since sperm production in humans lasts around 74 days. Therefore, the impact of every intervention in sperm production (ex. Hormonal treatment for subfertile men) will be observed after 3 months.

That impact is very similar to simple febrile disease (ex. Flu), so we assume that this decline is related to immediate immune response post-vaccination.

I don't think these findings change the general picture regarding vaccinations. We already know they may cause immediate immune responses such as fever and fatigue for a few days. Our study demonstrates its consequence on sperm production, which is temporary.

In other words, since men would not be concerned about their fertility after a simple viral infection, the same is true for the vaccination effect.
The study was published in Andrology, which is the official journal of the European Academy of Andrology and the American Society of Andrology. The field of andrology focuses on the male reproductive system.
In a June 21, 2022, email to Lead Stories about another male fertility article, Dr. John Su of the CDC's Immunization Safety Office said the agency has found no reason for concern:
CDC has detected no unusual or unexpected patterns of reduced sperm count in men following immunization that would indicate COVID-19 vaccines are causing or contributing to this condition. CDC continues to recommend that everyone who is eligible should get vaccinated.
The CDC recommends COVID vaccines for everyone ages 6 months and older, and COVID boosters for everyone ages 12 years and older, if it has been at least two months since their last COVID vaccine dose.
Dr. Oluwatosin Goje, a board-certified OB/GYN and infectious diseases specialist at the Cleveland Clinic's Obstetrics, Gynecology and Women's Health Institute, addressed the male fertility issue in a March 23, 2022, article. She said researchers haven't found any evidence of the vaccine having a negative impact on sperm:
Two studies in couples undergoing fertility treatment found no appreciable difference in semen volume, sperm concentration or motility measured before and after vaccination.
In an October 7, 2022, email to Lead Stories, Pfizer media relations provided this response to The Exposé article's claims:
As with every medical product, Pfizer has robust processes to meet its post authorization responsibilities to closely monitor all adverse events and collect relevant information to assess any new potential safety risks that may be associated with the vaccine. In addition to our pharmacovigilance efforts and compliance with various regulatory requirements related to quality and safety, we also cooperate with FDA and regulatory authorities around the world as they independently monitor the safety profile of our vaccine. The U.S. CDC, for example, describes the safety monitoring of the COVID-19 vaccines as 'the most intense safety monitoring in US history.'

Our data have been, and are, extensively reviewed by multiple regulatory and advisory bodies around the world. The Pfizer-BioNTech COVID-19 vaccine has been administered to hundreds of millions of adults, adolescents and children generating robust data demonstrating a favorable safety profile and high level of protection against severe COVID-19 disease and hospitalization.
In an earlier Lead Stories' fact check on male fertility and their COVID vaccine, the biopharmaceutical company said the following in a June 22, 2022, email:
Regulatory authorities around the world have authorized the Pfizer-BioNTech COVID-19 vaccine and expert medical committees, such as ACIP, have and continue to review the data and recommend it. Additionally, numerous studies and real-world evidence show the Pfizer-BioNTech COVID-19 vaccine does not cause infertility.
The website for the Mayo Clinic says a low sperm count can have many causes:
The production of sperm is a complex process and requires normal functioning of the testicles (testes) as well as the hypothalamus and pituitary glands -- organs in your brain that produce hormones that trigger sperm production. Once sperm are produced in the testicles, delicate tubes transport them until they mix with semen and are ejaculated out of the penis. Problems with any of these systems can affect sperm production.

Also, there can be problems of abnormal sperm shape (morphology), movement (motility) or function.

However, often the cause of low sperm count isn't identified.
The Mayo Clinic also said there are a variety of risk factors and other problems that can cause low sperm count. They include:
Smoking tobacco
Drinking alcohol
Using certain illicit drugs
Being overweight
Being severely depressed or stressed
Having certain past or present infections
Being exposed to toxins
Overheating the testicles
Having experienced trauma to the testicles
Being born with a fertility disorder or having a blood relative, such as your brother or father, with a fertility disorder
Having certain medical conditions, including tumors and chronic illnesses
Undergoing cancer treatments, such as radiation
Taking certain medications
Having a prior vasectomy or major abdominal or pelvic surgery
Having a history of undescended testicles
Additional Lead Stories fact checks related to male fertility can be found here and here.