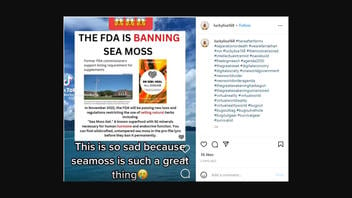 Did the Food and Drug Administration (FDA) pass "new laws and regulations" to ban sea moss in November 2022? No, that's not true: The FDA does not have the legal authority to either propose or approve legislation, including bans. As a regulatory authority, its role is to enforce laws enacted by Congress. An FDA spokesperson told Lead Stories that the "sea moss" products touted in a social-media post that alleged an upcoming FDA ban on sea moss have been "misbranded" and are "unapproved drugs." Lead Stories found that the post urging followers to buy "sea moss" products before the supposed ban suggests a scam to boost sales.
The claim appeared in a video posted on TikTok on October 31, 2022. A screenshot of the TikTok video was then shared on Instagram on November 1, 2022. The screenshot claims that the "FDA is banning sea moss." The image's text overlay reads:
In November 2022, the FDA will be passing new laws and regulations restricting the use of selling natural herbs including 'Sea Moss Gel.' A known superfood with 92 minerals necessary for human hormone and endocrine function. You can find wildcrafted, untampered sea moss in the pro-file lync [profile link] before they ban it permanently.
Here is how the post appeared at the time of this fact check's writing: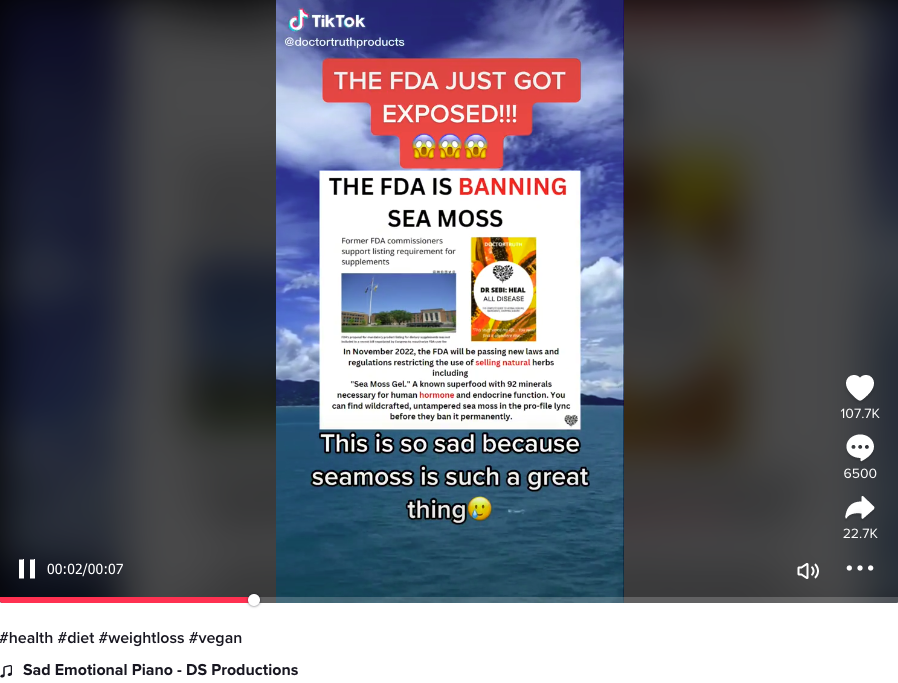 (Source: TikTok screenshot taken Fri Nov 4 21:31:14 2022 UTC)
The account holder who posted the original video, @doctortruthproducts, included a link in his or her TikTok profile that leads to an online store (archived here) selling "DoctorTruth™ Sea Moss Bundle (With Elderberry)" for $29.99, which was said to be discounted from $79.99. This suggests that, at its core, these claims were meant as a scaremongering tactic to boost sales of a particular product.
As of this writing, there is no proposed or pending legislation in either the 2021-22 Congressional Record or legislative record about sea moss.
As provided under The Federal Food, Drug, and Cosmetic Act, the FDA does not hold the legal authority to pass legislation, but instead acts as a regulatory agency to enforce laws enacted by Congress. This includes the regulation of "food, drugs, cosmetics, biologics, medical products and tobacco" that, when deemed safe, are given FDA approval.
Among the measures passed by Congress and enforced by the FDA are those that impose labeling restrictions -- not outright bans. These restrictions address:
Unapproved New Drugs: Drugs must be sold for the purposes for which they were approved. (Section 355, Federal Food, Drug and Cosmetic Act);
Misbranded Drugs: Drugs cannot feature "false labeling or present misleading [information] in any particular" (Section 502, Federal Food, Drug and Cosmetic Act);

False or Misleading Labeling: A drug or device is considered misbranded "if its labeling proves false or misleading in any particular." (Section 502a, Federal Food, Drug and Cosmetic Act)
The FDA flagged two products containing sea moss for mislabeling; both of these products predate the social media claims that circulated in November 2022. (As of the date of this fact check, a Google search for "sea moss" reveals a host of products available for sale online.)
On May 24, 2021, the FDA's Center for Food Safety and Applied Nutrition issued a warning letter (archived here) to Everything Health LLC regarding the sale of sea moss as part of the company's "CoronaBox," a product box falsely advertised as intended to "mitigate, prevent, treat, diagnose, or cure COVID-19 in people."
A year prior, on July 9, 2020, the New York-based company Sundial Herbal Products issued a recall letter (archived here) for misbranded dietary supplements, one of which contained "Sea Moss/Irish Moss." At the time, the company said:
The recalled drug products are misbranded and deemed unapproved drugs based on labeling claims which could result in a delay of appropriate treatment by a healthcare provider. Because these products are unapproved, their safety and efficacy have not been established.
The above product -- "Sea Moss/Irish Moss" -- is also included in the FDA's Health Fraud Product Database, a list of products that the agency has not approved and claims have committed health fraud. The FDA defines this violation as:
... the deceptive promotion, advertising, distribution, or sale of a product represented as being effective to prevent, diagnose, treat, cure or lessen an illness or condition, or provide another beneficial effect on health, but that has not been scientifically proven safe and effective for such purposes.
While it is true that the two products above have been flagged by the FDA for mislabeling, it is false that the agency will ban sea moss in general. Lead Stories sent a follow-up email to the agency to confirm whether "there is currently in place, or expected to be, any effort by the FDA to limit access to products containing sea moss."

In a November 8, 2022, response to Lead Stories, a FDA spokesperson emphasized existing regulations.
The spokesperson explained that the aforementioned cases concern "products with labeling that contained or made drug claims that the product(s) could diagnose, cure, mitigate, treat or prevent disease."
The spokesperson continued:

The FDA considers these products to be misbranded and deemed unapproved drugs based on labeling claims that could result in a delay of appropriate treatment by a qualified healthcare provider. Because these products are considered unapproved drugs, their safety and efficacy have not been established. While specific risks to patients from use of these misbranded products cannot always be identified or assessed, it is not possible to rule out patient risks resulting from the use of such products.
"Sea moss or other products will continue to be subject to existing FDA law and regulations with regard to their labeling and marketing claims," the spokesperson concluded.

An October 28, 2022 Lead Stories fact check related to the FDA and dietary supplements can be found here.