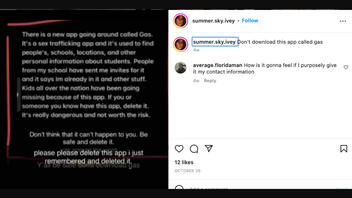 Is the fast-growing social networking app Gas being used for sex trafficking, and have children across the nation gone missing after using it? No, that's not true: The claim is a hoax and the app has not been linked to any cases of child sex trafficking, according to its creator.
The claim appeared in an Instagram post from November 9, 2022, under the title "Don't download this app called gas." It opened:
There is a new app going around called Gas. It's a sex trafficking app and it's used to find people's schools, locations, and other personal information about students. People from my school have sent me invites for it and it says Im already in it and other stuff. Kids all over the nation have been going missing because of this app. If you or someone you know have this app, delete it. It's really dangerous and not worth the risk.
Here's how the post appeared on the day of writing: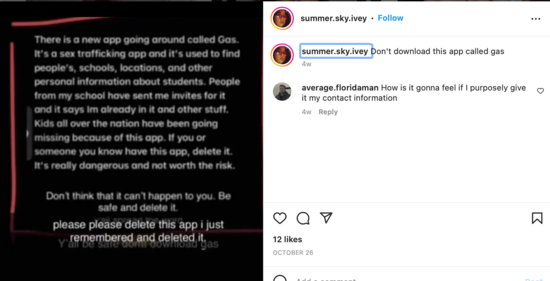 (Source: Instagram screenshot taken Fri Nov 25 at 18:32:17 2002 UTC)
"It's a hoax," creator and company founder Nikita Bier told Lead Stories in a telephone interview on November 25, 2022.
Allegations that the app was being used for trafficking surfaced in September, which launched an investigation into a possible source, Bier said. Using geofencing technology, the Gas team found circumstantial evidence of a fake app review posted by either a person or entity based in China.
The review appeared on the same day that the app was first connected to foreign IP addresses, he said. Allegations linking Gas to human trafficking spread rapidly across social media sites (for example here, here and here) once the review was posted to TikTok.
Bier took to Twitter on October 15, 2022, to describe the findings of the company's investigation. Here's how the explanation appeared: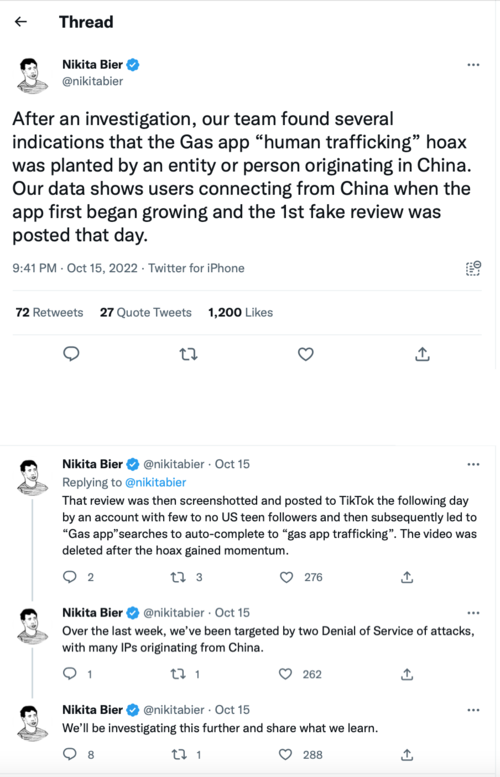 (Source: Twitter screenshot taken Fri Nov 25 at 19:40:11 2002 UTC)
Lead Stories reached out to Polaris, a nonprofit that works to combat all forms of human trafficking and manages the National Human Trafficking Hotline. Its communications manager, Ayan Ahmed, said in an email to Lead Stories on November 29, 2022, that a check with the national hotline team found that they "have not received reports about the use of the Gas app in reference to human trafficking recruitment."
Gas was founded in August 2022 and is available through Apple's online store, where, within days of going live, it skyrocketed past TikTok as the top download application.
The application was designed as a space for teens to compliment and support friends they connect with through their high schools. Users can send messages to friends and answer age-appropriate poll questions about each other, the site's FAQ page states.
Bier claims it is impossible for anyone to use the Gas app for human trafficking because the platform does not store sensitive personal information including location data and the app can't be used for messaging others -- not even friends who are also using the app.
Those details are spelled out on the company's webpage as are specifics about the app's safety and privacy policies, as well as recommendations for parents monitoring their children's online usage, he said. The Safety Center page also specifically states that the site "Cannot and never has been used for 'trafficking'."
"There's no way to reach a user through our app. Your phone number is not displayed anywhere and there are no social handles like you see on Snapchat or Instagram," Bier told Lead Stories. "Generally for an app to have a human trafficking risk you would want to show a user's location and you would want to be able to contact them, neither of which is available on our app."
The safety and privacy of youth users was a guiding principle of the app's design, said Bier, who also founded a similar positive feedback app TBH (To Be Honest) in 2017 before selling it to Facebook, which later shut it down.
According to Bier, Gas also has internal checks and balances aimed at security, including a reporting system that allows users to point out accounts from possible imposters or individuals who don't go to their school. The app also blocks anyone under the age of 13 from signing up for the service.
Bier said he was inspired to design the Gas app because with TBH, the positive impact on teen users was visible.
"We do get a message on a daily basis about a kid who's reconsidered self-harm and suicide because of the message they've received on the app," he said. "So that is why we built it. If one kid reconsiders harming themselves because they see their friends like them and love them, then that's a victory for us."
Human trafficking is a serious worldwide problem that the U.S. State Department estimates affects some 24.9 million men, women and children worldwide at any given time.
Polaris identified 16,658 victims and survivors of trafficking through its hotline data in 2020, according to a report. Of those, 10,836 were exploited specifically for sex trafficking.
The overall use of social media as a tool for recruiting potential victims of trafficking grew by 22 percent in 2020, the report said, as other recruitment efforts, such as strip clubs, foster homes and schools went down. Significantly, reports of trafficking recruitment on Facebook grew by 125 percent and on Instagram increased by 95 percent.
Rumors about the app's alleged connections to trafficking have brought a heavy backlash on the Bier's team of four, including threats to hurt or kill them.
In addition to his Twitter posts, Bier has tried to combat the claims through various media interviews (including here and here) but the rumors have persisted and at its height drove more than 3 percent of users to close their accounts, he told Lead Stories. The Gas team also posted an October 15, 2022, video on TikTok to dispel trafficking myths and explain its safety and security features.
Gas has also had support from some high-profile people who work to combat human trafficking, including actor Ashton Kutcher, a co-founder of the tech company Thorn, and Eliza Bleu, a survivor of trafficking and host of the Eliza Bleu Podcast. Here's what Kutcher and Bleu said on Twitter: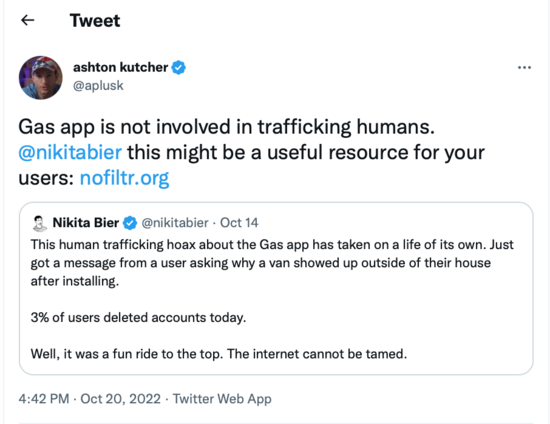 (Source: Twitter screenshot taken Fri Nov 25 at 18:24:57 2002 UTC)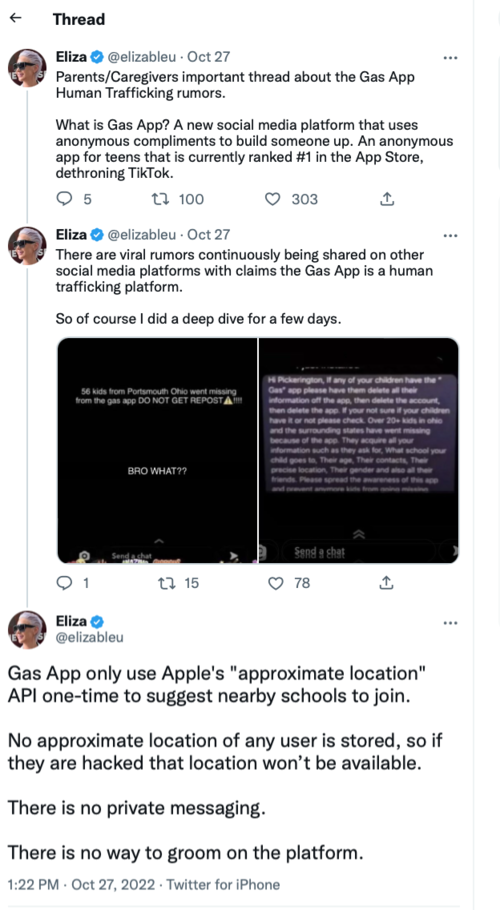 (Source: Twitter screenshot taken Tues Nov 29 at 19:18:47 2022 UTC)
Lead Stories has previoulsy fact checked numberous falst claims about tactics used by human traffickers. A list of those stories can be found here.