STORY UPDATED: check for updates below.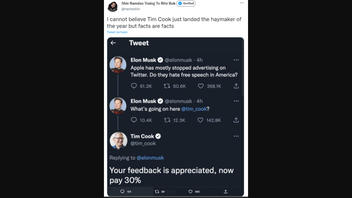 Did Apple CEO Tim Cook tell Elon Musk that his "feedback is appreciated" and demand that he "pay 30%" after the Twitter CEO claimed that Apple seeks to suppress free speech? No, that's not true: The wisecrack had appeared on other Twitter users' accounts before it was ascribed to Cook, whose verified Twitter account had not been active for several days when the comment attributed to him went viral.
Among other locations on social media, the claim appeared in a Twitter post (archived here) on November 28, 2022. It opened:
I cannot believe Tim Cook just landed the haymaker of the year but facts are facts

This is what the post looked like on Twitter at the time of the writing of this fact check: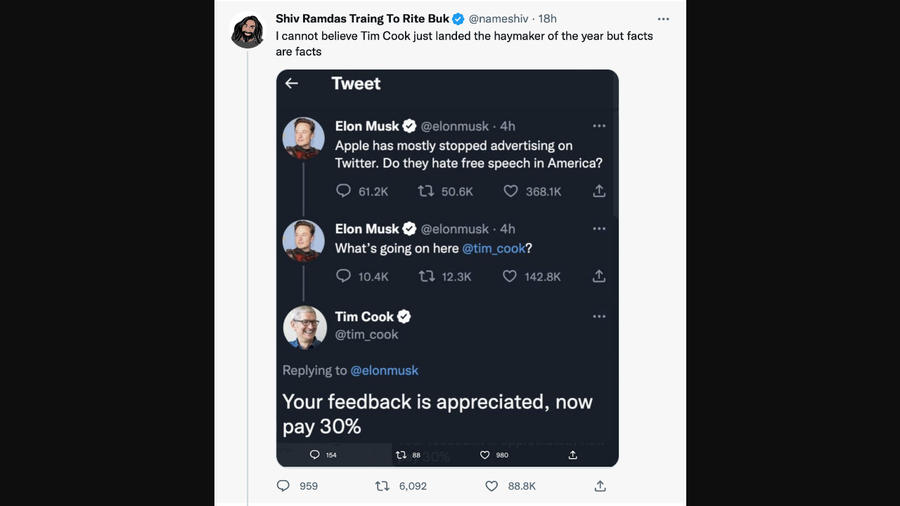 (Source: Twitter screenshot taken on Tue Nov 29 18:40:55 2022 UTC)
The last time Cook tweeted was November 24, 2022, when he wished his followers a happy Thanksgiving holiday. That's four days before the joke appeared. The Wayback Machine, a web archive, crawled Cook's Twitter page five times on November 28-29, 2022, and shows no record of him firing the one-liner at Musk.
The post, in fact, is a mock-up of Musk's November 7, 2022 retort to people who expressed displeasure at Twitter's new policy of charging public figures $8 a month for the blue check mark that verifies the authenticity of their accounts. Musk posted a photo of a T-shirt to his Twitter account that read "Your feedback is appreciated. Now pay $8."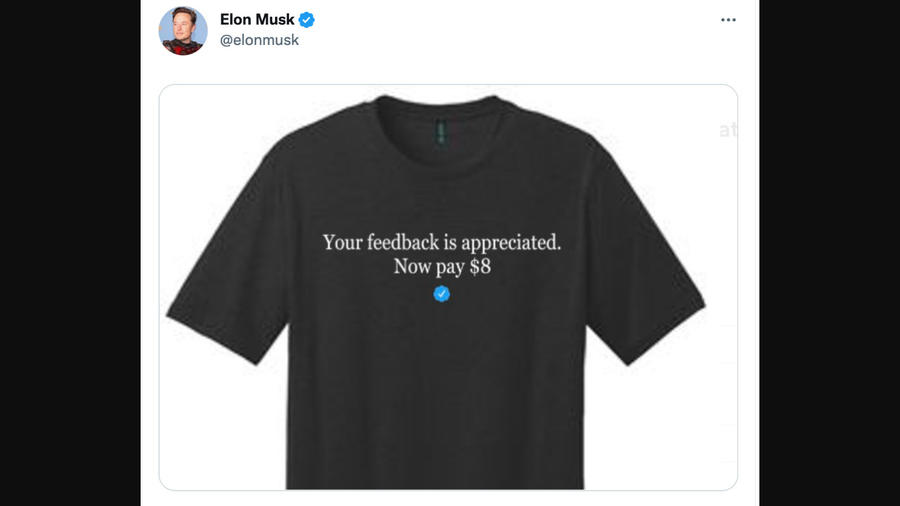 On November 28, 2022, Musk posted an unrelated series of tweets in which he accused Apple of taking steps to impede Twitter's operations. Musk tweeted:
Apple has mostly stopped advertising on Twitter. Do they hate free speech in America?
He added:
Apple has also threatened to withhold Twitter from its App Store, but won't tell us why
Musk then took aim at Apple's policy of charging hefty commissions on sales of some digital content through its system:
Did you know Apple puts a secret 30% tax on everything you buy through their App Store?
To which one Twitter user quipped:
Your feedback is appreciated, now pay 30%
Another Twitter user repeated this repartee about half an hour later. This second iteration was retweeted within a few hours. None of these tweets attributed the joke to Cook.
The tweet that inaccurately ascribed authorship to Cook appeared in the same timeframe, and received some blowback from readers. One asked, "How are you allowed to share this doctored image with no consequences ... how frustrating for those impacted."
However, some Twitter users have taken the claim at face value and continue to credit Cook as the jokester.
Additional Lead Stories fact checks of claims that mention Twitter CEO Elon Musk can be found here.
2022-11-30T09:47:37Z

2022-11-30T09:47:37Z

Typo in first paragraph fixed where $ and % were accidentally mixed up.