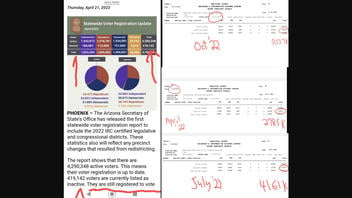 Does an increase in inactive voters show evidence of criminal intent in Arizona for the 2022 election? No, that's not true: The numbers in Maricopa County, Arizona, shown in the claim are accurate, representing tallies after several mailings were sent to voters to update information as required by state law, a county official told Lead Stories.
The claim appeared in a series of tweets (archived here) on November 25, 2022. It opened:
UPDATE#1: On April 21, Katie Hobbs issued a STATEWIDE Voter Registration Update - listing 419,142 INACTIVE Voters in ALL of Arizona.
This is what the first post looked like on Twitter at the time of writing: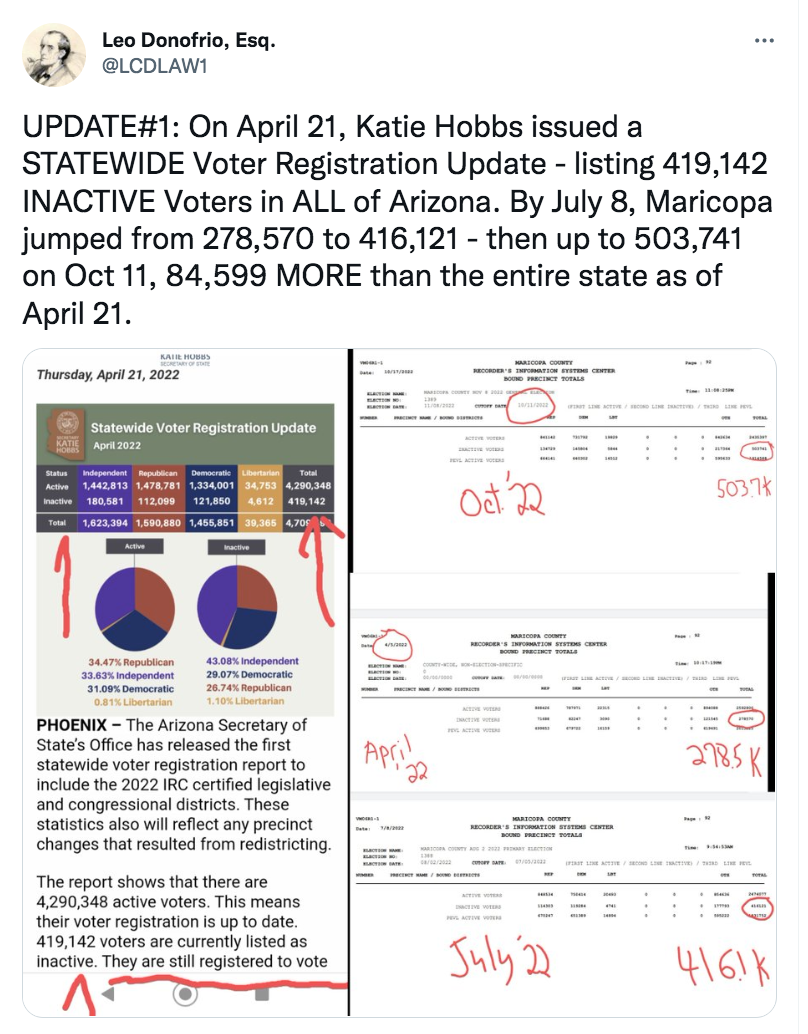 (Source: Twitter screenshot taken on Tue Nov 29 19:19:44 2022 UTC)
This is what the second post in the Twitter thread that said there was "EVIDENCE OF CRIMINAL INTENT - ARIZONA 2022 ELECTION," looked like at the time of writing: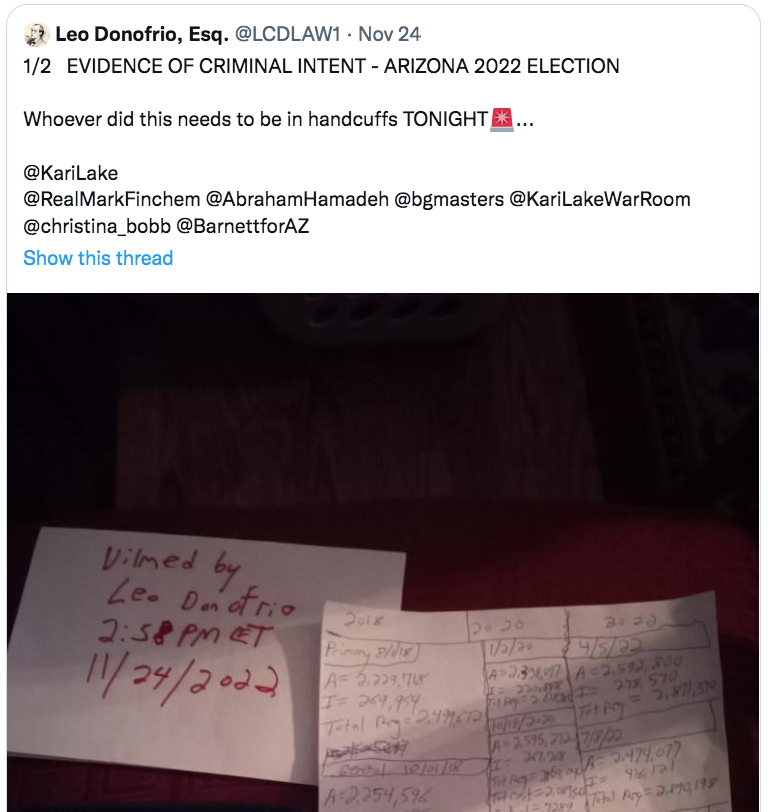 (Source: Twitter screenshot taken on Tue Nov 29 19:21:12 2022 UTC)
Justin Heywood, special assistant to the Maricopa County Recorder, told Lead Stories via email on November 28, 2022, that the numbers are "accurate" and explained what the methodology was for calculating inactive voters in 2022. He said the number of inactive voters can "fluctuate significantly" each time a mailing is sent out:
This year, due to the census and general election cycle, we have sent Maricopa County voters several mailings as required by state law, including new voter registration cards and 90-day notices. As a result of redistricting, we sent ALL registered voters a new voter registration card prior to the election. In addition, we sent all voters on the Active Early Voting List (AEVL) a 90-day notice prior to the election cycle, which allowed these voters to verify or update their address information before being mailed a ballot, and voters without a party affiliation to make their selection before the Primary Election.
Sophia Solis, deputy communications director for the Arizona Secretary of State, told Lead Stories via email on November 28, 2022, that counties send out multiple mailings to voters. A voter in "inactive" status means:
Two election mailings sent to the registration address were returned undeliverable; and
The voter has not yet submitted a new registration form or otherwise updated their address.
Solis said a voter in "inactive" status means "they will not receive any election-related mailings, including a ballot-by-mail, because their registration needs to be updated." This can be done if they vote in person and are still registered and eligible to participate in elections.

Heywood said Maricopa County coordinates with other "jurisdictions and agencies" to establish if a voter has "moved, passed away, registered to vote in another state, and/or become ineligible to vote due to a felony conviction." He said, "Beyond these internal checks, it is important to note that voters are also responsible for notifying our office when they move. Nonetheless, these notices provide important voter information and are yet another check to help us maintain the voter registration rolls and verify whether a change of address has occurred." He explained that inactive voters may still vote:
Inactive voters are still registered and are eligible to vote in upcoming elections (A.R.S 16-583). However, the inactive status will remove the voter from AEVL because we could not verify their address. They will need to update their voter registration and/or address to reinstate their mail ballot status. According to state statute (A.R.S. 16-166), inactive voters' registration is canceled only after '...a period of four years or through the date of the second general election for federal office following the date of the notice from the county recorder that is sent...'
Here is a copy of the notice sent to voters in Maricopa County before they were deemed inactive. This example is black and white but the one sent to voters was bright yellow.
Other Lead Stories articles about the election in Arizona can be found here.