STORY UPDATED: check for updates below.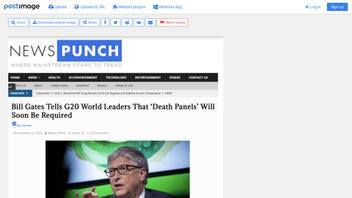 Did billionaire philanthropist Bill Gates tell the world leaders gathered at the November 2022 Group of 20 (G-20) summit that "death panels" will soon be required? No, that's not true: Gates did not attend the conference in Indonesia, and his remarks about health care that included the words "death panels" were made in 2010.
The claim appeared in a story published by NewsPunch on November 15, 2022 (archived here), with the headline "Bill Gates Tells G-20 World Leaders That 'Death Panels' Will Soon Be Required." It opened:
Unelected world health czar Bill Gates has used his appearance at the G20 Summit in Bali, Indonesia to raise a discussion about 'death panels.'

According to Gates, death panels will be necessary in the near future in order to end the lives of sick and unwell people due to 'very, very high medical costs'.

Gates went on to explain that 'a lack of willingness to say, you know, is spending a million dollars on that last three months of life for that patient, would it be better not to lay off those ten teachers and to make that trade-off in medical costs.'

Here's how the post looked on the day of the writing of this fact check: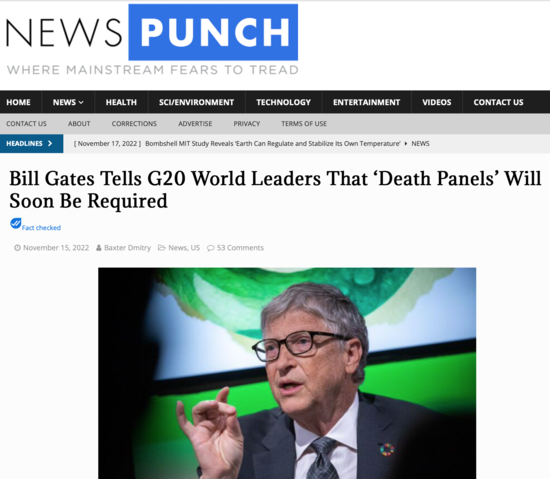 (Source: News Punch screenshot taken Thurs Nov 17 at 17:50:37 2022 UTC)
Gates made no speech or presentation to G-20 leaders during the 2022 gathering and wasn't at the conference, according to the public affairs office of the Bill and Melinda Gates Foundation, which works on health care and poverty issues around the world.
"We confirm that Bill Gates did not attend the G-20 meeting," the foundation's media relations office staff told Lead Stories in an email sent on November 17, 2022. The email did not specifically address the content of the claim or the term "death panels."
NewsPunch's claim that Gates discussed "death panels" with G-20 leaders appears to stem from a July 8, 2010, interview of Gates at the Aspen Ideas Festival, in Aspen, Colorado.
In the recorded video interview, Gates discusses the proportion of the U.S. gross domestic product spent on health care and how its rapid growth squeezes resources. What's needed, he suggests, is a conversation about how those resources are allocated and the unexamined high costs of medical care, including around end-of-life care.
"But that's called the death panel," Gates said at the 2:17 mark of the interview . "And you're not supposed to have that discussion."
A clip of Gates' death panel remarks was shared widely on social media sites (here and here) at the time of the interview. The clip has resurfaced following the NewsPunch story.
The expression "death panels" is a political term that was coined by former Alaska Gov. Sarah Palin in 2009 amid fights over the impact of the Affordable Care Act (ACA). Palin and other conservatives argued that government-run health care under that ACA -- also known as Obamacare -- could lead to decision-making that left some Americans without care, while others received preferential treatment.
No part of the ACA included establishing death panels, although the term has persisted.
The expression has come up in other interviews of Gates about health care, including in a March 2014 interview with Rolling Stone, which was seized on and criticized by some.
NewsPunch has published numerous hoaxes and fake news articles. Their Facebook page "The People's Voice" even lost its verification checkmark.
The NewsPunch site's Terms of Use (archived here) also make it clear they don't really stand behind the accuracy of any of their reporting:
NEWSPUNCH, LLC AND/OR ITS SUPPLIERS MAKE NO REPRESENTATIONS ABOUT THE SUITABILITY, RELIABILITY, AVAILABILITY, TIMELINESS, AND ACCURACY OF THE INFORMATION, SOFTWARE, PRODUCTS, SERVICES AND RELATED GRAPHICS CONTAINED ON THE SITE FOR ANY PURPOSE.

Additional Lead Stories fact checks of NewsPunch content can be found here.
2022-11-18T18:43:34Z

2022-11-18T18:43:34Z

Updated to clarify in the headline that Gates never said it and was not at G20 Summit.