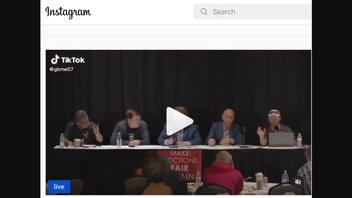 Does a video show an "Iranian whistleblower" revealing how they hacked a federal voter registration database during the U.S. 2020 election and created fraudulent overseas ballots? No, that's not true: The footage -- shown at an election integrity event in October -- includes a screen recording that the U.S. Justice Department already determined is intended to mislead people. It does not illustrate a successful attempt to cast fraudulent ballots. The Iranian nationals who spread the video were indicted on federal charges.
The claim appeared in a video of the election event published on Instagram on November 2, 2022. The caption read:
I'm told this is only a few days old. An open source sql injection tool was used to gain access to our voter registration database where the hacker pulled our records and used them to create a military ballot. They claimed this was done in the 2020 election. The individual presenting this information shows a folder of 40 states with each containing hundreds of thousands of ballots.
This is what the post looked like at the time of writing:

At the Florida Election Integrity Conference in Orlando in late October a group of panelists claimed that this video showed an Iranian national "connecting to our voter registration database" and creating a "military ballot." The Iranian people behind the misleading video were labeled as whistleblowers because they claimed they were demonstrating that they successfully hacked into a federal voter registration system.
One panelist asked if the federal government was aware of this alleged interference. The panelist showing the video answered:
I think they should know about it and they're probably going to know about it real soon.
A federal investigation, however, had already determined that the video was fabricated to make it appear that foreign actors had fraudulently cast overseas military ballots. The video was disseminated by Iranian nationals who were indicted in November 2021 on federal charges for spreading disinformation before the 2020 election, according to the U.S. Justice Department and the FBI.
While the footage shown at the Florida conference was not identical to the footage the Iranian nationals were indicted for, a spokesperson for the U.S. Attorney's Office, Nicholas Biase, told Lead Stories that their office
reviewed the video and although there are slight variations it appears to contain substantially the same content as the false election video referenced in the 2021 indictment.

At one point during the falsified footage, the screen shows a Federal Write-In Absentee Ballot (FWAB) being created on the Federal Voting Assistance Program's (FVAP) website. Those are already publicly available on FVAP.gov and it's not nefarious. A FVAP spokesperson told Lead Stories they've been "fully aware" of the video since 2020.
If a foreign actor were somehow able to successfully send thousands of fraudulent military ballots, there are already safeguards are in place to protect against fraudulent voting using FWAP. The Cybersecurity & Infrastructure Security Agency website says:
FWAB users must provide their signature and meet varying state voter registration and absentee ballot request requirements, which can include provision of full or partial social security number, state identification number, proof of identification, and/or witness signature.

Since only military and overseas voters are eligible to use the FWAB, relatively few of them are submitted each election. ... Since use is relatively rare, spikes in FWAB usage would be detected as anomalous.
In 2020, states reported that 33,027 FWABs were submitted nationwide, with all but seven states receiving fewer than 1,000 FWABs. A panelist in the video claimed that Alaska alone saw 134,728 fraudulent overseas ballots.