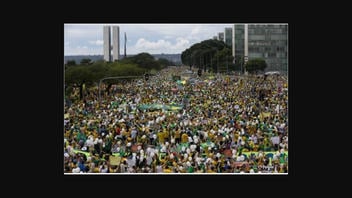 Does a photograph of a packed street in the city of Sao Paulo show thousands of Brazilians protesting against alleged voter fraud after the country's 2022 presidential election? No, that's not true: The picture is from a 2016 protest against corruption.
The claim appeared in an Instagram post on November 13, 2022, with the title "Brazil is Doing This Correct RISE UP AGAINST #voterfraud." It continued:
STAND UP AGAINST STOLEN ELECTIONS JUST LIKE BRAZIL IS DOING Nothing is going to change unless we rise up #fuckthenewworldorder🖕🖕🖕 #LiberalismIsAMentalDisorder #WalkAwayFromDemocrats #Random #Quote #KCGSJ #yoga #yogagirl #foodie #Political #BidenMustResign #MAGA #KAG #Trump2020 #trumpwon #AmericaFirst #SaveAmerica #letsgobrandon #fuckjoebiden #ultramaga #2A #brink4assembly
Here's how the claim appeared on the day of writing: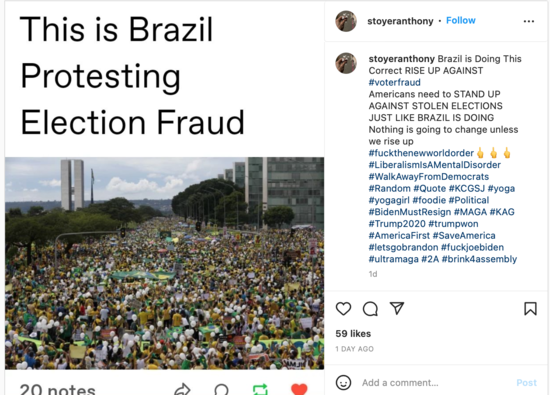 (Source: Instagram screenshot taken Mon Nov 14 at 17:00:57 2022 UTC)
The same claim, including the photo, also appeared in a November 12, 2022, Tumblr post and in a November 13, 2022, post on Twitter.
A reverse image search of TinEye found the photo was actually taken on March 12, 2016. Brazilian news sites wrote about the protests and It was shared by wire services. The photo spread around the world, including in the Irish newspaper Journal.ie.
Here's how the photo appeared in 2016: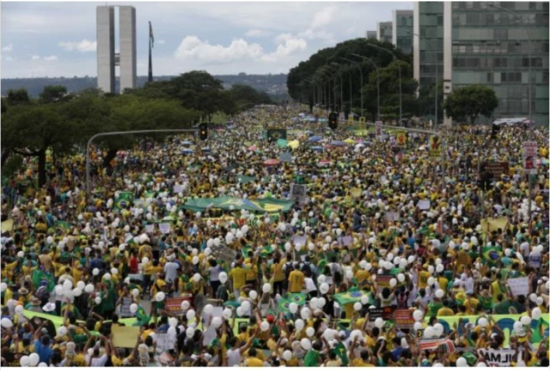 (Source: journal.ie screenshot taken Mon Nov. 14 at 19:11:31 2022 UT)
According to the 2016 news reports, an estimated 3 million Brazilians attended the protest to push back against corruption and a recession, demanding the removal of then-President Dilma Rousseff.
Supporters of Brazil's President Jair Bolsonaro rallied across the country ( including in truck convoys) following the October 30, 2022, election. Bolsonaro -- who lost his bid for re-election to former President Luiz Inácio Lula da Silva -- and his son were raising allegations of voter fraud even before Election Day.
On November 10, 2022, Brazilian media and international wire services (here and here) reported that the Ministry of Defense had found no evidence of fraud.