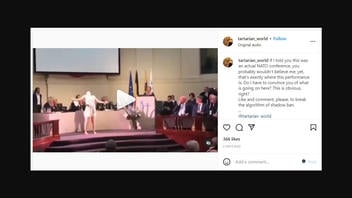 Did The North Atlantic Treaty Organization (NATO) host a contemporary dance performance that some commenters have called "demonic" at one of its conferences? No, that's not true: The performance took place in 2017 at Ghent University, Belgium and had nothing to do with any collective-security meeting.
The claim appeared in a November 11, 2022 Instagram post on the tartarian_world account. The video shows a woman rhythmically romping around a podium while another woman chants and men in suits bemusedly look on. The post opened:
If I told you this was an actual NATO conference, you probably wouldn't believe me; yet, that's exactly where this performance is. Do I have to convince you of what is going on here? This is obvious, right?
Here is how the post looked at the time of writing: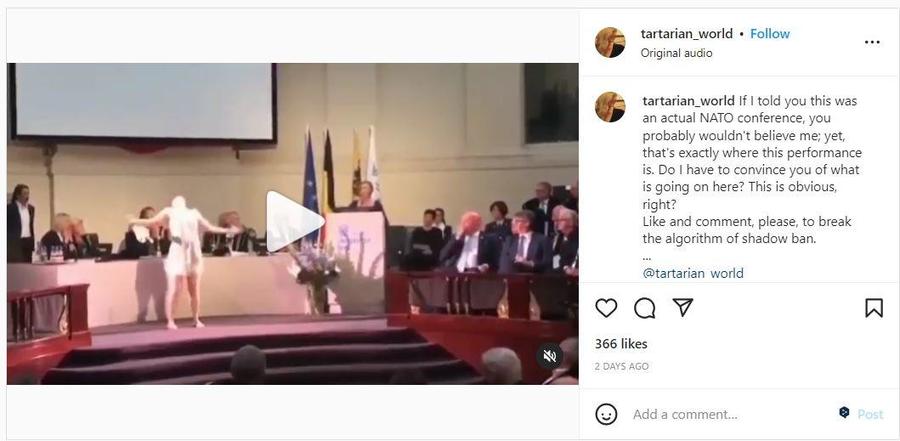 (Source: Instagram screenshot taken Sun Nov 13 11:08:19 2022 UTC)
The post's author explains "it's a demonic possession ritual. It's meant to conjure" in the comments section. Several viewers seem to agree, commenting "Wow. Lucifarians doing their rituals?" and "They are all concubines of the devil.... It's some biblical prophecy coming now."
The performance did not take place at a NATO conference, but rather at Ghent University -- a fact betrayed by the university's logo on the rostrum stand where one of the performers stands chanting. A reverse-image search of a screenshot from the video shows it was posted to YouTube on November 25, 2017, under the title "Leftist Science at Ghent University [Belgium]." A YouTube commenter said the performers were members of Action Zoo Humain, a Ghent-based dance troupe whose mission is to discover "contemporary formats to reflect intercultural social reality," according to the group's website. (Translations by Google Translate.)
A search of keywords culled from the information in the YouTube video reveals that Ghent University posted a slideshow of the event to its website on October 9, 2017, in an overview of its opening ceremonies for the 2017-2018 academic year. The caption reads "Artistic intermezzo from Action Zoo Humain."
Action Zoo Humain posted a video of the presentation to its Twitter account on October 10, 2017. The post also offers an explainer to readers who might have trouble interpreting the dancers' artistic intent: "Among the mainly white, male prominent figures, the position of women within [Ghent University] was criticized."
NATO is based in Brussels, Belgium, about 70 kilometers from Ghent University's campus. There is no evidence that NATO had any role in the dance performance.